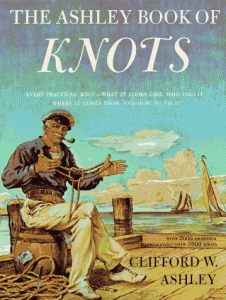 CBS Sunday Morning ran an excellent segment today titled "Knot So Simple."
Correspondent Serena Altschul took a look at the International Guild of Knot Tyers in the United Kingdom, and interviewed  Phoebe Ashley Shardon, the daughter of Clifford Ashley.
Ashley is the writer and illustrator of the Ashley Book of Knots (1944). The ABOK is still known as the bible of knot tying today, and is a must for anyone wanting to learn more about knot tying.
We highly encourage everyone interested to pick up a copy, it's a fantastic reference book and it's authority still rings true after 65 years.
Check out the video from today's CBS Sunday Morning segment here.
Are you getting more than 14¢ of value per day from ITS Tactical?
Please consider joining our Crew Leader Membership and our growing community of supporters.
At ITS Tactical we're working hard every day to provide different methods, ideas and knowledge that could one day save your life. Instead of simply asking for your support with donations, we've developed a membership to allow our readers to support what we do and allow us to give you back something in return.
For less than 14¢ a day you can help contribute directly to our content, and join our growing community of supporters who have directly influenced what we've been able to accomplish and where we're headed.