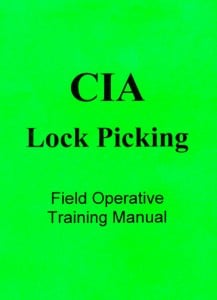 Here's a couple of great reference reads that everyone interested in getting into lock picking should peruse.
We feel these are the top three open-source guides available out there right now, and should give everyone a solid understanding of lock picking basics.
LSI Guide from Locksport International
CIA Lock Picking Field Operative Training Manual
If anyone knows of another great resource, please post it to the comments
These lock picking tips and techniques provided in this article are only to be used in accordance with all local, state, and federal laws and provided for lock sport (recreational lock picking) use only. Lock sport should be used to learn about the illusion of security, and how to properly protect yourself and your possessions. Don't do anything illegal.
Are you getting more than 14¢ of value per day from ITS Tactical?
Please consider joining our Crew Leader Membership and our growing community of supporters.
At ITS Tactical we're working hard every day to provide different methods, ideas and knowledge that could one day save your life. Instead of simply asking for your support with donations, we've developed a membership to allow our readers to support what we do and allow us to give you back something in return.
For less than 14¢ a day you can help contribute directly to our content, and join our growing community of supporters who have directly influenced what we've been able to accomplish and where we're headed.