Remembering Navy SEAL Marc Lee and our Contribution to America's Mighty Warriors
Remembering Navy SEAL Marc Lee and our Contribution to America's Mighty Warriors
Each year since I started ITS Tactical I've written an article on August 2nd to honor the memory of Marc Lee, whom I had the honor of serving with in the Navy while I was at BUD/s.
This year we were able to pull the collective efforts of our community here at ITS Tactical to do something for America's Mighty Warriors when the opportunity presented itself. Shortly after Bin Laden's demise we released the 5.1.11 Prevail Patch with proceeds benefiting Debbie Lee's charity and supporting Marc's teammates responsible for the justice served.
Debbie is not only Marc's mother, a Gold Star Mom and tireless supporter of our Military, but travels constantly spreading the message of honor, courage and something greater than ourselves. Marc gave up his tomorrows so that we can have our todays and that's something I'll never forget. That's why I'm proud to announce the donation that all of you that purchased a patch have been able to contribute to!
Contribution to America's Mighty Warriors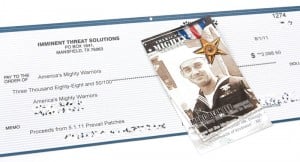 After calculating all the 5.1.11 Prevail Patch sales we've had at ITS Tactical, we were able to raise $3,088.50 that we're sending off today so that Debbie can continue her mission to help our military and the families of those that have fallen.
Debbie Lee's Non-Profit 501(c)(3) Charity, America's Mighty Warriors, was started with Debbie's inspiration through Marc's last letter home, the Glory Letter. In it, Marc challenged the world to commit random acts of kindness and hoped for a brighter future for this country.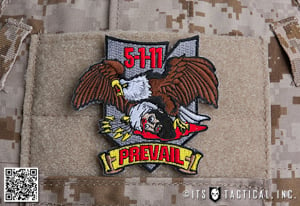 Debbie has undertaken that goal with a passion for giving back to those in our military who desperately need it.
Even if you weren't able to purchase a patch, or had your reasons not to, please help us spread the word about America's Mighty Warriors and thank you for all your help in contributing to such a worthy organization!
Please always keep Marc and others who have given their lives selflessly for our country in your thoughts.