Stay Alive! Survival Skills You Need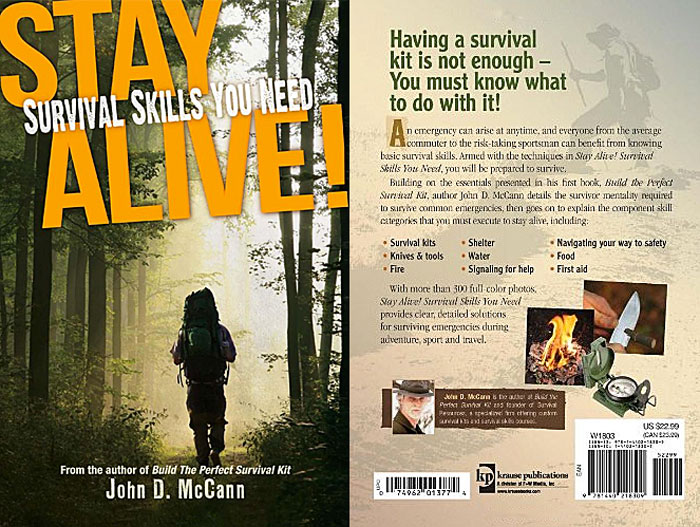 John D. McCann, whom you may recall has recently been a contributor recently ITS, has just released a new book called Stay Alive! Survival Skills You Need.
You may remember towards the beginning days of ITS when I mentioned the Mini Survival Kits I built based on John's first book, Build The Perfect Survival Kit. He's been one of my favorite authors for a long time and I was stoked to have him contribute to ITS Tactical.
I'm even more excited about this new book, as it keeps in line with what I love about John as an author. He takes a no-nonsense, anal-retentive look at survival as a whole and breaks it down for everyone to understand. I hope he doesn't get upset with my description of his writing, but it's something I can totally relate to and fully appreciate.
Stay Alive! Survival Skills You Need
With his first book, John delved deep into each item of what you need in your Survival Kits and why it's there in the first place; from the mini kit all the way up to the truck-sized kit. In John's new book he takes that same analytical approach to the actual skills you need to survive.
Just mentioning the different chapters will give you an idea of the breadth of John's information.
The Survivor Mentality
The Indispensable Survival Kit
Knives & Tools for Survival
Fire & Light – Survival Assets
Shelter & Protection from the Elements
Water Collection & Purification
Signaling for Help
Navigate Your Way Back
Food to Sustain Energy
Wilderness Hazards & Safety
Final Thoughts & Resources
Each chapter goes into detail with gorgeous photos and diagrams to explain exactly what John's trying to teach. I particularly like the sidebar "tips" and DIY information that's near and dear to what we do here on ITS.
Stay Alive is a must read and a tremendous resource that should be on everyone's shelf. I'll leave you with a great quote from Dave Canterbury, who wrote the forward.
Too many survival books are simply cut and paste toilet paper, taken from age-old military manuals that catered to soldiers, that emphasize the use of issue-type items for emergency use. Stay Alive! Survival Skills You Need is packed with information on common everyday items that civilians have access to and can use to build a great kit and how to use those items to keep them alive!
Check out Stay Alive! Survival Skills You Need via Amazon and be sure to head on over to John's Website where you can also pick up the book and supplies to build your own kits.