Tips for Cold Weather Running: Layer Up and Stay Motivated!
Tips for Cold Weather Running: Layer Up and Stay Motivated!
Depending on where you are in the country, Old Man Winter has either moved in or is just around the corner. The temperature may be dropping but that doesn't mean you have to stop running outside.
We're all guilty of pulling the covers back over our heads on those blustery mornings but armed with the right mindset and gear, running in the cold can be just as rewarding as usual.
Staying warm (and comfortable) comes down to your clothing choices. If you're used to only running during the warmer months, you'll have to adjust a 'tiny' bit.
Layers
Focus on fabrics that wick moisture away from your skin and steer very clear of cotton (because it doesn't dry easily once wet). Just remember the phrase, "Cotton is Rotten!" Even though it's cold, you're still going to sweat. To keep your body temperature from getting low, you need to get that sweat off of your skin.
I'm not going to get into a whole post on layering but the basics are this:
Base Layer – Moves sweat away from your skin.
Mid Layer – Insulates and keeps body heat from escaping.
Outer Layer – Offers protection from the elements.
I like to start with an Under Armour compression shirt against my skin and a Nike DriFit style shirt on top of that. It's a personal preference that I use those two shirts to make up my base layer and some are happy with just one.
That combination base layer tends to always stay the same but my next layer will depend on how cold it is. If it's not too chilly out, I'll wear a thin wool and polyester pullover. It's long sleeve and does a good job of keeping me comfortable without holding onto sweat.
If it's really cold or windy and there's no chance of precipitation, I'll put on a thicker fleece pullover instead. This has thumb holes which offer some protection for my hands as well as a taller neck area that I can zip up higher.
I'll also put on a light windbreaker on top of all of this if there's rain in the forecast. Optionally, you could go with a soft shell, as they offer a good blend of breathability and protection. Something like a hard shell will offer the most protection but they can be bulky for running and not breathe nearly as well as the other options. If it's raining so bad that you need a hard shell, I recommend figuring out an indoor workout or just sucking it up and getting wet outside. Just run really fast (sounds legit)!
Wearing pants will be also be a personal preference. I tend to stick with shorts most of the time. Now and then I'll wear a pair of sweat pants or fleece pants from Outdoor Research  if I don't want my legs to get wind burned.
Accessories
It's debatable on how much body heat you actually lose through your head, some say as little as 14% and others say upwards of 40%, either way it makes sense to put a [warm] lid on it. Don't just look for a nice knit cap but try and find something that will also stop the wind. At various times, I'll find that my head gets a bit overheated. If you run with me in the winter, you'll see me take my hat off during the run or sometimes just prop it up on top. Layers help to regulate your body temperature and being able to take off one layer at a time is huge.
If you find that you don't like wearing a hat, there are a number of other options for covering your ears. Sometimes it's those little things that make all the difference in keeping you feeling warm and cozy. Pearl Izumi makes a technical headband or you can even get single ear covers, called "ear mitts" interestingly enough.
Gloves seem to be something that everyone differs on. I didn't like them at first while I ran, but recently I've used them more and more. I'll switch between a really cheap pair of those stretchy cotton gloves and something more technical. Yes, the cheap ones are cotton, but my hands don't sweat much and they keep me just warm enough to be comfortable. Now and then I'll use a pair of North Face E-Tip gloves that I got as a Christmas gift last year. They have little conductive pads on the finger tips so I can use my iPhone while I'm running. If your hands tend to get cold or maybe you have blood circulation issues, you may find gloves to be helpful.
Outside Magazine just had a post about why your nose runs while cycling (or exercising in general). Sometimes it's due to allergies but the weather could be a culprit too. Either way, it's another good reason to wear gloves (to wipe your nose) or at least carry a hankie. A funny alternative is the "Snot Spot" but it looks to be discontinued.
Something I try not to forget is chapstick. I like the medicated kind personally as it really helps to protect my lips from getting wind burned and dry. Your mileage will vary on this though. I've even heard of people who put a little chapstick on their nose or cheeks if the wind is especially harsh that day.
One last bit to mention is that there's a myth to running in the cold. Some believe that the cold air will hurt your lungs, but from what I've found, it's simply a myth. While the air outside is cold, it's warmed to your body temperature by the time it reaches your lungs. You may notice your throat feeling a bit irritated, but that can be remedied by covering your mouth with a balaclava or a  Buff. I like to run with a lozenge or gum in my mouth to keep it from getting dry and sore.
Motivation
It's hard to get motivated to run in the cold and even more so with the time change and it getting darker earlier. How do you get motivated to run? Well, this will be different for all people but ultimately, you have to enjoy it. Don't think of running (or working out) to be a chore, do it for fun!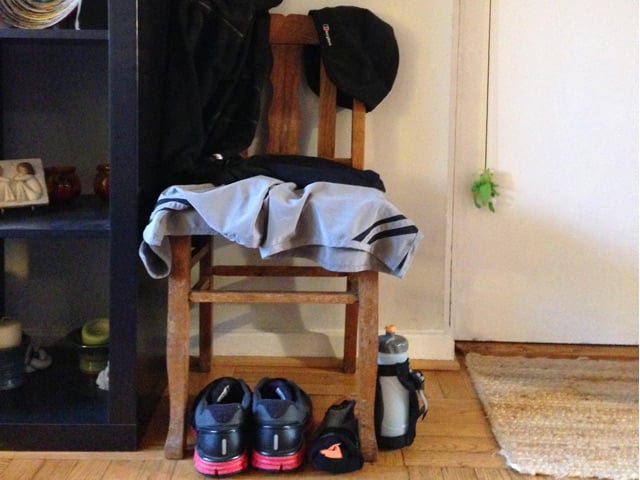 Get your running clothes out and ready. I'm much more likely to get out there if everything is laid before me.
Hassle a friend to run with you until they give in. Misery loves company.
Load up your iPod (or music player) with some motivating music or even some podcasts. Running while listening to a podcast or audiobook helps keep me distracted from the cold.
Run for a cause. When you sync your runs with RunKeeper or Nike+ and Earndit, you earn credits that you can redeem for real world items.
Read about running. There's something about running blogs that make me want to get out and run myself. I find inspiration in the stories of others.
On my worst days, I'll get out for at least 30 minutes. That's the length of most TV shows. Surely you can skip one TV show for a run.
Don't focus on pace, just enjoy yourself. Throw in a few breaks and take in the scenery.
Do you have some useful techniques on getting motivated for a run? I'm sure we'd all love to hear them! Share your tips and tricks in the comments below.