Fantastic Solution for your Chest Rig Waist Strap
Fantastic Solution for your Chest Rig Waist Strap
If you guys happen to remember our review of the Mayflower R&C  Lo-Pro Armor Package, you'll hopefully also remember that one of our comments on the UW Chest Rig was that the waist strap was too long.
Even at its shortest adjustment we weren't able to properly secure it over the Low-Profile Armor Carrier  due to the sewn-in adjustment with triglides. We wound up salvaging a waist strap from another rig to use and consequently created a quick-adjustment waist strap that we felt went along with the usage of the setup.
The way the UW Chest Rig works is that it quick-disconnects from the armor carrier to ditch in an emergency situation, change loadouts, or simply wear it stand-alone with the included shoulder straps.
Having to make these changes on the fly creates a pain in the ass with traditional waist strap adjustments. While our bastardization of a waist strap was crude (which you can read about more in the Mayflower R&C article), it definitely allowed the UW Chest Rig to quick-adjust somewhat dynamically and fit tightly without much play.
Recently, while browsing the blog of one of my favorite gear companies, Down Range Gear. I saw that Chris had come up with a wonderful solution to the problem that I feel plagues a lot of chest rigs, not having the ability to adjust dynamically. Enter the Adjustable Waist Strap from Down Range Gear.
Adjustable Waist Strap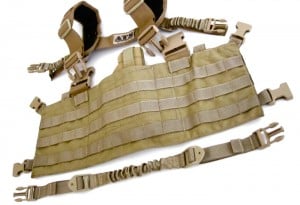 Although I haven't been hands on with one of these yet, I'm really excited about what the Adjustable Waist Strap brings to the market. It may seem trivial to have a waist strap that adjusts like this, but I can definitely see the benefit.
Quite a few chest rigs out there only have one fastex buckle so there would need to be some adjustment made to accomodate this new strap system. Although, some rigs could be modified to accept this with the simple inclusion of a ITW Nexus Repair Buckle. This would all depend on the rig though.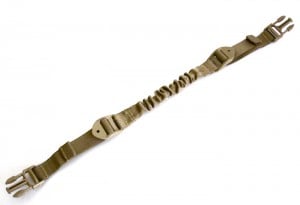 The bungee material that Down Range Gear has integrated into the center of this strap is the perfect solution for being able to run your waist strap tightly, yet still have the flexibility to move around without it squeezing your mid-section.
Chris has also done a lot of custom retrofitting with dynamic strap systems to existing rigs, be sure to check out his work on the Down Range Gear Blog.
Again, I think this is a fantastic solution and would like to hear everyone's thoughts on it. Is this something you feel would be a benefit to your rig?