Keychains: The Foundations of Preparedness and Every Day Carry
Keychains: The Foundations of Preparedness and Every Day Carry
I've always believed that having tools close at hand is essential to being a highly effective, prepared human being. Because of that philosophy, I usually carry quite a bit of stuff with me — 12 different items distributed between five pockets!
While I love having good kit close at hand, I don't always have the time or luxury for a full EDC loadout and sometimes this stuff just gets left at home. However, the one constant, regardless of time or clothing, are my keys. Unless I've locked myself out of the house, I will always have my keys with me.
Most people I know don't carry nearly as much stuff as I do, but they all carry a set of keys. Because everyone always carries keys, it's my opinion that keychain based tools are the most universal and logical foundation for any EDC loadout.
While this advice is useful for gear heads like us, it's especially relevant when it comes to equipping our friends and family members who are currently not interested in preparedness. In my experience, adding a few small, well-chosen items to someone's keychain is the most reliable and effective way to ensure they will have the right tools when they need them, without pushing them beyond their comfort limits.
Foundations of Every Day Carry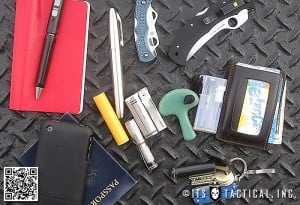 Every person has different needs, so there is no absolute formula for what should be included on an EDC keychain. In general, I like to select a few useful items that suit the person's individual style, rather than simply tossing on all the cool gear I can fit onto their keys.
Remember, just because it fits on a keychain doesn't mean that it should be included — as anyone who has seen a forum pocket dump thread can attest to! Hint: if the keychain looks more like an aviation survival kit then a set of house keys, chances are too much has been added.
Illumination
Regardless of personal style, the one tool every single person on the planet will benefit from having is a flashlight. Whether it is finding something dropped under the seat in the movie theater, illuminating a dark alley, or navigating a stairwell after a power outage, a small LED flashlight is incredibly useful, and should be included on everyone's keys.
There are a variety of wonderful keychain based flashlights on the market today, but my personal preference is for the simple high performance of the Photon II microlight.
I've been carrying a Photon II for the better part of a decade, and I make a point of giving them to the people I care about. In addition to its convenient size, the Photon II features made in the USA reliability, a 30-foot range with a 12-hour runtime, and can be operated with one hand. Make sure to buy the authentic Photon brand; there are many imitators for less money but, having tried most of them, I believe that the Photon cannot be beat in terms of both brightness and runtime.
Tailored Equipment
So, everyone should have a Photon II microlight or other quality LED on their keys. But from there, the gear selection must be tailored to the end user. Some things to keep in mind when building an EDC keychain:
Is it for a man or woman?
Men generally keep their keys in their pants, while women's clothing often lacks functional pockets, which relegates the keys to purse carry. Keep this in mind, so you can make sure they will be able to carry the EDC keychain you build, and access it comfortably.
What is their technical proficiency?
Give them gear they will actually use. Some people will get use out of duct tape and a multitool, while others will be better off with a small knife and a lighter.
What do they need? What do they frequently do?
A college student will enjoy a lighter on their keys, while a soccer mom will have more use for a keychain hand sanitizer. Knowing your audience will help you select the most useful items for them.
What kind of clothing do they wear, particularly at work?
If they wear silk slacks, the keychain will have to be significantly lighter and slimmer than if they wear jeans.
What are their favorite colors?
Matching gear to people's favorite colors will make them enjoy it even more, and will let them know your thinking of them. Just don't sacrifice function for form (more on this later).
Examples
To help illustrate these concepts, and give you some ideas about what types of keychain tools I recommend, consider the following keychains, and the reasoning behind them.
Personal EDC Keychain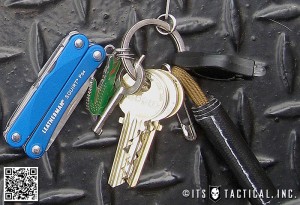 My keychain is designed to offer me as wide a range of options as possible, without being too bulky, because I like to wear slim fitting, 5 pocket jeans. The goal is to offer a comprehensive backup to my normal EDC gear, while also being capable enough to serve as my primary EDC if all I'm carrying is my keys (the gym, the beach, etc).
The Photon is a backup light to the larger flashlight in my EDC. The Leatherman Squirt PS4 serves as my "public knife," for when I need to cut something in public, and as my primary multitool. For those who are unfamiliar with it, the Squirt is a little beast, and can easily handle 99% of the tasks one would need a multitool for; I've used the Squirt at least once a week for the last 5 years, while I've used my massive Leatherman Surge all of 4 times. I will be doing a comprehensive review of the Squirt PS4 later, but just know that I consider it the best keychain tool on the market.
The EDC Duct Tape Roll is for repairing, building, and obscuring, depending on the need, and has proven very handy in the last few months. The Safety pin is for repairing clothing, and for popping out the SIM card of my iPhone. The handcuff key is in case I get handcuffed to a sinking ship in the north Atlantic, and so far has only been used as a conversation starter.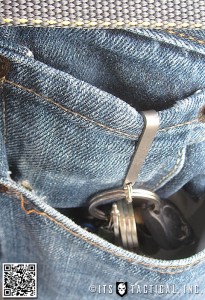 My most recent, and revolutionary keychain acquisition is the McGizmo key dangler pocket clip, which was given to me by an awesome USN member. Before, my keys sat in a jumble of uncomfortable steel at the bottom of my pocket, but now, with the addition of the dangler, I simply clip my keys to the top of my pocket like I would my knife, and they dangle in a neat, smooth row. The increase in comfort, as well as the ease of accessing my keys, cannot be overstated.
In general, most men will enjoy a keychain fairly similar to mine, provided it has a pocket clip to make carrying it hassle free; this much stuff is a pain in the ass without a clip for most folks. The Mcgizmo clips are hard to find, so a great off the shelf solution is the Tec Accessories P-7 Suspension Clip, which can be had for around $15 online. I've own both and they're wonderful.
However, keys for women will be inherently different, because most women do not wear pants with functional pockets, and will instead require a purse based keychain.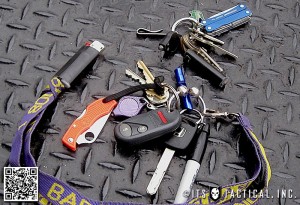 Mom's EDC Keychain
My Mom's purse must have five pounds of various knick-knacks, wallets, receipts, and cigarettes inside, so in order to find her keys, she has a neon purple and yellow "Bad Boys Bail Bonds" lanyard, which she loves. I wish I could take the credit, but that's all her style.
The gear I've added to my Mom's keychain is very much based on her unique personality, and is tailored more toward her daily convenience rather than emergency preparedness. I began with a Purple Photon Freedom, because purple is her favorite color, and they don't make a purple Photon II. This was a bit of a mistake though, because she complains the flashlight is hard for her to squeeze and confusing to operate, so I will replace it with a standard Photon II.
However, she loves her Orange Spyderco Ladybug, which is her second favorite color. My mom is a huge Ebay fan, so I wanted her to have a sturdy, reliable knife for opening her many boxes; meanwhile, she lacks the technical interest to get much use out of the tools on a Leatherman Squirt. With its VG10 blade and ergonomic handle, the Spyderco Ladybug is the best keychain based folding knife around, with more than enough cutting power for most urban tasks.
Because my mom is constantly scouring the house for a Sharpie to write on boxes, I recently added a mini-Sharpie to her keys so she will always have one handy. Since she's a smoker, I have included a DIY keychain mini-Bic lighter, which is attached to the opposite end of her lanyard so she can use the lighter while driving. The whistle came for free and takes very little space, so I just hooked it too her keys for good measure.
Friend's EDC Keychain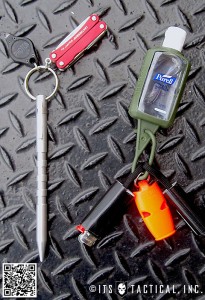 My most recent keychain build, and the inspiration for writing this article, is a keychain I just built for a friend of mine. Her primary keychain consists of the Photon II, the Leatherman Squirt, and the Alpha Innovations Stylus Kubaton. The Photon II was an obvious choice, and I included the Leatherman Squirt instead of a Spyderco Ladybug because my friend is a scientist, so I knew she would get a lot of use out of the various tools.
The most important thing on her keys though is the kubaton. I included it because she is very attractive and petit, and recently got beat up by a very ugly, much less petit girl while waiting for a bus. The kubaton is there so she can offer a "kinetic etiquette lesson" to any miscreants in the future. Because a weapon is useless without training, I sent her a kubaton training DVD, and will try and work in some practice next time I see her.
I picked a Kubaton for her self-defense item instead of other options because I like its brutal simplicity, the fact that she can carry it in her hand without drawing suspicion, and because it can allow her to escape from chokes and holds. I chose the Alpha Innovations Aluminum stylus kubaton because it looks like a pen, and not like a weapon or sex toy the way most kubatons do. I hit myself with it prior to sending and the aluminum hits much harder and is far more secure in the hand then the polymer stylus. The shiny aluminum also has the benefit of making her keys easier to finding her purse.
Because she has a purse, and is not limited by pants pockets, I included a bunch of other gear as part of a "tier 2" keychain that she can include at her discretion. She rides mass transportation, so I figured hand sanitizer was a must. Then, I tossed on some keychain duct tape, a mini-bic lighter, and a fox 40 whistle for good measure. Between the two EDC keychains and her sharp mind, I think she'll be ready for pretty much anything.
Conclusion
A tool carried all the time is always preferable to a tool carried some of the time. Hopefully by now you understand why the keychain tools are the most reliable for every day carry, and have some good ideas as to which tools are optimal.
I have had great success with my EDC keychain, and those close to me have greatly enjoyed theirs. If you're looking for a fun and reliable way to increase someone's preparedness, an EDC keychain is a pretty good place to start.