How I Used Modern Technology to Track Down and Win an Ultrabook
How I Used Modern Technology to Track Down and Win an Ultrabook
ITS Tactical Editor-in-Chief's note: I wanted to republish Mike's write-up here to highlight the technology methods he used to track down his new laptop.
I was browsing Gizmodo  on October 2nd and noticed they had a post with some great car photography. Looking over the gallery, the last image stood out. A picture of a laptop? That's odd. But I read the caption for it and turns out they were running a contest. Find out where the picture was taken and win a brand new Ultrabook computer.  Well, I desperately need a new laptop and I also love a good contest.
I'm in.
Just one problem… I don't have a clue as to where this photo was taken.
Photo by Ryan Russell.
Where is this Ultrabookâ"¢?

Tweet your guess along with the hashtag #ultrabookspotted and a link to this post (here, we've made it easy for you: right click this link and select "Copy Link Address" to paste into your tweet) by 6 PM ET on October 9. You could win an ultra-sleek Ultrabookâ"¢ for your very own self.
I didn't let the fact that it could be anywhere in the world deter me. Read on for my breakdown on how I found the Ultrabook.
Since I had NO idea where to start, I simply began by looking up the photographer. I found his site and Twitter feed and was hoping to find some photos or something from the same shoot as that laptop photo.
While on his site, I saw that his recent photos had one photo  in particular that looked to be in the exact same location and was even captioned as "San Francisco."
After checking out his Twitter account, I scanned his Instagram feed and found a very similar looking location. A foggy shot of the Bay Area. One of his Instagram followers mentioned military bunkers and Point Bonita.
I decided to dig for information on bunkers near Point Bonita (and subsequently the Marin Headlands) and found some history on the area.
I needed a view of the area but I don't really have the time to fly from DC to San Francisco and start scouting. So I fired up Google Maps satellite view, then Bing Maps Birds eye view, and even Apple Maps Flyover. Apple's Flyover actually gave me the best view with good 3D terrain rendering.
After Googling "bunker door marin headlands" I found some decent photos  that looked to be from the same area. The style of bunker door looked familiar to the photographers shot. I continued on and came across an article on SF Weekly — It mentioned an unfinished military installation called "Battery Construction 129" and that the "Park Service plans in December to raze the Monterey pines that now spread thickly across Hawk Hill, where the battery is located." Remember how the Ultrabook in the image was placed on a stump that looked to be on a hill?
I then searched "Battery Construction 129" on Flickr and came across another photo from nearly the exact same area.
Now I knew for a fact that I was on the right path.
A little more scanning through images on Flickr, I found the  photo  I've been searching for. I confirmed by matching the graffiti on the bunker door. The photographer also had the location available and it was right where I thought it was; in a cluster of trees on Hawk Hill.
I went back to the satellite views of the area but only Google had the most recent imagery with stumps shown. The other maps had trees obscuring the view. I compared the two images from the photographer, counted the stumps and found the exact spot where the Ultrabook was photographed.
Then I mapped it out. I also obtained the GPS coordinates below using Google Maps.
The Ultrabook in the photo was on the third stump from the door to the West (at the photographers back).
Where is it exactly?
N 37.828242 W 122.500154
After discovering the location, I submitted my entry and anxiously awaited the end of the contest. It was running until the 9th at 6PM and since that time I've been checking both my email and Twitter like crazy for any news. The rules stated that it was a drawing and you were allowed one tweet per day. I don't think the other entrants read that part of the rules so I had a lot of entries in when the contest ended.
Well the other day, I got the news I was waiting for. A tweet from the Executive Director of Content for Gawker Media:
@mikepetrucci Would you mind DM'ing me when you have a free moment — I have some very good news to share with you. //  @raywert
"Wha?!"
I told myself to calm down and just send him a message. I was careful to be all cool and chill… "Hey man, what's up?" (hahah!)
Long story short, I won the Ultrabook! Technology is pretty amazing isn't it? Being able to track down the location of a photo (with no EXIF data) using good ol' fashioned detective work is entirely possible. It also gives you a look into how much of a digital footprint we leave behind and something to think about.
Shout out to Gawker Media, Gizmodo, Jalopnik, photographer Ryan Russell, and Intel for running this contest.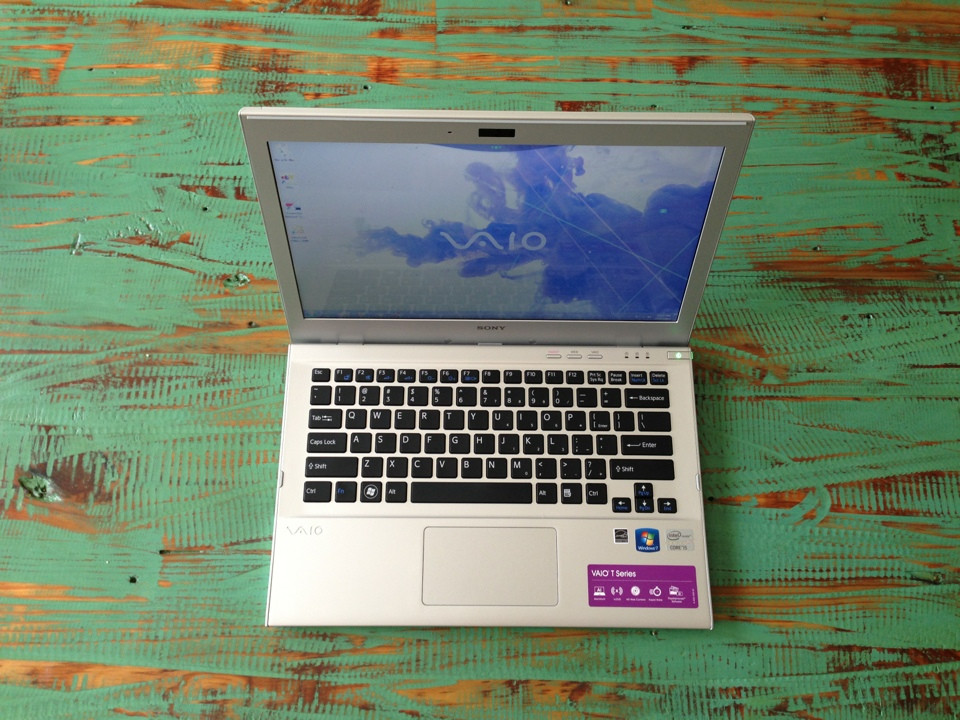 ITS Tactical Editor-in-Chief's note: I wanted to  republish  Mike's write-up here to highlight the technology methods he used to track down his new laptop.