Alright, let's get this out of the way first: kicking down a door is not the best option for opening a locked door. It will damage the door and cost you lots of money to fix it. It is better to call a locksmith, pick the lock, or attempt to crawl in a window.
But let's say it's an emergency. You're in a burning house and you need to escape and the door is on fire. Or your loved ones are in a burning house and you're locked out. You can't stand there fiddling with the lock, you've got to break it down! Or perhaps a loved one is stricken with a medical emergency and is locked inside a room or in their house. What to do? Be a man, dammit! Break down that door! You know you've always wanted to.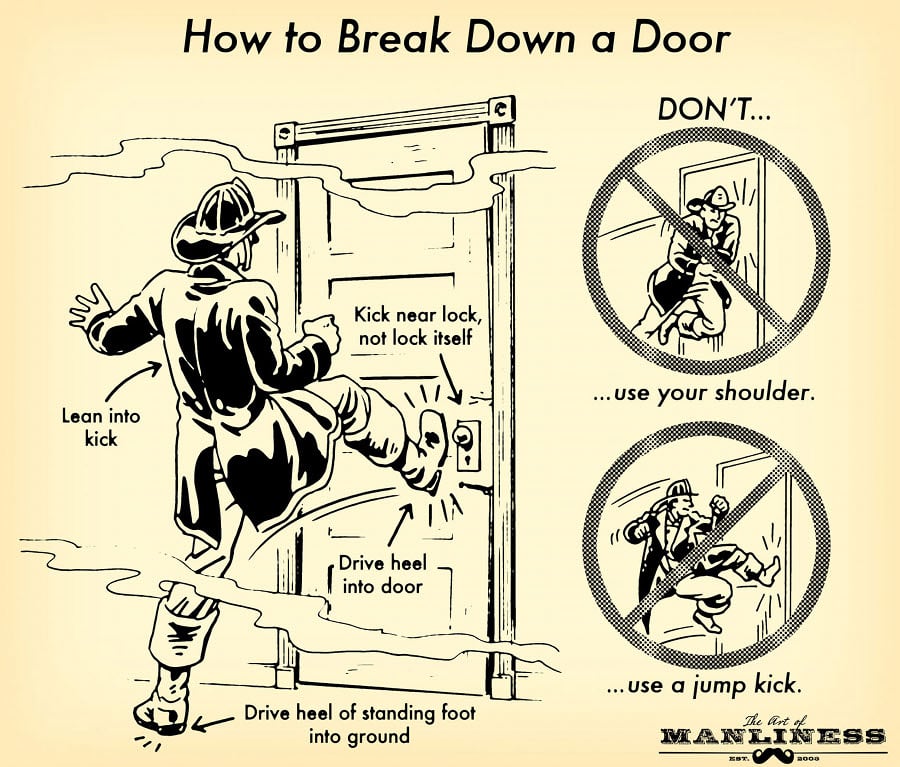 If you have watched enough movies, your next move is a no brainer….run at the door shoulder first, right? Wrong. This technique may be uber-manly, but it will probably dislocate your shoulder. It is better to employ a more forceful and well placed kick.
Check to see which way the door opens by checking the hinges. If the door opens towards you, kicking it down is going to be next to impossible. Kicking a door down is best employed on a door that swings away from you.
Kick to the side of where the lock is mounted (near the keyhole). This is typically the weakest part of the door.
Using a front kick, drive the heel of your foot into the door. Give the kick forward momentum and keep your balance by driving the heel of your standing foot into the ground. Don't kick the lock itself; this could break your foot.
The wood should begin to splinter. Today most doors are made of soft wood and are hollow. They should give way fairly easily, especially since the lock's deadlock bolt extends only an inch or less into the door frame. Older, completely solid doors will prove more resistant. Just keep on kicking until the door gives way and you can save the day.
Avoid jump kicks. While you may be tempted to employ this manly move, jumping diminishes your stability which causes you to lose power.
Editor-in-Chief's Note: This post was written by Brett & Kate McKay and originally ran on The Art of Manliness. The Art of Manliness is a fantastic website dedicated to uncovering the lost art of being a man. It features articles on helping men be better husbands, better fathers, and better men. Check them out and be sure to subscribe!
Illustration by Ted Slampyak