Women's Tactical Association: Helping Women Find their Inner Sheep Dog
Women's Tactical Association: Helping Women Find their Inner Sheep Dog
Earlier this year we noticed a more pronounced female audience for all things tactical. As we've looked deeper into what's out there for ITS gals, we've been pleasantly surprised. Not only are more women becoming hunting and outdoor sporting enthusiasts, but more women are interested in protecting themselves with a firearm.
As I've been looking for content to contribute to ITS I've found that one of the recurring questions in my mind is "what can I do to become better prepared for handling myself in a defensive situation?" More specifically, "could I help protect my family if we were the victims of a home invasion, or could I assist with stopping a criminal if I witnessed a crime being committed?" My answer so far is simply "I don't know…"
Acknowledging the Need
Even if there aren't many women who are asking themselves those exact questions, I'm willing to guess that one thought I have in common with all of the women who follow ITS, is that if someone attempts to attack my family they're gonna see a momma bear in action. That also leads me to wonder how best I can protect myself and my family and how quickly can I stop the offender. Again, I have to acknowledge that I just don't know how I'd react to best assist in any situation.
This is an area where I need training and I can't get it from my husband no matter how much training he has or how willing to help me he is. There is an intimidation factor when he helps me with my shooting and self-defense skills. I know it's self-induced because he's been nothing but a great coach to me, but it's there all the same. Maybe it's because I know I can let my guard down with him, which makes me vulnerable. I feel like for this level of training I can't be vulnerable.
Women's Tactical Association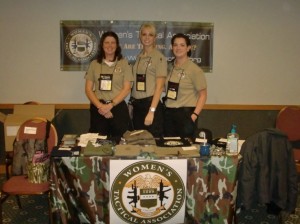 I'm excited to share with you what I've learned about a group of women in law enforcement who are helping to educate other women on how to think tactically and with defensive skills in mind; Women's Tactical Association.
The primary mission of WTA is to promote and encourage training and education among female law enforcement in an effort to enhance and refine skills in the areas of firearms, combat mindset, tactics and fitness. If you're not a member of law enforcement don't be discouraged.
Because of the tremendous response that WTA has received from civilian women and due to the recent changes in gun laws in Illinios, they are expanding training opportunities to women outside of law enforcement.
Women's Tactical Association is a non-profit organization located in Chicago, Illinios and offers training in several different areas; Hand to Hand Combatives, Basic Shooting Skills, Technical Entry skills such as lock picking and mechanical breaching and Introduction to the AR-15/M-16 Rifle. Business plans for 2012 include expanding their available training programs to other states including Texas, I'm happy to report!
In Their Words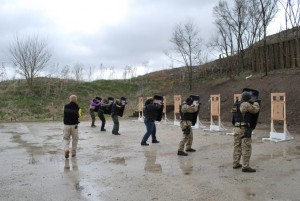 I had the pleasure of speaking with WTA President and founder Karen Bartuch and Instructor and Board Member Kim Heath about the organization. Karen is currently a full-time law enforcement officer for the Chicago police department and began developing WTA in June of 2010 after realizing more women in Law Enforcement were interested in women's training for active shooter situations other than what was being offered by her department. "Getting more women involved in SWAT training has been a hurdle, but specialized shooting and entry skills are needed," Karen noted.
She also mentioned that "women should know the law well, in order to be better prepared; know when to shoot and feel confident with the use of force." Kim is also a full-time Law Enforcement Officer in the Chicago area and described WTA's training program as having well respected and highly trained instructors for all of the classes they offer. "This isn't touchy feely, pink and fluffy just-for-women training; this is the same training as for men, but in a relaxed and fun atmosphere just for women. You don't have to be G.I. Jane though, we have trainers who can teach women who aren't so aggressive."
"It's my job to get them [women] up to the same level and get on the same page," Karen described as we were talking about the basic level shooting classes she offers. "They have different approaches for different skill-sets and we're willing to work in smaller segments if necessary." She sees women gain confidence with each training course and both Karen and Kim noted that there are "no egos" in their training. They, along with other instructors, are committed to providing the best possible training to women. They're taking what they've learned from their own law enforcement experience and training and also from men experienced in combat to provide the resources women need for self-defense and confident service to their teams and families.
Member Testing Program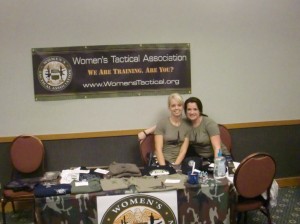 Another valuable part of the organization is their Member Testing Program headed up by Kim Heath. Kim described how the clothing and gear they've been wearing for years has historically been designed for men. "Things could work better if they're designed specifically for women; our bodies are different."
Kim is working with various companies in the tactical industry to test and review garments and equipment that's being tailored with women's bodies in mind. WTA is committed to providing the best group of field testers possible for the companies they work with in order to provide solid feedback that will help develop the best possible products for women in the field.
You can find out more about Women's Tactical Association by joining their Website at no cost or look them up on Facebook. After registering for their site you can access their calendar of classes in the Chicago area, interact with members on the blog and keep track of when WTA will be coming to a state near you. Paid memberships are also available to law enforcement and civilians to help support WTA, with discounts offered on classes and from participating vendors as well as networking opportunities.
With the knowledge of training that's available from Women's Tactical Association and other organizations throughout the United States, I'm challenging myself and other women to become better prepared for whatever life might throw at us. Whether we like it or not, we may have to take the lead and defend our lives, our homes and our family at some point in the future. Personally, I need to know I'm ready.
As the ladies of Women's Tactical Association say, "We Are Training. Are You?"