Learn the Secrets of CIA Tradecraft
Learn the Secrets of CIA Tradecraft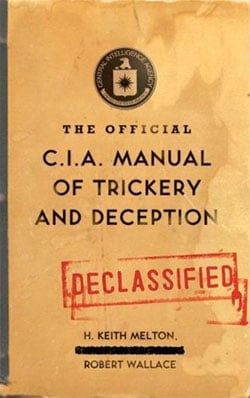 Did you know that the CIA hired a magician to write a pair of tradecraft manuals for them in the early 1950s?
Magician John Mulholland wrote these once classified manuals to show CIA case officers how to secretly pass documents, hide items discretely, slip pills into enemy cocktails and even covert communication tricks. The real nuts and bolts of espionage!
Once thought to have been destroyed, one copy of each of the two declassified manuals was recovered by the author and appear in their entirety within The Official CIA Manual of Trickery and Deception.
The book is a very good read for those interested in CIA tradecraft history and also its original roots in stage magic.
For more of our book selections, check out our recommended reading list.