Nitrile Exam Gloves and Proper Body Substance Isolation
Nitrile Exam Gloves and Proper Body Substance Isolation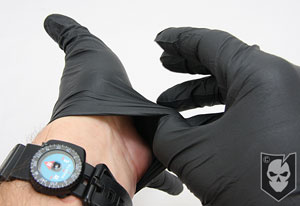 Believe it or not, there's more to Nitrile Exam Gloves than you may think.
Nitrile has become synonymous with protective gloves and today we're going to fill you in on why it's superior to other rubber and even how to properly remove them after use.
Proper body substance isolation is extremely important when coming in contact with bodily fluids, and personal protective equipment (PPE) like Nitrile gloves is your first line of defense.
Wearing gloves is not only important in protecting against potentially infectious materials, such as blood and body fluids, but also against harsh chemicals and biological risks.
Nitrile
There are a few reasons why Nitrile is so common today in rubber exam gloves, with the main reason being that Nitrile is non-latex. Latex allergies are quite common, and Nitrile rubber has shown to be a great alternative. There are Nitrile allergies too, so it's best to ensure you're not at risk for that either before using them.
Nitrile is synthetic rubber, thus not harmful to those with latex allergies. Other reasons that make Nitrile gloves superior are that they're three times more puncture resistant than natural rubber gloves, more resistant to oils and acids, and can withstand a wider temperature range.
The Nitrile rubber itself can withstand ranges of -104Ëš Fahrenheit to 220Ëš Fahrenheit. Despite Nitrile's wide range of temperature it's still best to store them out of direct sunlight and heat, as they'll degrade faster.
Proper Removal
To keep in line with our body substance isolation policy, there's a right way and a wrong way to remove gloves. If you're not concerned with BSI then remove them however you want, but it's a better idea to get used to removing them one way in all situations so it becomes ingrained. That way, when you are around bodily fluids and blood borne pathogens, you won't risk exposure by forgetting the proper way to remove your gloves.
The gloves shown in the video below are what we've found to be the best Nitrile gloves on the market today, BlackMax. These are the gloves that we use in our ETA Kits, which have tremendous dexterity and a great texture that allows you to pick up a dime on a table.
Here's a quick video to show you how it's done: