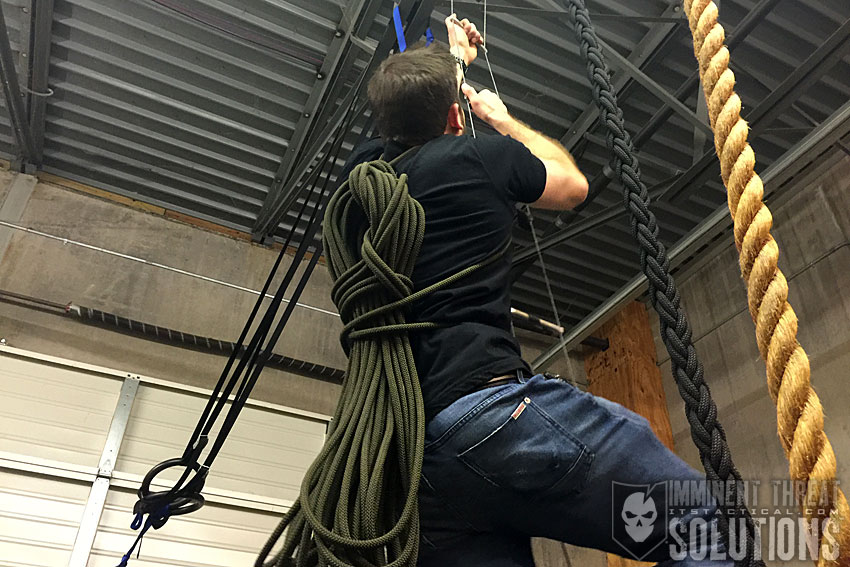 So why would you want to learn how to use a Climber's Coil to carry a rope on your back? Allow me to give you three good reasons in this week's Knot of the Week.
First of all, while the title of this article mentions coiling a rope, what I'll show you today can also be considered flaking. Flaking allows the rope to be gathered in the natural way it lies and doesn't add any unnecessary twists to the rope. Twists can kink over time reducing the life of the rope fibers, as well as lead to knotting when undoing the rope.
This brings me to the second benefit of using a Climber's Coil, by simply undoing the wraps that enable the rope to be carried on your back, you can throw this rope (while holding the working ends) without having to worry about it knotting up. I show this in the video as well.
Lastly, following the Climber's Coil instruction will leave you with the working ends that you can wrap around the rope and tie in a backpack-like configuration. This enables you to move and climb hands-free, or even drape the Climber's Coil over a backpack before tying. You can vary the slack left however you'd like.
Carrying a rope in this configuration also helps a climber maintain a good center of gravity. Trying to free-climb with a backpack full of rope adds unnecessary risk to an already dangerous task.
Climber's Coil » Coils
(Strength: 5/Security: 5/Stability: 4/Difficulty: 4) See below for what these ratings mean.
Ratings
Strength/Security/Stability/Difficulty
Each knot will be assigned a rating from 1-5 (1 representing the lowest score) based on the following four properties:
Strength – All knots will weaken the strength of  a rope, however, there are knots that are stronger than others. The scale here will reflect how strong the rope remains with the specified knot.
Security – The security scale refers to how well the knot will stay tied, and resist coming loose under a normal load.
Stability – Stability refers to how easily the knot will come untied under an abnormal load (i.e. the knot being pulled in a direction it was not intended to) A lower score here represents instability.
Difficulty – The lower the number, the easier a knot is to tie.
Have you listened to our Podcast?

Do you enjoy witty banter and nostalgic geekdom all while sipping on a fine aged scotch? Then you'll love our podcast!