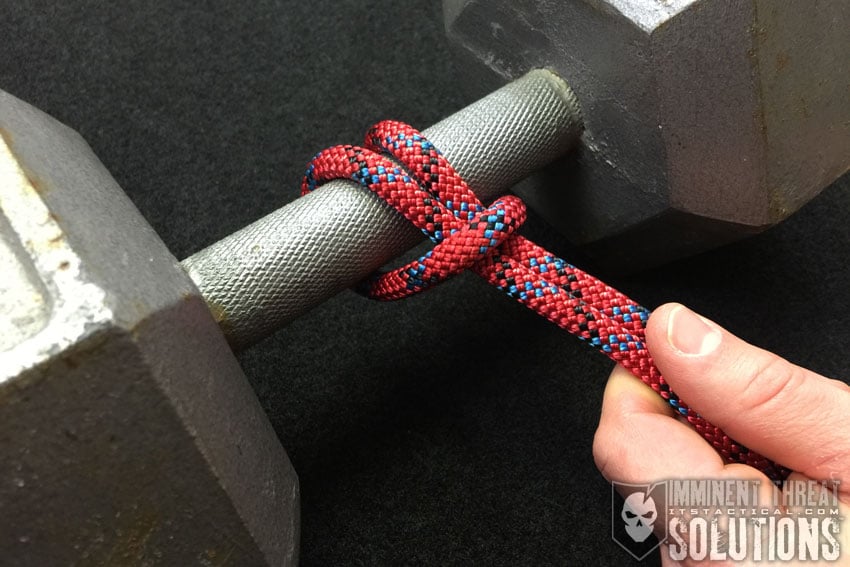 While many think the Girth Hitch and the Cow Hitch are one in the same, on today's Knot of the Week in HD, I'll be explaining their subtle differences and why they're important to recognize. The Girth Hitch is one of the simplest hitches out there, but nevertheless, very important to know and worth the refresher. Especially if you're disputing my difference between it and the Cow Hitch.
Girth Hitch » Hitches
(Strength: 4/Security: 5/Stability: 5/Difficulty: 1) See below for what these ratings mean.
As you can see below in the Cow Hitch ratings, there's absolutely a difference in their strength, security and stability. This has everything to do with how the hitch is loaded. With a Girth Hitch, the tension is being divided between each of what would be working ends, though when tied in a sling (or fixed loop) there's really just a working bight, but I digress.
Cow Hitch » Hitches
(Strength: 3/Security: 2/Stability: 3/Difficulty: 2) See below for what these ratings mean.
With a Cow Hitch, the exact same hitch pattern is created, but as you'll see in the video, it's done so with a single line of rope. Also, picture the standing end being attached to a Cow. After wrapping the working end around the object you're tying the "cow" onto, you now have an unsecured end and when the standing end is pulled, the hitch will slip.
I know that's a long winded way of saying to just stick with the Girth Hitch, but I wanted to tell you the why behind it. There are much better ways of tying up an animal and we'll get into a few of those hitches in upcoming KOTWs.
Ratings
Strength/Security/Stability/Difficulty
Each knot will be assigned a rating from 1-5 (1 representing the lowest score) based on the following four properties:
Strength – All knots will weaken the strength of  a rope, however, there are knots that are stronger than others. The scale here will reflect how strong the rope remains with the specified knot.
Security – The security scale refers to how well the knot will stay tied, and resist coming loose under a normal load.
Stability – Stability refers to how easily the knot will come untied under an abnormal load (i.e. the knot being pulled in a direction it was not intended to) A lower score here represents instability.
Difficulty – The lower the number, the easier a knot is to tie.
Have you listened to our Podcast?

Do you enjoy witty banter and nostalgic geekdom all while sipping on a fine aged scotch? Then you'll love our podcast!