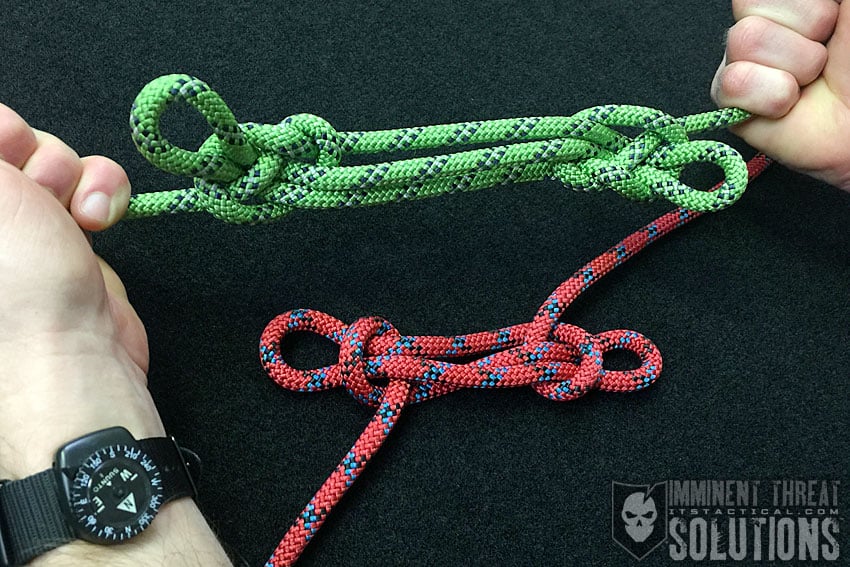 On today's Knot of the Week, we'll be going over another of my favorites, the Sheepshank. It's namesake comes from its supposed resemblance to a meaty legbone, but I can't really see that. Nevertheless, the Sheepshank is a fantastic hitch that can be used to either shorten a rope, or bypass a damaged section of rope.
Sheepshank » Hitches
(Strength: 4/Security: 4/Stability: 4/Difficulty: 3) See below for what these ratings mean.
If you're ever working around ropes this knot could potentiality mean the difference between having a useless rope and one that will carry you through. Despite internet murmurs and controversy surrounding whether the Sheepshank will hold under load, I'll say that if you avoid cheap nylon rope, you should be good. I've personally tested the Sheepshank with good climbing rope (Bluewater Static Assaultline, 11mm) and it's held approx. 200 lbs. under load with no slipping.
That being said, the Sheepshank shouldn't be used with dynamic rope, only static. You don't want to add the additional shock of a long fall to an already damaged rope, no matter what knot is tied. Stick with only using the knot to bypass damage in an emergency situation, where there are no other alternatives.
Hasty Sheepshank » Hitches
(Strength: 3/Security: 2/Stability: 2/Difficulty: 2) See below for what these ratings mean.
In the video linked above, I also demonstrate a hasty method for tying a Sheepshank and mention that you should only use this for shortening and not so much in lifesaving situations. It's a quick method using loops, where the damaged area would wind up on the top of the middle loop.
As you can see, the security and stability take a big hit with the hasty method. Check out the embedded video above for more.
Ratings
Strength/Security/Stability/Difficulty
Each knot will be assigned a rating from 1-5 (1 representing the lowest score) based on the following four properties:
Strength – All knots will weaken the strength of  a rope, however, there are knots that are stronger than others. The scale here will reflect how strong the rope remains with the specified knot.
Security – The security scale refers to how well the knot will stay tied, and resist coming loose under a normal load.
Stability – Stability refers to how easily the knot will come untied under an abnormal load (i.e. the knot being pulled in a direction it was not intended to) A lower score here represents instability.
Difficulty – The lower the number, the easier a knot is to tie.
Have you listened to our Podcast?

Do you enjoy witty banter and nostalgic geekdom all while sipping on a fine aged scotch? Then you'll love our podcast!