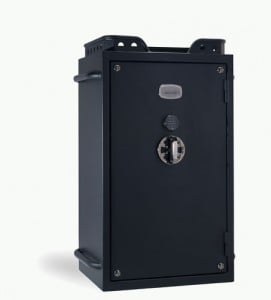 Something that caught our eye in the new NRA magazine, "American Rifleman," was a short article on the Browning Tactical Safe.
It's the first we'd heard of the safe, but it looks very promising.
Perusing Browning's Web site gave us a better understanding of the features of the safe, and what their proprietary nomenclature meant.
Features
Made from an 11-gauge steel body, the BTS has some prominent external features we've yet to see on a gun safe. There's a storage basket on the top and large side rails from which an included accessory rack can be hung to manage gear.
The locking mechanism on the front is an S&G Type 1 Electronic Lock, which some may not care for, but we've been hearing more and more how electronic locks are the way to go on safes.
One of our guys has a dial combination lock on his gun safe that keeps slipping by a few numbers and it's going to cost him as much to perform the maintenance on it as it will to have an electronic lock installed.
Apparently while you do have to worry about battery life, there's an override to open the safe in case of battery failure. Hopefully one of our knowledgeable readers can chime in here about these.
In addition to the heavy steel body and 1 5/16″ thick door face, a few anti-pry features have been integrated in the BTS.
Pry-Stop end bolts are longer than traditional end bolts and prevent the locking bolt support bar from bending in a pry attack, and the top and bottom 1 1/4″ locking bolts on the door side provide four-sided door coverage.
Added security features on the BTS include hardened steel pin lock protection, being UL listed against tool attack and Browning's Force Deflector Locking Mechanism, which prevents bolt or handle forces from reaching the lock by using a rotating cam device.
The door hinges feature 180 degrees of rotation, and allow the door to remove to simplify moving. Hinge-side locking bolts provide increased security even if the hinges are cut off.
Interior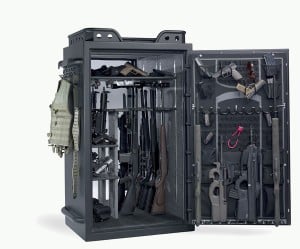 The inside of the BTS appears to have a traditional gun safe shelf system, but all the shelves are rubber coated, including the floor. The floor is also elevated which makes removing guns easier.
An awesome feature is the inclusion of picatinny rails to mount weapon accessories easily inside the safe. In the interior photo these appear to be hanging from the bottom of the topmost shelf.
It's also great how Browning took advantage of the door real estate by providing pockets and racks for storage that seem to fit long guns nicely.
Of course we can't forget the interior light and mirrored back wall (top half) of the safe. You'll be able to see how tough you look holding your guns, even in the dark.
In actuality it's nice to have a light in a safe, and the mirror provides additional ambient light and the illusion of more space.
There's standard 1200 degree fire protection for 60 minutes, three layers of 1/2″ fire-resistant gypsum insulation in the safe body and door, and a Palusol expanding fire seal to help keep the contents safe during a fire.
The Browning Tactical Mark II comes in two sizes, 60″x37″x27″ that holds 20/30 guns, and 60″x30″x25″ that holds 10/20 guns. MSRP for the smaller safe is $2,399 and $2,879 for the larger.
View more details and dealer information here.