Dogs of Defense: Considerations for Purchasing a Protection Dog
Dogs of Defense: Considerations for Purchasing a Protection Dog
Dogs of Defense
Dogs of Defense: Considerations for Purchasing a Protection Dog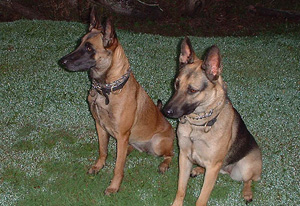 If you have made it this far in our series, hopefully you are seriously considering a protection dog. In this article we are going to address the selection of a dog and the training of that dog.
These are going to be the two most important aspects for you, as the owner, when determining what kind of dog you want and how to prepare both yourself and your dog for home protection.
Sadly, many Americans have fallen in the fallacy that bigger is better. Many would argue with everything they are worth that a .50 caliber bullet is superior to a 9mm for personal protection, even for a 90 lb. woman who can barely hold the handgun. Are .50 caliber handguns bad? Not necessarily, but they have certain characteristics and limitations that must be considered when purchasing them for self-defense.
If a person can hit their target under stress consistently with a 9mm, then they are much better off with that handgun then a .50 caliber that they can't control. The same thought process must be applied to the purchase of a protection dog.
Size
There are benefits and detriments associated with large dogs. Large dogs are often stronger and may give you a psychological advantage, but they are also going to be less agile and slower.
Of course you do not want to have a Pomeranian or Chihuahua for home protection. It is important to balance the size and strength of the dog with its ability to move and negotiate the natural obstacles in your home or wherever else it may be protecting you.
For a home protection dog that is capable of giving you the greatest performance in the widest number of circumstances, you should look for an agile breed somewhere between 50 and 85 lbs. A dog this size will give you plenty of biting strength while maintaining the greatest agility and ability to move during a fight.
Agility
Agility is the measure of how quickly a dog can change directions or negotiate obstacles. Obstacles can be anything from jumping a fence to leaping into the back of a pickup truck, or even transitioning from carpet to tile in your home. When fighting with dogs, those that are most effective are the medium sized dogs that can change direction and react very quickly.
Dogs that are much slower, such as Basset Hounds and very large English Bulldogs, do not necessarily make good protection dogs. Although there are always exceptions to this rule.
Temperament
This is perhaps the most important consideration for those concerned about the safety of those around them. Most of our nightmarish images of dangerous protection dogs come from the image of the junkyard dog or drug-house dog that has a very poor temperament. These dogs are dangerous and should not be used as pets or protection dogs.
This being said, there are dogs of practically every breed that have good and bad temperaments. Generally, but not always, females will have better temperaments than males. Just as you do not want an overly aggressive or posturing dog, you also do not want a dog that acts skittish at every movement or schizophrenic.
Look for calm and confident dogs. If you can find a puppy from a parent's second litter, you can be fairly certain that your dog will have a similar temperament to its older brothers and sisters, but, again, this is not always true.
Another important aspect to remember is that a poor owner and poor training can take a calm and confident puppy and turn him into a skittish dog lashing out at everything he sees. Ensure that you read my 12 Pillars of Dog Training and find a competent trainer that can guide you through the training process for a protection dog.
Recommendations
While this list is somewhat biased and certainly not all encompassing, several of the recommended breeds for protection dogs are the German Shepherd's Dog, the Belgian Malinois, the Dutch Shepherd's Dog, the Airedale Terrier, the Australian Shepherd's Dog, the American Bull Dog, the Rotwieller (although it is difficult to find well bred animals in this breed anymore) and the Black Mouth Cur.
Remember to do your research. Do not select a dog simply because you like what they look like. Base your selection on the dog having desirable characteristics for you and your lifestyle.
Training
After you select a breed, you should locate a competent trainer prior to purchasing your selected dog. First, determine if your trainer works with your breed of dog. Secondly, speak with that trainer about the characteristics and traits of that breed and if this will be compatible with your lifestyle. Thirdly, discuss the level of training you want to conduct with the trainer, and how much that will cost. This way you can plan for all expenses involved and determine what your capabilities are.
There are many trainers out there who would recommend against purchasing a dog as a young puppy, but I would have to disagree with that approach. The absolute best way for you to ensure that you have the best-trained and most closely bonded dog is to get him when he is a puppy. Eight to 12 weeks of age is best if you can manage it, but certainly aim for less than four months.
Having a dog that has only ever been trained by you, under the observation of a good trainer, will yield your best results. This will ensure that the home environment is fully familiar to your dog and that the dog has been socialized around your family, reducing the risk of errant bites.
There are several key aspects of training that you should look for in a complete protection-training package. These aspects can be trained in a single extended training package, or conducted over the course of a year or two depending on your budget and schedule.
Realistic Stress
One of the greatest flaws I have seen in training for protection work is also prevalent in many law enforcement and military training models: unrealistic training stress. What I mean by this is that the handlers must first take their training very seriously. If the handler is not serious about their training, then the dog will not be either.
It is critical to train as you fight. If you encounter a trainer who uses a weapon in one hand but encourages the dog to continue biting the empty hand, find another trainer. Finally, realistic stress should also include fighting in the environments you will be most likely to actually fight in.
Home Defensive Evaluation
If you have the capability, have the trainer come to your home and walk you through a home defense evaluation. Where are your likely points of entry? Where does your family sleep? Where should your children go if there is a home invasion? What pattern should you use when clearing your house for threats? And finally, how do you integrate your dog into that plan?
This cannot be done to the fullest extent without the trainer actually being on the premises at your home. Try to find a trainer that will take the time and walk you through every aspect of home defense, and not focus simply on the dog. The protection dog is an added asset, but you should not rely on the dog without a weapon for yourself. You should also not rely on yourself alone when you have a dog. All of these aspects must be integrated together for the maximum effect.
Conclusion
Having the right dog and the right training can make all the difference in the world during a violent encounter or home invasion. Do your homework and think through your situation before making final decisions. After you have selected a breed and trained your protection dog, test your plan in a force on force manner.
Without getting into too many details, you should conduct a coordinated home invasion in which you put into use all of your assets to ensure that your plan is effective. This will help to point out weaknesses, which you can then plan for.
Joel is the founder and head trainer of Dunetos K-9, a training facility and equipment manufacturer specializing in Tactical and standard K-9 equipment. He's been training and handling dogs for over 10 years and works closely with Baden K-9, a highly respected training facility in Ontario, Canada. Joel has served in the United States Army for 11 years as a Military Police Officer deploying to the Pentagon days after the 9/11 attack, Afghanistan (2003), Iraq (2007) and is currently serving in Bogota, Colombia (2011) in the War on Drugs. Joel has specialized in integrating dogs into every aspect of life, from personal obedience and protection to specialized military application.