Reader Appreciation Contest: Giveaway #2!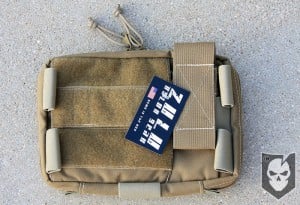 Just when you thought  your day couldn't get any better, we bring you our second  Reader Appreciation Contest giveaway!
Today we're giving away the  Zulu Nylon Gear Mega Admin Pouch we reviewed just a few short days ago! That's right, the Mega Admin Pouch can be yours for the incredible price of FREE!
To learn how you can be eligible to win, take a look at our  contest rules.
Zulu is a company owned and operated by one of our readers here at ITS, and we want to help them get the word out as much as we can.
We're big fans of this pouch, and particularly like the adjustable 550 cord feature to hold the main compartment open.  It's great for keeping a map or index cards at the ready while navigating.
For more information on Zulu Nylon Gear, please visit their  Web site.
We'll let this contest run until Thursday, August 27th at 11:59 p.m. (Central Time)
Be sure to read the contest rules carefully
Thanks for entering, and good luck!!
Are you getting more than 14¢ of value per day from ITS Tactical?
Please consider joining our Crew Leader Membership and our growing community of supporters.
At ITS Tactical we're working hard every day to provide different methods, ideas and knowledge that could one day save your life. Instead of simply asking for your support with donations, we've developed a membership to allow our readers to support what we do and allow us to give you back something in return.
For less than 14¢ a day you can help contribute directly to our content, and join our growing community of supporters who have directly influenced what we've been able to accomplish and where we're headed.