Announcing the ITS Tactical Discreet Messenger Bag Gen 2!
Announcing the ITS Tactical Discreet Messenger Bag Gen 2!
We're excited to announce the release of the 2nd Generation ITS Tactical Discreet Messenger Bag! We've listened to suggestions from our end users and worked hard with Zulu Nylon Gear to integrate some awesome new features!
The Discreet Messenger Bag represents features unseen in other bombproof tactical messenger bags; A bag laden with tactical features that doesn't look tactical! With no exposed MOLLE/PALS or visible velcro, this bag is sure to blend right into any urban environment as your everyday carry or bug out / bail out bag.
Today we'll go through all the upgrades we've made to increase its versatility and inherent discreet nature!
Upgrades
For those of you not familiar with our Discreet Messenger Bag and its development over the past two years please check out this article on the prototype and this article on the Gen 1 design.
Shoulder Strap
[flickr id="5877498876″ thumbnail="small" overlay="false" size="medium" group="" align="right"] One large improvement on the bag that we've integrated is ambidextrous access to the shoulder strap by making it removable and reversible with dual 2″ slide release buckles. This allows you to adjust and remove the shoulder strap no matter which shoulder you're wearing the bag on.
Something Military Morons brought up in his review of the Gen 1 bag was that we "somehow make the main shoulder strap ambidextrous for right or left shoulder carry, so that the emergency release buckle can always be positioned at the front…" Utilizing the dual SRBs this ambidextrous option is now a reality in the Gen 2 DMB.
Top Lid Interior Access
One of the inherent limitations of a "flap" style messenger bag is that to access the interior items you have to lift up the flap. We went back to the drawing board with Zulu and decided to remove the larger pocket on the flap of the top lid and replace it with an ambidextrous zipper that would allow the user to "open" the top lid to access interior items without having to undo the buckles and lift up the top lid.
This new zipper access features dual zippers to handle opening with either the right or left hand, regardless of what shoulder it's carried on. This also segues into our next awesome feature, the relocation of the concealed carry pocket!
Concealed Carry Pocket and Holster Insert
Another upgrade to the DMB was to listen to our end users and comments that the previous location of the concealed carry pocket wasn't easy to access under all circumstances. Namely if you have the DMB loaded down, that weight is against your body-side and against the opening of the concealed carry pocket. While not impossible to access, it still needed to be improved.
We've now moved the pocket location to the interior of the bag and ensured it was reinforced just as it was before to support the weight of a full-frame pistol and spare magazine. This location also makes drawing the firearm very easy using the new top lid zipper access. Your hand naturally goes right to this pocket when reaching into the main compartment through the flap!
Our concealed carry pocket wouldn't be complete without our new Holster Insert! Featuring a 2″ wide webbing hook and loop closure that measures 9.5″, it will fit most full-frame pistols including Sig Sauers and 1911s. Attached to the 4″ x 4″ hook velcro backer is elastic retention to additionally carry a single pistol magazine.
As the pocket wall of our concealed carry pocket is reinforced with an HDPE sheet for rigidity, the Holster Insert hook velcro backing was left flexible for weight reduction.
Medical Insert
Something we've been working long and hard on with Zulu Nylon Gear is developing an insert for that large loop field that those of you that own a Gen 1 bag may have been wondering about on the exterior pocket lid.
This was designed to integrate our new Medical Insert and add rapid access capability to our ETA Kit components!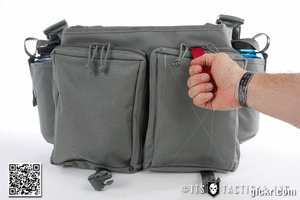 By priming the pocket so that the red webbing tab is exposed, you simply grasp the tab and pull to quickly access the pockets contents. ETA Kit components are secured to the Medical Insert with a single piece of adjustable shock cord routed through webbing channels and sewn to a 7″ x 2″ hook velcro strip.
The 1″ webbing pull tab measures another 7″ to provide plenty of purchase to grab and pull. The end of the pull tab is also reinforced for a solid pull.
Full Feature List
Just a few of the great features of the ITS Tactical Discreet Messenger Bag are the capability to use the bag to fight out of. Utilizing the waist strap to further secure the bag and the interior pockets to hold up to 4 AK Magazines or 8 M4/M-16 Magazines this bag has endless versatility. You can also place an armored plate and soft armor backer into the laptop pocket for further threat protection.
The bag dimension will also fit the popular Kel-Tec SUB-2000 folding rifle. Within the bag is also a hidden pocket that will only be revealed to those purchasing the Discreet Messenger Bag!
Available in Black, Coyote Brown and Foliage
Handmade in the USA with coated 1000D Cordura
Measures 15″ long x 5.5″ deep x 12″ tall
Exterior Nalgene Pockets with 1″ wide x 12″ long removable straps
4″ exterior loop velcro field with removable discreet cover
14.5″ interior bag access with top lid ambidextrous zipper opening
5.5″ deep zippered exterior flap pocket
Interior 14.5″ wide x 11″ deep loop-velcro lined and HDPE-reinforced concealed pocket
Removable and adjustable 1″ wide waist strap
SlipNOT abrasion-resistant lined bottom with two drainage grommets
Removable shock cord interweaved on bag bottom
2″ wide removable and quick-adjust shoulder strap
Adjustable top lid flap with 14″ x 12″ interior zippered marine-grade vinyl map pocket
Padded 14.5″ wide laptop pouch contoured to fit most 15″ laptops
Laptop Pocket will also hold an armor plate and soft armor backer
Two interior 7.5″ wide x 9.5″ tall paracord drawbridge pockets containing two elastic-retention magazine pouches and large rear pocket
Drawbridge magazine pockets hold total of 4 AK mags or 8 M4 Magpul Pmags
Left side interior drawbridge pocket flap with admin pockets and right side loop velcro lined
Reinforced paracord drawbridge channels
Keychain lanyard d-ring in right rear interior pocket
550 paracord pulls on all zippered pockets and color matched hardware
Exclusive Hidden pocket that will only be disclosed to those purchasing the bag
Warranty and Available Discount
In the event that a Discreet Messenger Bag should fail due to poor craftsmanship or other defect, we will repair or replace as necessary free of charge! Just a reminder too that all our Plank Owners and Crew Leaders save 15% 24/7/365 on their entire order in our store along with all the other great benefits! Are you an ITS Tactical Supporting Member yet?