RSKTKR/ITS Combative Pistol Class Shirt Reader Appreciation Contest
Last month, as some of you may remember, ITS Tactical hosted a RSKTKR  1-Day Combative Pistol class in Greenville, TX.
Doc and Andrea from RSKTKR Consulting had shirts for sale in the class with a great "we fight wars" saying on the back, and the logos from all the sponsors
Yes, the .com from itstactical.com was included on the final print… Doc can shoot, but he has issues with spelling!
Today, we'd like to announce our next Reader Appreciation Contest to giveaway a limited edition Olive colored class shirt. The original class shirts were only available in black, and you're only going to find the Olive shirt available right here!
Update: "Schutzen" is the winner of the RSKTKR giveaway. Thank you to all those who entered and stay tuned for more contests!
Contest Details
The Olive RSKTKR Class T-Shirt up for grabs will be available in Adult Sizes S-XXL.
For instructions on how you can get your entry in, take a look at our contest rules. Winner will also receive free shipping.
We'll let this contest run until Monday, March 15th, at 11:59 p.m. (Central Time), any entries after that time will not be counted.
Be sure to read the contest rules carefully!
Thanks for entering, and good luck!!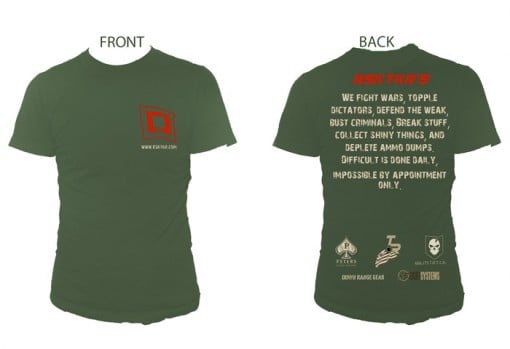 Are you getting more than 14¢ of value per day from ITS Tactical?
Please consider joining our Crew Leader Membership and our growing community of supporters.
At ITS Tactical we're working hard every day to provide different methods, ideas and knowledge that could one day save your life. Instead of simply asking for your support with donations, we've developed a membership to allow our readers to support what we do and allow us to give you back something in return.
For less than 14¢ a day you can help contribute directly to our content, and join our growing community of supporters who have directly influenced what we've been able to accomplish and where we're headed.