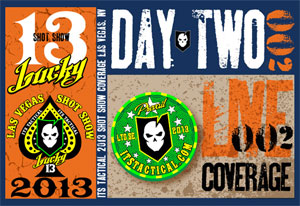 Stay tuned for live coverage coming from the 2013 SHOT Show floor on Day 2.
This post will update throughout the day as our coverage continues, so check back often for all the awesomeness!
If you have specific requests, please leave them in the comments and we'll do our best to track down the information for you. Thanks for tuning into our coverage!
–1615– Knights Armament flask and shot glasses. Should be available in a week or so on kacgear dot com
–1604– Combat Operations Data Book from 1MOA Solutions. Durable and ready for use in the field.
–1559– Watershed has an option to keep your Power Monkey dry and charging. You can also use your phone through it.
–1556– Personal waterproof IFAK bag from Watershed.
–1550– Watershed made their duffels & shotgun bags all to mil spec standards. Very tough gear.
–1250– Ti Training use of force training tool from Action Target. Provides recoil through CO2.
–1225– Very cool line from Propper made to blend in. Looks like standard street clothes but has a lot of features.
–1220– New Propper hoodie w/pass through for appendix carry. Awkward photo to say the least.
–1209– The A-TACS lineup with their new LE pattern. Coming soon.
–1204– New Multitasker from Emerson. Out in February w/ preorders online.
–1155– Saber Defense Spray has UV marking dye detectable for 48 hrs. Leave a trace when it comes to self defense!
–1146– New ITW polymer Cobra buckles. Price not set yet but should be out soon.
–1143– The ITW QASM picatinny rail mount. For a variety of accessories.
–1140– The new Petzl Strix. Versatile tactical headlamp. Uses 1 AA.
–1132– Just a taste of some Spyderco knives. A little something for everyone.
–1129– Bryan geeking out on some Juki sewing machines. They really are awesome though.
–1127– The new Magpul MS4 Sling. Dual-QD version of the standard MS3 Sling.
–1112– Ronin motorcycle at Magpul
–1103– New furniture from Magpul for Mossberg shotguns to go along with their Remington gear.
–1058– Magpul has a pretty sweet fully restored 21 window VW bus.
–1045– Ruger made these kiosks to provide an easy way for you to get your voice heard. Protect your rights.
–1040– Sig P938 Nightmare. 9mm Single action only and ambidextrous safety.
–1039– Slick SIG SAUER Spartan 1911 .45ACP, SAO trigger, Spartan grips MSRP $1356
–1038– More of the Sig MPX – Customizable and a lot of options. Currently MIL/LE only.

–1034– Sig MPX Carbine – 6.5" barrel w/9.5" permanent brake. Easily becomes integral suppressed.
–1022– New Raven Concealment Vanguard 2 for M&P. Keep an eye out for it.
–0952– Hey we're on the big TV! (This could be dangerous)
–0948– SHOT Show is packed but there's a good vibe, despite current climate.
–0943– A sunny and brisk morning in Vegas. We're at SHOT Show and checking out the awesomeness!
Are you getting more than 14¢ of value per day from ITS Tactical?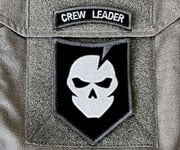 Please consider joining our Crew Leader Membership and our growing community of supporters.
At ITS Tactical we're working hard every day to provide different methods, ideas and knowledge that could one day save your life. Instead of simply asking for your support with donations, we've developed a membership to allow our readers to support what we do and allow us to give you back something in return.
For less than 14¢ a day you can help contribute directly to our content, and join our growing community of supporters who have directly influenced what we've been able to accomplish and where we're headed.