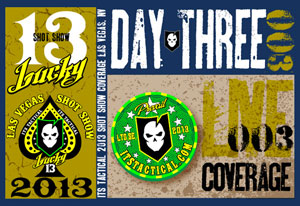 Stay tuned for live coverage coming from the 2013 SHOT Show floor on Day 3.
This post will update throughout the day as our coverage continues, so check back often for all the awesomeness!
If you have specific requests, please leave them in the comments and we'll do our best to track down the information for you. Thanks for tuning into our coverage!
–1612– A closer look at the Leatherman Raptor folding medical shears.
–1517– New Airlite chest rig from S&S Precision.
–1500– The ATV Corp Prowler can be driven in & out of a V-22 and is multi mission configurable.
–1435– Ops-Core RAC Headset. Multi position attachment. Swings out of way when not in use.
–1431– Ops-Core Counterweights – Elastic bands hold weights or batteries to fine tune balance.
–1430– The Ops-Core Moto Visor & Mandible. One handed operation & offers increased protection.
–1428– The Ops-Core Lux Liner. Drop in upgrade w/new Worm-Dial fitband. Designed for comfort during extended use.
–1230– New ops-core Skeleton Shroud stronger and lighter weight than VAS Shroud, perfect fit with no rattle.
–1223– Cockpit USA. Current Supplier to the US Gov since 1980. Official Supplier to USAF of the A-2 Pilot Jacket.
–1217– The new Brite Strike EPLI is 220 lumens, lightweight, 2 AAAs, $80 and available now
–1213– Brite Strike Personal Alarm – 120db, flashing light, breakaway lanyard.
–1209– Brite Strike APALS [All Purpose Adhesive Light Strip] on a DisposaCone.
–1205– Sons Trauma Kit from Phokus Research Group. Fits in plate carriers for easy storage.
–1151– Always some awesome guns at the AAC booth!
–1141– A sampling of Gerber knives from their tactical line.
–1138– Cool stuff from Gerber Gear.
Finding a huge late night sandwich has become a tradition for us at SHOT Show.
Very interesting new camo pattern we observed last night from In-N-Out Burger
Are you getting more than 14¢ of value per day from ITS Tactical?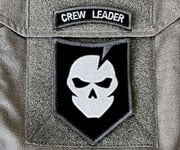 Please consider joining our Crew Leader Membership and our growing community of supporters.
At ITS Tactical we're working hard every day to provide different methods, ideas and knowledge that could one day save your life. Instead of simply asking for your support with donations, we've developed a membership to allow our readers to support what we do and allow us to give you back something in return.
For less than 14¢ a day you can help contribute directly to our content, and join our growing community of supporters who have directly influenced what we've been able to accomplish and where we're headed.