Send Discreet Emergency Distress Signals from your iPhone or BlackBerry
There's a great personal security app for iPhone and BlackBerry called Silent Bodyguard I'd like to draw your attention to today.
Silent Bodyguard acts like a panic button that can be activated in two taps and immediately send a discreet SOS message and GPS Location every 60 seconds to whomever you've set as your emergency contacts.
I've been testing Silent Bodyguard on my iPhone now for the better part of three months, and am confident you'll all work this into one of your go-to items in an emergency situation.
Usage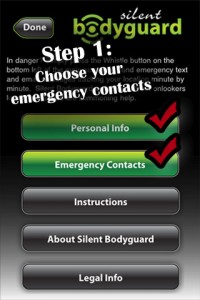 I was turned on to Silent Bodyguard by a friend in the last SCG International HUMINT (Human Intelligence) course I attended, as a way to discreetly let each other know if we'd been detained or picked up in the exercises.
While we never had to use it, it was great knowing that we had that line of discreet communication if we needed it. I've since transitioned to using and testing the app for myself and my family as a way to alert each other if we're ever in trouble.
As mentioned earlier, the app sends out SMS and email alerts every 60 seconds when you activate it. In both the email and text message, a link to the user's location via Google Maps is shown, which makes it really easy to view a satellite image of the location on your iPhone if necessary. It's almost like being fed real-time intel if you're on the receiving end.
Set up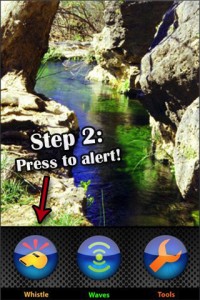 The first thing you'll see on Silent Bodyguard is a nondescript outdoor photo of a creek, which helps with the inconspicuous nature of the app, and three buttons. From left to right you have the "whistle" button which activates the broadcasts, the "waves" button that changes from a red dot to green waves when broadcasting and the "Tools" button where you enter all your settings.
Through the settings you're able to add your personal info (so your contacts will know who the distress signal is coming from), one emergency phone number for SMS and up to three email addresses. There's even a way to test your settings to ensure the app is working correctly and sending out your distress signal and GPS location.
Notes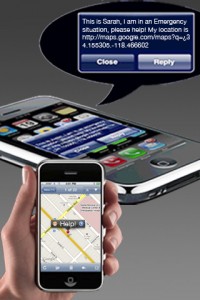 Silent Bodyguard is very simple and straightforward, as it should be. There's one way to activate it and a minimum amount of options. It would be nice to send SMS broadcasts to more than one phone number, and even a way to customize the distress verbiage that is sent.
While I understand the need for a distracting photo on the opening screen, there should be a way to change it. I do like how the app icon is a nondescript wrench though.
Every time I've tested this app it's performed flawlessly and is definitely worth a dollar in my opinion. An added bonus is that the alerts that are sent out use the Silent Bodyguard servers and don't cost you anything!
Give Silent Bodyguard a try by finding links to the App Store and Blackberry App World on their Website.
UPDATE: It looks like Silent Bodyguard has a Pro Version as well, but you have to purchase the ability to send SMS Emergency Signals for $1.99 (up to 3 contacts) and $2.99 (up to 7 contacts). There's also a Twitter functionality for $0.99 to send the Emergency Signal to all your Twitter followers, and a way for your Facebook friends to receive them as well but I couldn't figure out how to get this function activated.
Are you getting more than 14¢ of value per day from ITS Tactical?
Please consider joining our Crew Leader Membership and our growing community of supporters.
At ITS Tactical we're working hard every day to provide different methods, ideas and knowledge that could one day save your life. Instead of simply asking for your support with donations, we've developed a membership to allow our readers to support what we do and allow us to give you back something in return.
For less than 14¢ a day you can help contribute directly to our content, and join our growing community of supporters who have directly influenced what we've been able to accomplish and where we're headed.