You may remember us talking about the new A-TACS camouflage a few posts ago and we have another camo update for you. In a recent press release, Digital Concealment Systems and Tactical Assault Gear (TAG) announced that A-TACS nylon gear will now be available for purchase.
TAG will be one of the first in the industry to use the A-TACS camo printed loop velcro and nylon webbing. The colors on the printed loop are really very well done and offer a benefit over other camouflage systems.
Some of the products you can expect to see A-TACS on are TAG's rugged plate and armor carriers, packs and molle pouches.
If you want more information on A-TACS, contact TAG at either www.tacticalassaultgearstore.com or 1-888-890-1199.
A-TACS and Bushnell
Digital Concealment Systems has teamed up with Bushnell to feature A-TACS on some of it's products. The Elite 1500 laser rangefinder, the Legend 1200 laser rangefinder and their Tactical Elite series scopes all got a nice makeover in A-TACS.
A-TACS seemed relatively "quiet" early on but is making a nice jump to more mainstream use. They are quickly making a name for themselves and offer a unique pattern that looks to be yielding great results. With all of these new offerings by DCS, what do you think of the A-TACS system? What would you like to see offered from A-TACS?
Oh, and if you missed the phone interview that we had with A-TACS/Digital Concealment Systems, you can watch it on UStream any time here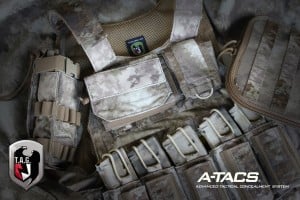 Are you getting more than 14¢ of value per day from ITS Tactical?
Please consider joining our Crew Leader Membership and our growing community of supporters.
At ITS Tactical we're working hard every day to provide different methods, ideas and knowledge that could one day save your life. Instead of simply asking for your support with donations, we've developed a membership to allow our readers to support what we do and allow us to give you back something in return.
For less than 14¢ a day you can help contribute directly to our content, and join our growing community of supporters who have directly influenced what we've been able to accomplish and where we're headed.