Cement your Cool Guy Status with the MSM CoolGuy-Hat DLUX
We're really excited about Mil-Spec Monkey's new CoolGuy-Hat DLUX, as we've had the pleasure of giving him some feedback when he was first getting the project off the ground. His brilliant idea of integrating ear-pro into a hat was truly one of those moments when you say, "wow! I wonder why no one thought of that before?"
Well the Monkey did, and the result is loop Velcro madness on a FlexFit hat that will never leave you wondering where to put your patches or where your ear-pro took off to. We'll hit the feature highlights in the article, but check out the video below for a hands-on review.
Features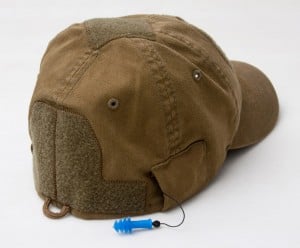 Starting with a FlexFit hat base, MSM removed the top rivet that we all despise and added a 2″ x 2″ loop Velcro diamond. The front panel of loop Velcro measures 4″ x 3″ with the rear coming in at 3″ x 3″ with a 5.5″ x 1″ strip at the bottom for name tapes.
The edges of all the loop Velcro have been nicely sewn down to prevent snagging, and the back features a paracord lanyard loop for tying down your hat when you're hitting the surf.
Integrated hearing protection is housed in two separate pockets towards the rear of the hat, which is accessed via retractable lanyards. These lanyards have been customized to allow the mounting necessary to make these lanyards stay put. If you're familiar with the standard key or keycard lanyards, you just pull the line out until it locks and simply press the retract button to wind it back in.
There's some feel involved in the process, as the retract button for each lanyard is inside the pocket. What's great about the included ear plugs is that they're completely replaceable. As you'll see in the video, they can be swapped out with standard GI Issue plugs if you're partial to those.
The CoolGuy-Hat DLUX comes in standard FlexFit S/M or L/XL and made in Khaki, Loden (Greenish Brown – shown in video) and Black
Video Review
Are you getting more than 14¢ of value per day from ITS Tactical?
Please consider joining our Crew Leader Membership and our growing community of supporters.
At ITS Tactical we're working hard every day to provide different methods, ideas and knowledge that could one day save your life. Instead of simply asking for your support with donations, we've developed a membership to allow our readers to support what we do and allow us to give you back something in return.
For less than 14¢ a day you can help contribute directly to our content, and join our growing community of supporters who have directly influenced what we've been able to accomplish and where we're headed.