An Everyday Carry Belt That Won't Sag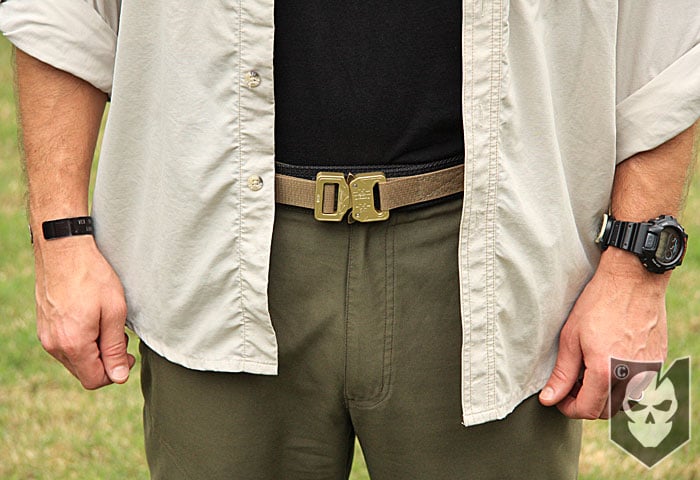 08/29/16: Please read the update at the bottom of this article. Today on ITS we'd like to introduce the Jones Tactical Cobra 1.5″ EveryDay Belt.
Jones Tactical is becoming well known for his custom gear that's handcrafted with the utmost attention to detail, and made in the U.S.A.
We'd seen pictures of his work and heard the praise before reviewing this belt, but words can't describe the quality that Jones Tactical brings to the industry.
The EveryDay Belt is without a doubt one of the finest belts you can mount a concealed holster on. It does a pretty good job of holding up your pants too!
Description
Made with a double layer of 1.5″ Scuba Webbing for rigidity and support, this belt will not sag or allow a holster to roll.
It features 1″ accent webbing around the exterior of the belt to hold the Cobra buckle in place and facilitate the adjustment on the male side of the buckle.
A three inch hook-velcro tab allows the belt to be adjusted to a wide size range using the massive 11″ section of loop velcro.
The 1″ Cobra Buckle is an added bonus on this belt, which will not open under load. Not a tremendously important feature on a belt that's not built as a lifesaving device, but awesome nonetheless.
Donning
To wear the EveryDay Belt, the male portion of the Cobra buckle must be removed to thread the belt through your belt loops.
Once the belt is threaded, simply re-attach the male portion of the buckle, snap it in and make your adjustment.
There might be those of you out there that are thinking that it's a pain to have to do that everyday, but the good thing is that it's only once a day. Hardly more than a minute added to your morning routine.
Well worth it for an excellent belt like this.
Sizing and Colors
The EveryDay Belt is custom built to your waist size.
From people who need to eat more, all the way up to people who need to eat less, Jones Tactical can accommodate any size.
Scuba Webbing is only available in Black, but the 1″ accent webbing  is available in Black, Coyote Tan, Foliage Green,  Marpat Brown, and Olive Drab.
Cobra Buckles are only available in Black and a limited edition  Desert Tan for about $10 more.
If you know much about the AustriAlpin Cobra Buckles, then you'll know how much of the belt cost is rolled into those. They're not cheap!
The Jones Tactical Cobra 1.5″ EveryDay Belt will run you $57 or $67, depending on the Cobra Buckle color.
Get one today, and enjoy the peace of mind knowing you're wearing one of the most bombproof Everyday Carry belts on the market today!
Check out Jones Tactical on the Web and also on Flickr!
UPDATE 8/29/16: We've had numerous readers reach out to us to say that Jones Tactical has a tremendous backlog and have waited many months for their orders, some have not gotten responses to inquiries as well. Please look into this further for yourself before placing an order with Jones Tactical.
Are you getting more than 14¢ of value per day from ITS Tactical?
Please consider joining our Crew Leader Membership and our growing community of supporters.
At ITS Tactical we're working hard every day to provide different methods, ideas and knowledge that could one day save your life. Instead of simply asking for your support with donations, we've developed a membership to allow our readers to support what we do and allow us to give you back something in return.
For less than 14¢ a day you can help contribute directly to our content, and join our growing community of supporters who have directly influenced what we've been able to accomplish and where we're headed.