The Knot of the Week continues this week with a knot submitted by one of our users, Mr. Max, via our comments on the Highwayman's Hitch post.
His brilliant knot, the Tarantula Hitch solves the tendency of the Highwayman's hitch to pull through whenever weight is applied to the load bearing line of the knot.
Another wonderful benefit of this knot is that the release line cannot be pulled when the load bearing line in under heavy tension.
We've tested the Tarantula Hitch and it does in fact hold the weight of a 180 lb. person, but without putting it though further testing it's hard to tell if it could be used as a lifesaving knot.
Tarantula Hitch » Hitches
(Strength: 4/Security: 4/Stability: 4/Difficulty: 3)
Ensure the Tarantula Hitch is tight, or it won't hold whatever you've tied up. Also pay particular attention to the start of this knot, as the working end of this knot becomes the release end.
Uses:
Tying up a Zodiac to dock cleats
A situation where you need to release a knot with one hand
Towing another boat or canoe that would need to be quickly released
Tying up your horse to rob a stagecoach
Tying Instructions:
Begin with a loop and at least two feet remaining on the working end of the line
*The first photo is just a reference to show which section will become the working part
Make a turn around the desired object you'll be tying up to
Continue the working end around the front of the loop you've made
Ensure at this point that as you're pulling the working end around the object, the the line crosses behind the standing part
Form a bight in the working end and thread behind the standing part
Finally, pull the bight through the top loop and tighten up the Tarantula Hitch
Tug on the release end to make your quick getaway
View the gallery below and follow along with the steps above!
Check back next week as we continue our Knot of the Week series with the Sheepshank
Are you getting more than 14¢ of value per day from ITS Tactical?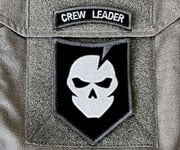 Please consider joining our Crew Leader Membership and our growing community of supporters.
At ITS Tactical we're working hard every day to provide different methods, ideas and knowledge that could one day save your life. Instead of simply asking for your support with donations, we've developed a membership to allow our readers to support what we do and allow us to give you back something in return.
For less than 14¢ a day you can help contribute directly to our content, and join our growing community of supporters who have directly influenced what we've been able to accomplish and where we're headed.