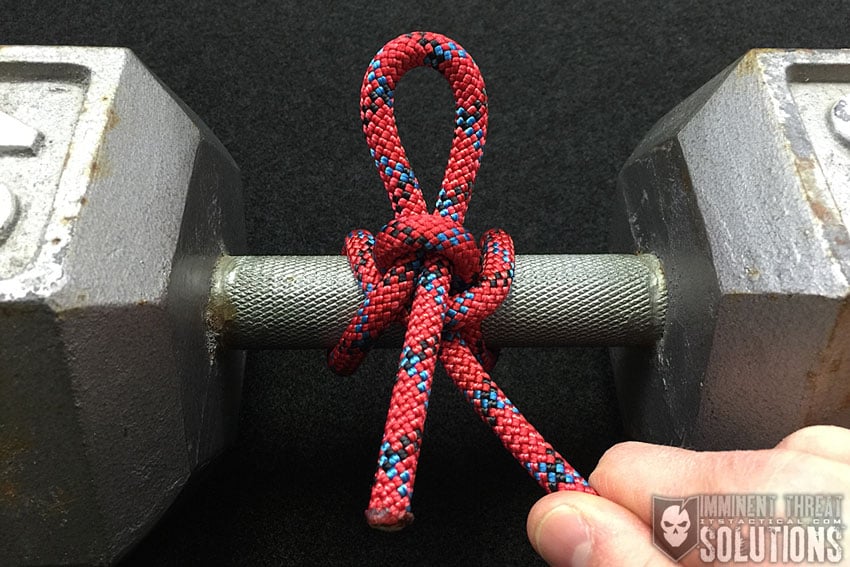 Today's Knot of the Week is another of my favorites, particularly for its history. The Highwayman's Hitch was supposedly used back in the late 1800s by stagecoach robbers. According to Wikipedia, a Highwayman is a robber who traveled by horse rather than foot.
The Highwayman would tie up his horse alongside the stagecoach he was robbing using the Highwayman's Hitch, enabling him to make a fast getaway. The hitch will hold fairly strong, yet release quickly with a simple tug on the free end.
Highwayman's Hitch » Hitches
(Strength: 2/Security: 3/Stability: 2/Difficulty: 2) See below for what these ratings mean.
While not as strong as the Clove Hitch, the Highwayman's Hitch is a bit more secure. I've used this for mooring a small boat and it worked extremely well.
Just make sure the Highwayman's Hitch is tight, or it won't hold whatever you've tied up. While this knot will seem stable when pulling on the standing part of the line, it can collapse under extreme loads and shouldn't be used in lifesaving applications.
Ratings
Strength/Security/Stability/Difficulty
Each knot will be assigned a rating from 1-5 (1 representing the lowest score) based on the following four properties:
Strength – All knots will weaken the strength of  a rope, however, there are knots that are stronger than others. The scale here will reflect how strong the rope remains with the specified knot.
Security – The security scale refers to how well the knot will stay tied, and resist coming loose under a normal load.
Stability – Stability refers to how easily the knot will come untied under an abnormal load (i.e. the knot being pulled in a direction it was not intended to) A lower score here represents instability.
Difficulty – The lower the number, the easier a knot is to tie.
Have you listened to our Podcast?

Do you enjoy witty banter and nostalgic geekdom all while sipping on a fine aged scotch? Then you'll love our podcast!