Considerations for Building a Short Barreled Rifle as an Individual or an NFA Trust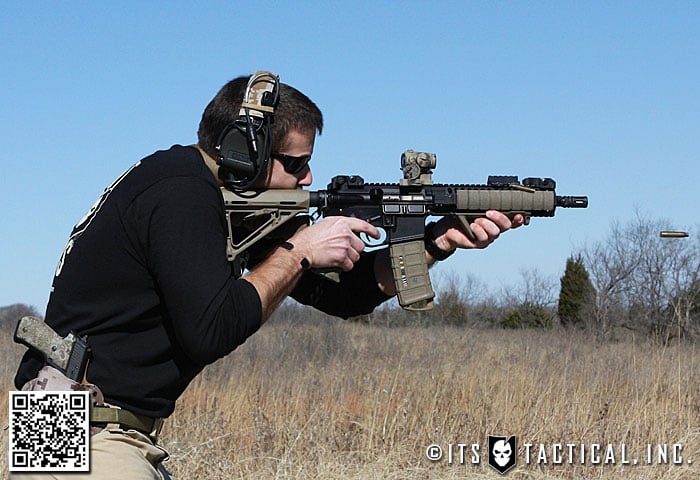 Disclaimer: I am not an attorney. The information provided in this article is the result of research performed online and through direct contact with legal resources. Individuals interested in obtaining NFA weapons are encouraged to contact an attorney or other qualified professional for guidance.
As a result of the DIY AR-15 Build series, I have been considering building a short barreled rifle (SBR). An SBR is legally defined as a rifle with a barrel shorter than 16 inches, or an overall length of less than 26 inches. Pursuing that route requires registering the rifle as a Title II weapon (often referred to as an NFA weapon) under the National Firearms Act (NFA) and paying an excise tax.
The Title II definition reads as follows:
Title II of the Gun Control Act of 1968 is a revision of the National Firearms Act of 1934, and pertains to machine guns, short or "sawed-off" shotguns and rifles, and so-called "destructive devices" (including grenades, mortars, rocket launchers, large projectiles, and other heavy ordnance). Acquisition of these weapons is subject to prior approval of the Attorney General, and federal registration is required for possession. Generally, a $200 tax is imposed upon each transfer or making of any Title II weapon.
For the purposes of this discussion, the focus will be from the perspective of making an NFA weapon as it might relate to the DIY AR-15 Build series, as opposed to transferring an existing NFA weapon.
Individuals and Trusts
There are two common options for registering a Title II weapon. (A third option — doing so through a limited liability company or corporation — exists, but will not be addressed here). The first option is to complete and submit the necessary forms as the individual applicant.
The second is to establish an NFA Trust and register the weapon into the Trust as an asset. One or more Trustees will be registered to administer the Trust's assets.
Individual Applicants
If you choose the first option and wish to register the weapon directly, the ATF requires that, prior to building an SBR firearm, the individual must submit ATF Form 1 (5320.1), Application to Make and Register a Firearm, to the Bureau of ATF, NFA Branch, and receive approval. This is critical: you must receive approval before acquiring a weapon component that falls under the classification of the National Firearms Act. You can purchase a barrel shorter than sixteen inches without it being considered an NFA item but the muzzle break must be permanently attached, and the total length of the barrel and muzzle break combined must be at least 16 inches. Ownership of NFA items (even if unassembled), without an approved form, can be interpreted as ability or intent to construct an NFA weapon; you are then subject to prosecution and fines.
In addition to ATF Form 1, the application must also submit ATF Form 4 (5320.4) in duplicate. The applicant completes the certification on the reverse of the form and must have the "Law Enforcement Certification" completed by the chief law enforcement officer. The applicant must also include a 2-inch by 2-inch photograph that was taken within the past year with each ATF Form 4 (proofs, group photographs or photocopies are unacceptable). The applicants' address must be a street address, not a post office box. If there is no street address, specific directions to the residence must be included.
If State or local law requires a permit or license to purchase, possess, or receive NFA firearms, a copy of the applicants' permit or license must accompany the application. A check or money order for $200.00 shall be made payable to ATF by the applicant. All signatures must be in ink.
Fingerprints also must be submitted on FBI Form FD-258, in duplicate. Fingerprints must be taken by a person qualified to do so, and must be clear and classifiable. If wear or damage to the fingertips do not allow clear prints, and if the prints are taken by a law enforcement official, a statement on his or her official letterhead giving the reason why good prints are unobtainable should accompany the fingerprints.
The construction of the NFA firearm may only be conducted upon approval of the ATF Form 4 by the NFA Branch. If the application is approved, the original of the form with the cancelled stamp affixed showing approval will be returned to the applicant. If the tax application is denied, the tax will be refunded.
NFA Trusts
If you wish to register the weapon through an NFA Trust, the process is almost identical with the exception of the need for fingerprints, photographs and a chief law enforcement signature due to the fact that a Trust is an entity and not a living person.
So based on the above, common sense would lead one to opt for the Trust. Besides the obvious fact that there are fewer hoops to jump through, there are other benefits that should be motivation to opt for an NFA Trust.
A Trust can identify multiple Trustees, which translates to multiple people whom are authorized to manage the NFA weapon. Without a Trust, only the approved applicant can maintain, fire or transport the NFA weapon.
In the event of incapacitation or death, the NFA weapon is maintained by subsequent Trustees identified in the Trust, provided they are of legal age. This eliminates the need to submit a transfer of registration to AFT and pay the excise tax fee.
A Trust can provide a layer of anonymity with respect to who the actual NFA weapon owner is, provided the name of the Trust does not reflect the name of the Trust creator, e.g. The John Doe NFA Trust. Instead, consider more generic names such as NFA Collector Trust.
Final Considerations
There are other benefits a Trust can provide, but of course they come with a cost. You should discuss those benefits with a qualified attorney. One thing to keep in mind is that even though non-NFA assets, such as bank accounts, automobiles, and property, could be placed in an NFA Trust, this should be avoided. Don't muddy the waters. Create a separate Trust for your other assets.
Speaking of attorneys, one of the most frequently returned search results for NFA Trusts is for guntrustlawyer.com. I've contacted them and discovered that they are merely a paperwork processing service that forwards the completed forms to an attorney local to the requestor's area for review.
The fee they quoted me was $600.00, which covers the service fees for both their service and the assigned attorney. The fee may be worth the convenience, but you may want to consider finding a local attorney familiar with NFA Trusts so that you can meet face-to-face to discuss your specific needs.
Editor-in-Chief's Note: Please join us in welcoming Crew Leader David Liles as a contributor on ITS Tactical!
Are you getting more than 14¢ of value per day from ITS Tactical?
Please consider joining our Crew Leader Membership and our growing community of supporters.
At ITS Tactical we're working hard every day to provide different methods, ideas and knowledge that could one day save your life. Instead of simply asking for your support with donations, we've developed a membership to allow our readers to support what we do and allow us to give you back something in return.
For less than 14¢ a day you can help contribute directly to our content, and join our growing community of supporters who have directly influenced what we've been able to accomplish and where we're headed.