Huckberry on the Road: An Interview with Jon Gaffney aka The Van Man
Huckberry on the Road: An Interview with Jon Gaffney aka The Van Man
A good friend of ours, Jon Gaffney, recently bought a van and decided to hit the open road. While he may or may not be planning on living down by the river, he's going to be traveling along quite a few of them in the coming months.
Jon teamed up with Huckberry in his travels across the country, to see what makes America so great. We wanted to check in on him and ask him a few questions about his trip so far.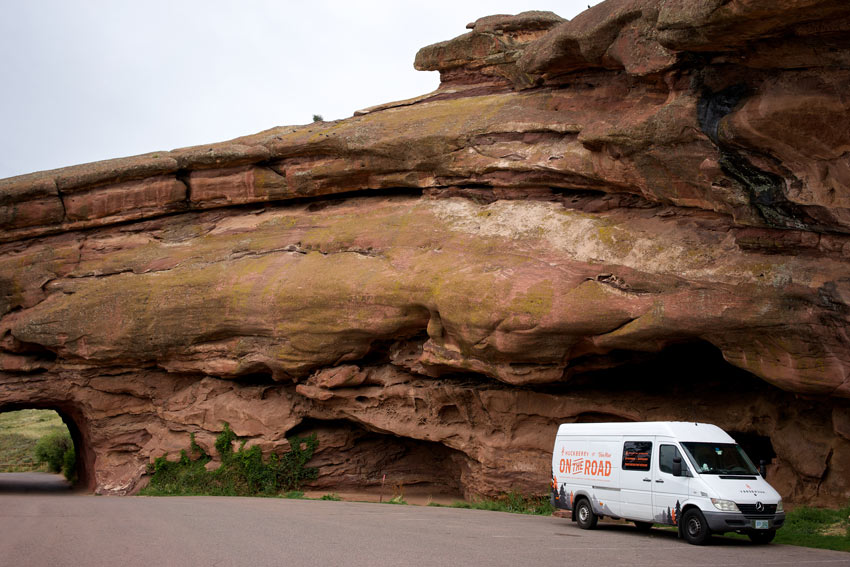 So, you're The Van Man, what van are you driving and what modifications have you done/have planned?
My girlfriend Gale and I have a 2004 Dodge Sprinter 158″ (it's about 20ft long) high top. We chose it for the turbo diesel which gives us 20-22 mpg and it's tall enough to stand up in, great for putting your pants on without rolling around like a beached whale (speaking for myself here). From a mechanical standpoint, we didn't do anything other than shoring up the issues that needed attention. From an interior standpoint, it's been heavily modified. We purchased it as a former construction vehicle with an interior to match.
We spent two months gutting it and building out the interior. It now has a Casper queen-size bed, small booth that'll fit four-ish people, a kitchen area, solar generator and panels from Goal Zero, a small dorm style fridge and as much storage space as we could fit. The future modification/upgrade/wish list includes a roof rack and storage box, painting the walls, a custom center console (camera holsters and more cup holders) and some more aggressive tires. I'm sure more things will be added as we continue along the road.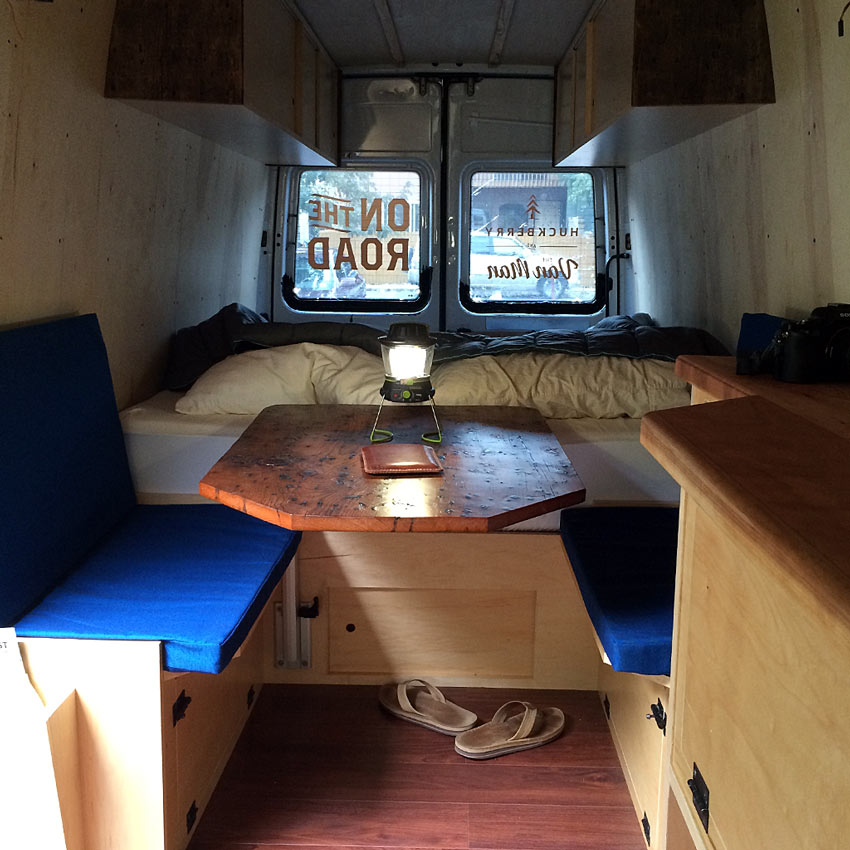 What's your mission? What do you hope to accomplish?
There isn't really a mission per se. We're really focused on checking out new places, meeting cool people along the way and doing it together.
What gave you the idea to do this?
I'd always dreamed of taking a road trip in a van since I was a kid, so that was always there in the back of my mind. About a year and a half ago, I came to the point that while I enjoyed my job most of the time, I was unhappy being in an office everyday and couldn't envision myself there long term. I randomly floated the idea of a long road trip to my girlfriend over a good micro-brew and to my surprise, she said she'd always wanted to as well. From that point on we started planning and saving to bug out.
Is there a time frame for this project or is it just done when it's done?
We say a year, but that's just to give some framework. In reality we'll go until we want to change things up or can't fiscally continue to do so. It's a project to explore, try new things and creative endeavors and figure some things out. We're shooting to give ourselves the flexibility to do so.
How mechanically minded are you? Although, with a newer van, you may not encounter too many problems (knocks on wood).
I'm not a wrench monkey and I'll readily admit that. But, I've always enjoyed tearing things apart and putting them back together. Usually correctly, much to my parents (and now Gale's) relief. If I can get directions, the right tools and time I'm willing to learn and do stuff myself. Buying a newer van was definitely motivated by the desire to minimize breakdowns and repairs. As much as I like to learn about stuff, this trip is about traveling and exploring North America, not spending it under the hood of our van.
You've undertaken this journey with your girlfriend, were there any major adjustments to make with both of you living in such a confined space?
We'd actually never lived together at all prior to moving into my parents house for two months to do the buildout on the van. So we had a small trial period there before moving into the van, but the van is us moving in together and figuring out tight quarters. In all honesty, it's been fairly smooth. It's just us and we're completely in control of our little environment.
In a larger space, issues might be easier to avoid until they get blown way out of proportion. In the van, differences and respective annoying habits get addressed quickly from both sides. In the long term, we're both interested to see how we'll balance getting time to ourselves.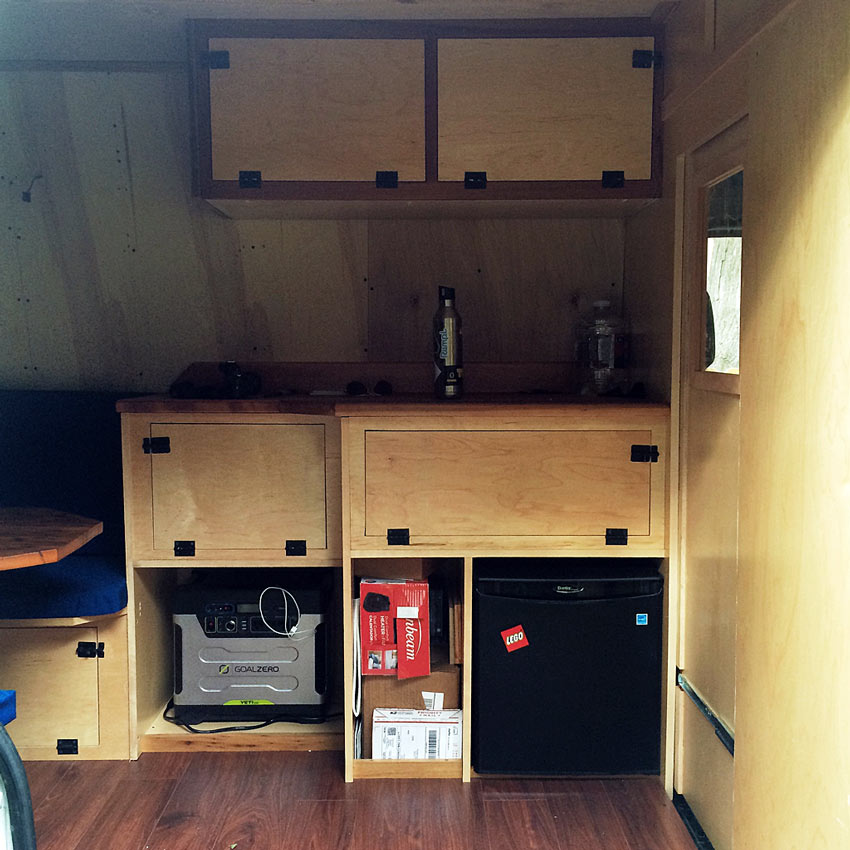 With living out of a van, I assume you own just a small amount of things. Was that hard to adjust to?
Packing was where that came into play, ironically more for me than for Gale. It turns out that men's clothes and gear take up a lot more space than women's. Two days before we left, we figured out we weren't going to be able to use the rack setup we'd intended to, drastically cutting down our storage space.
I'm currently spooning my waterski on cold nights until I can figure out a better solution, but once we hit the road, it's become more and more evident of how little we actually need. I'd say six months from now the small amount of things we have will be even smaller and different than today.
With your limited number of belongings, what are your most essential items?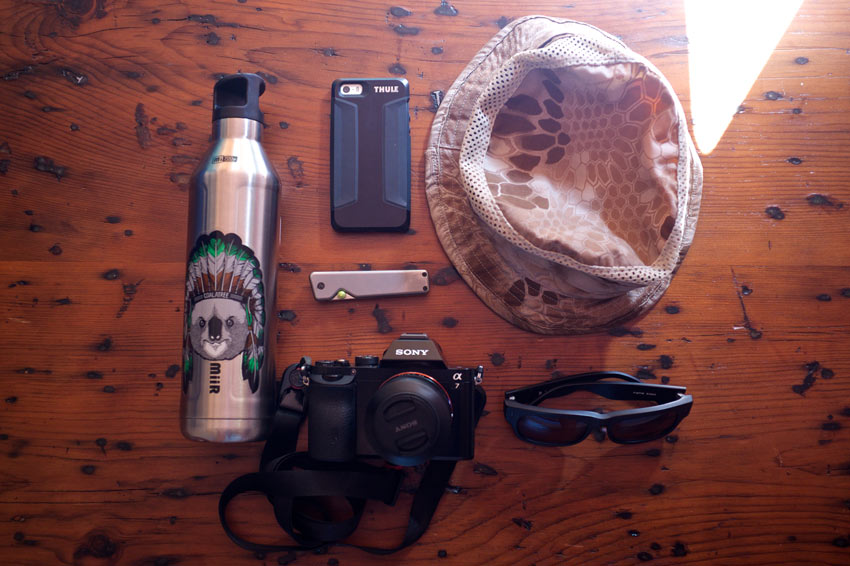 Here's my top 6:
Miir Insulated Water Bottle – We won these on an Instagram contest and I'll never go back to a single walled bottle. The van gets hot easy and there's nothing worse than a warm drink of water in a hot van.
Sony A7 – I love taking photos and this camera fits my shooting style perfectly.
The James Brand Chapter Knife – Simple titanium pocket knife. With the exception of flying, I'm never without a knife. Perfect for cutting up an apple, making an impromptu charcuterie board for dinner and digging slivers out of my hands.
Raen Lenox Sunglasses – I hate going without shades and I have a large collection, but these have been a favorite on the road.
iPhone – Lame to say, but it's my connection to friends and family, work portal, map and it has our music for long drives. I don't know where we'd be without music, we probably would've died from boredom after the 7th hour of cornfields in Nebraska.
Hat – I have a buzz cut so avoiding getting a brutal sunburn is always nice.
Is there any one place that you're just super excited about seeing in person?
Glacier National Park on the Canadian side. I've heard it's stunning and it's only easily accessible a few months a year. We're headed there in the coming week.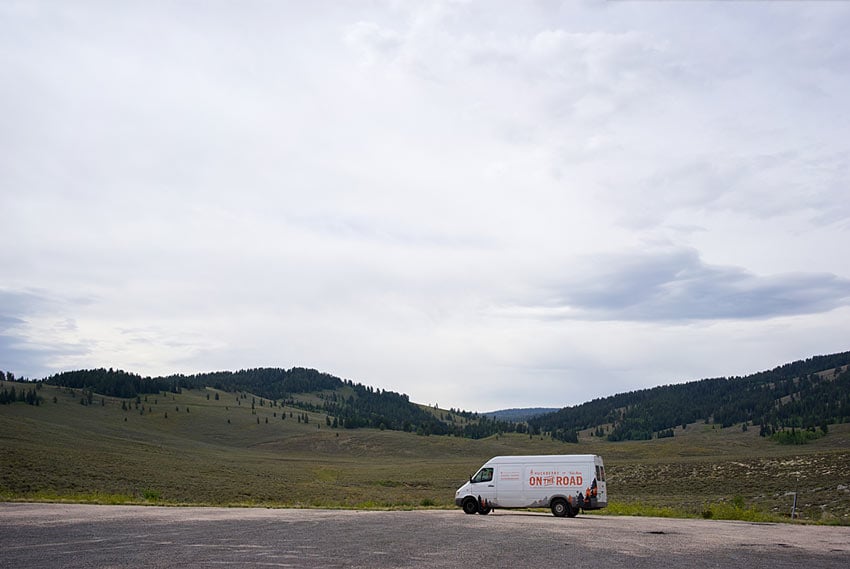 What advice would you give to those seeking adventure? Buy a van or can they start smaller?
Start with what you have. If the vehicle can get you from point A to point B somewhat reliably and has enough room for a tent, bag and some food, you're good to go. If you want to buy a Sprinter, let me know and I'll tell you everything I learned not to do.
Follow Along!
Want to take in the sights as Jon and Gale journey across America? Follow them on Instagram @TheVanMan + @she_explores and keep an eye out for new posts to the Huckberry Journal.
As a bonus for kicking your own wanderlust into high gear, check out their latest Instagram project, @OurVanView for a glimpse at what they see out the back of their van while living on the open road.