2013 ITS Tactical Muster and Skill-Set Development Excursion
2013 ITS Tactical Muster and Skill-Set Development Excursion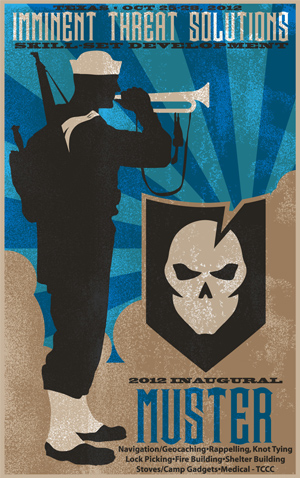 The 2013 Muster is in the works and while a formal announcement with registration instructions will be posted this time next week, we wanted to whet your whistle with a little teaser.
Just like last year, the ITS Muster is only available to Plank Owners, Crew Leaders and Life Members and will be a limited attendance event. If you're interested in becoming a member on ITS, click here.
For those  relatively  new around here, the Muster was developed to be a way for us to get our hands dirty with the skills we cover and advocate. It's a break from the typical online classroom and a move to a physical one where this year, we'll be covering Self Defense,  Lock Picking, Escape from Illegal Restraint,  Knot Tying, Rappelling, Ascending  & Rope Rescue, Fire Building, Cover & Concealment, Tracking & Patrolling, Medical (including TCCC principles) and  Navigation.

All of this takes place while camping in the great outdoors, enjoying great food and camaraderie. If you're lucky, Bryan will make his famous Dutch Oven Cobbler!
Everyone who attended last year had a blast and we have some great new things planned for this year. For those interested in what last year looked like, click here for a recap of our 2012 Inaugural Muster.