ITS Tactical Muster II Registration and Packing List
ITS Tactical Muster II Registration and Packing List
We're stoked to be releasing the details today on our 2nd Annual ITS Tactical Muster and skill-set development excursion!
The Muster integrates many of the common skill-sets we advocate here on ITS into a week packed full of instruction on Self-Defense; Ascending, Rope Rescue and Traversing; Lashings and Knot Tying, Physical Security & Escape from Illegal Restraint; Trauma Management, Drags and Carries; Cover & Concealment and Tracking & Patrolling.  All this while spending the evenings enjoying great camaraderie and sleeping under the stars.
If you attended last year, you'll notice we've changed up the skills and have an all new curriculum for you this year! In addition to the skills above, we'll also have some friendly squad competitions and of course a few Field Training Exercises (FTX) to ensure everyone was paying attention! It's going to take a lot to top the overwhelming success of last year, but we know this year is going to be even more awesome!
Former Air Force PJ Nate Morrison of Morrison Industries will be back with us this year to help out with our day on the rocks learning about ascending, rope rescue and traversing. Matt Fiddler of SerePick will be heading up physical security again this year, while Bryan will be demonstrating escape from illegal restraint along with knot tying and lashings. Caleb from Lone Star Medics will be leading the medical and we're honored to have former Green Beret John Hurth of TYR Group out to lead Cover & Concealment and Tracking & Patrolling.
Bringing our community together, the Muster will be your chance to spend a few days with the crew from ITS Tactical, get hands-on and learn together. We only have a limited number of seats available for the Muster and you'll need to be an ITS Member to attend. Crew Leader is the only membership level that has open enrollment right now. For details on becoming a Crew Leader, click here.
While the Muster won't be a physically demanding event, you'll be hiking and climbing so your level of fitness should allow for this. You're going to get dirty, you're going to be tired, but you'll leave with more knowledge than you came with, great memories and friendships forged.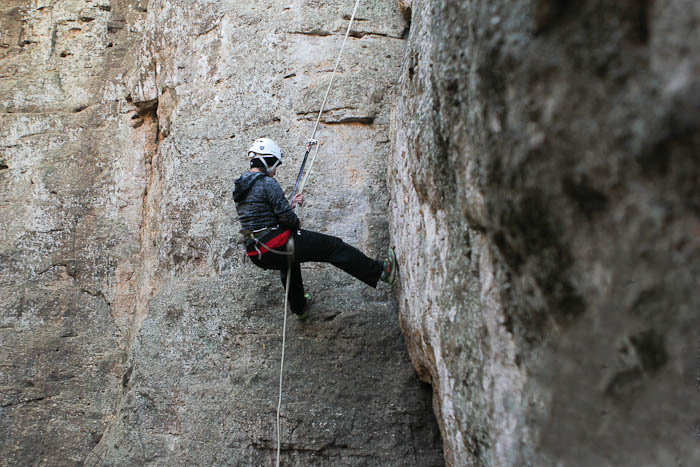 Muster II Details
The Muster will be taking place from Thursday, October 24th to Monday, October 28th. We're requiring everyone to arrive no earlier than 3 p.m. on October 24th and no later than 7 p.m. that evening. For departure on Monday, please plan on being at the Muster until 1 p.m. If you'll be flying, please keep this in mind when booking flights.
Base Camp will be located near Weatherford, Texas, which is about an hour drive west from either the Dallas/Fort Worth International Airport or Love Field Airport.  The exact coordinates will be emailed to everyone attending closer to the Muster. Last year we had some people organize ride-sharing and even a van rental in the Facebook Event for the Muster. If you're interested in that option for transportation, head over to the Facebook Event to start the coordination.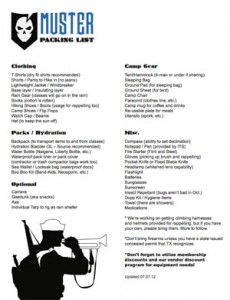 The majority of our activity will take place outdoors and we'll have a pre-arranged area for you to set up your tent. While any additional gear needed will be emailed out to those attending (well in advance), here's a packing list that should get you started. What you want to sleep in to stay out of the elements is up to you, but please limit it to a 2 person tent at the largest.
We'll be providing food, drinks and plenty of KillCliff for everyone during the Muster! This won't be pre-made store bought food or even fast food, they'll be home cooked meals prepared by Matt Gambrell in the ITS Galley each day.
We know you're going to work up an appetite and with menu selections like smoked brisket and more, you'll be sure to get plenty to eat!  We did include geedunk in the packing list, just in case.
You'll of course also get a Muster II T-Shirt and Morale Patch along with individual merit badge patches for each block of instruction you complete.  There's a ton more planned for you to take home, but you'll just have to be there to find out what that consists of.
Registration
You don't want to miss out on the Muster this year, remember we only have a limited number of spots available. Here's the registration form you'll need to fill out  and mail in with your payment.
The pricing schedule below benefits those that get their payments in early. Don't forget that if you're a Life Member you'll get 25% off your registration (does not apply to spouses, friends, etc. unless they're also a Life Member.)

$800  — Payment postmarked by June 1, 2013
$900  – Payment postmarked by August 1, 2013
$1000  — Payment postmarked by October 1, 2013
Send  completed registration form  AND  personal/business check, bank money order or cashier's check payable to ITS Tactical:
ITS Tactical
6100 W. Pioneer Pkwy, Suite 100
Arlington, TX 76013
Price based on date of payment receipt; your payment must be postmarked by the date you are submitting payment for. Payments postmarked after October 12, 2013 will be returned.  Registration is non-refundable and non-transferable.
Please check out the  
Facebook Event for the Muster
, so those of you that plan to attend can keep in touch with each other. There will be an official closed Facebook group that we'll open up to those that have a confirmed registration.