2nd Annual ITS Tactical Hog Hunt
2nd Annual ITS Tactical Hog Hunt
We're excited to be releasing details on the 2nd Annual ITS Hog Hunt today and can't wait until we get the chance to connect with those that attended last year and see some new faces as well.
First off, we'd like to mention that there are limited spots available and with the current count of who's returning from last year, we've only got about 10 spots left.
The hunt will be taking place Friday, November 4th (late afternoon) through Sunday, November 6th (early afternoon) in Seymour, TX. Here's a  Google Map of the area, it's just SW of Wichita Falls, TX and about 2 hours NW of Fort Worth. Out of respect for the landowner, the exact location will only be give out to those officially attending.
If you think you can swing it, keep reading for details on how you can reserve your spot. We apologize if this seems discriminatory, but this is a guys only event; sorry ladies!
Hog Hunt Details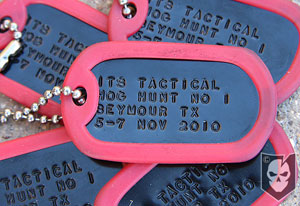 Last year's hunt was a huge success and you can read all about it in the after action report here. This year we've got the good fortune to utilize the same 560 acres as last year, in addition to another very large plot of land a few minutes away. Needless to say, we'll have more prime hog hunting land at our disposal this year thanks to the generosity of a few awesome landowners!
To show our appreciation, we're requiring each person to provide $75 for the weekend of land usage. We're all going primitive, so bring your tents!
We will have water fill-access so it's not totally primitive, but plan on digging a cat hole! Last year we had way too much food there, so we'll be organizing meals a little differently. Expect to contribute something to a meal each day and of course we'll plan on eating hog too!
There are going to be a few rules that everyone will have to abide by so that we can have a safe, legal hunt. First, those that wish to attend will need a Texas Hunting License. Details can be found on the  Texas Parks and Wildlife Website. There's a clause about not needing a license for hunting Feral Hogs and we know this. We're requiring the license to mitigate any issues that might arise, considering it will be the first weekend of Deer Season as well. It's only $48 for a 5-Day permit if you're out of state and in-state is even cheaper. It's a small price to pay to avoid issues with the local Game Warden.
We're also making this a 21 and up event because even though shooting and alcohol don't mix, there's going to be plenty of downtime around the campfire at night and we don't want to have to be worried about minors.
Basic breakdown of costs:
$75 to Landowner
Hunting License, must be presented upon arrival Friday.
Food, beverages
Tent and camping supplies (gear list will be given out)
Weapon to hunt with and ammunition
Sign Up
If all this sounds good to you, simply head on over to this Forum Topic and put your name down as attending. We'll take the first 10 people and send out emails/PMs with further details. Even if 10 have already signed up, please continue to put your name down, people back out and more spots might open up.
There's also the chance we can take more than 10, we're still working out the final counts and logistics.
Extras
We're currently working on finalizing sponsors for the event and we'll be running another shooting competition like we did last year with plenty of great prizes. We're also working on confirming some instruction while we're there; details will be forthcoming.
Remember that there's limited slots available!  Feel free to leave any questions you might have in a comment here, or in the Forum.