GORUCK Ascent: An Epic Adventure and We Need Your Help!
GORUCK Ascent: An Epic Adventure and We Need Your Help!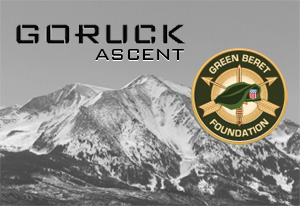 If you remember my previous post about the  GORUCK Challenge I completed, it's an evolution that takes strangers and individuals and transforms them into a team.
The GORUCK Ascent will be no different. While there are no bricks involved, this will be a 100+ hour challenge in it's own right. Multiple 14,000 foot summits, mission planning, land navigation, survival and medical courses; this won't be easy.
GORUCK Ascent
The GORUCK Ascent is mission driven and based on the culminating exercise all Special Forces soldiers must pass to earn their Green Berets. Both active and former Green Berets will be on hand for instruction and guidance though most of what we do will have to do as a team.
Taking place September 1st thru 5th in Colorado, the Ascent is very much still shrouded in mystery. We only know where we're supposed to fly in to, but not where we'll be going yet. How can you not love that?
Not only will Bryan and I be climbing multiple 14'ers with a team of hard charging individuals, we'll also be putting a ton of gear to the test. After all, you guys want to see how well the gear we're choosing to take is going to hold up don't you?
This is Where We Need Your help
Through enlisting to partake in the Ascent, both Bryan and I have committed to raise at least $1,000 each for the Green Beret Foundation. These are some of the world's greatest soldiers and have given so much for this great country, now it's our turn to give back.
To sweeten the pot, we have some special perks that will only be available for those who donate. Some of you have already donated so don't worry, these perks are retroactive and once we finalize everything we'll get your information.
$30 or more — Limited Edition Patch commemorating the event (Never again available on ITS Tactical!)
$60 or more — Limited Edition T-Shirt & Patch (You're going to want this shirt!)
$100 or more — Limited Edition T-Shirt, Patch, and ITS Flag (We have flags? They're in the works, but you'll get one of the first!)
$200 or more — All of the above and some serious ITS store swag (Details forthcoming, but it's going to be good!)
We'll be releasing the designs for the patch, shirt and flag soon, so stay tuned!
How you Can Help

Here are Bryan and I's First Giving Donation Pages, this is where you can go to help us get to the Ascent! Any help you can provide would be extremely appreciated and will be going to a fantastic cause! Even if you can't donate, we'd appreciate any way you could share this fundraising goal with those you know and even around the web.
If you donate to both First Giving pages, be sure to leave the same name in the comments and we'll total your giving to determine your perk.
Stay tuned for more articles leading up to the Ascent, including what we'll be bringing with us. We'll also run articles after, detailing how our gear held up climbing multiple Colorado 14'ers! Thanks for your continued support!