Preparing for the GORUCK Ascent and an Epic Adventure
Preparing for the GORUCK Ascent and an Epic Adventure
The air is thin at 14,000 feet. That's a little over two and a half miles straight up.  At that altitude, the oxygen available is only 61% of that which is available at sea level.  Breathing and heart rates will be more strained, struggling to find oxygen. That's why fitness is both paramount and completely irrelevant.
When it comes to altitude sickness (acute mountain sickness), it doesn't always matter how physically fit you are. Being as in shape as possible is still important and if you don't do what you can to prepare your muscles for the riggers of non-stop uphill hiking, you're going to have quite an interesting time.
What Bryan and I have been focusing on are a mixture of physical fitness and gear choice. We plan on arriving to Colorado a few days early for the GORUCK Ascent to try and get a head start on the acclimatization process. In a best case scenario, we would need a good couple of weeks at altitude to truly acclimate but a few days certainly won't hurt. Also, having quality lightweight gear will make the hiking less strenuous on our bodies.
Here are some workouts and basic notes on our preparation for the GORUCK Ascent.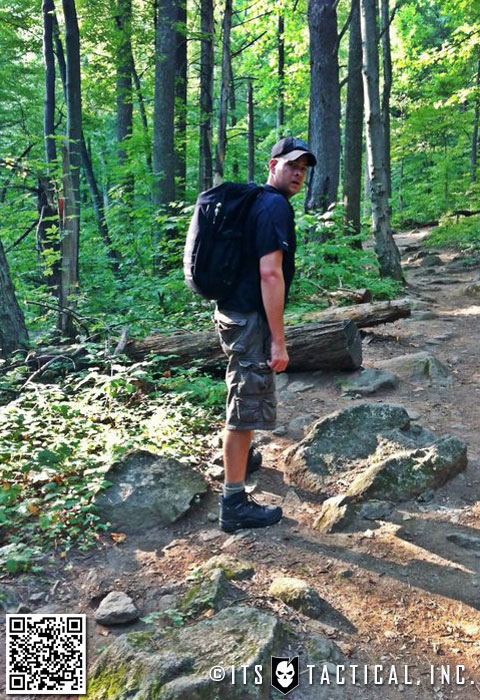 Mike's Workouts & Prep
Ruck Marches
Unweighted and Weighted Runs
Hill Repeats
Weighted Stair Repeats
Squats
Lunges
Push Ups
Burpees
Buddy Carries (usually with bricks in my ruck and my wife on my shoulders)
So far, I've done some long weighted ruck marches with bricks varying from 30 to 60 pounds in my  GORUCK GR2. I'm focusing on 'over carrying' so that I'll strengthen my back and legs and when my I'm carrying my ruck at altitude things will seem lighter and easier. To be honest, that's my hope because I've never done anything like this before.  I'm putting the physical aspect first so I'll be able to enjoy the rest of the Ascent and keep a clear mind during the land navigation, medical and survival classes.
I've also been doing a lot of research on both technique and gear choice. Actually, I'd like to give a shout out to two ITS Tactical contributors that have helped me quite a bit;  Peter Hogg our Managing Editor  and  Brian Green. Because I'm new to this, I had to decide on many different types of gear. Which boots to try on, sleeping bags to consider, and even tips on how to repackage toothpaste and deodorant. All the while looking to keep weight as low as possible.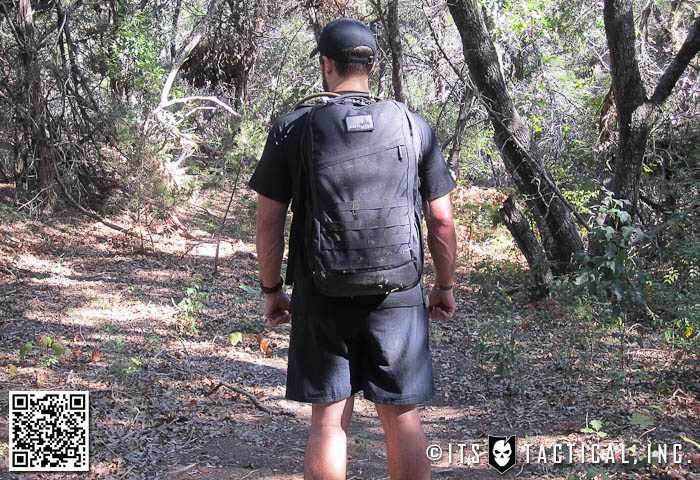 Bryan's Workouts & Prep
I thought I'd chime into Mike's article and talk a bit about what I've been doing to prepare, as it's a bit different from Mike's preparation. As I mentioned in my write-up after my GORUCK Challenge a few weeks ago, I'm a swimmer and I've been continuing to integrate that into my training for the Ascent. I've also given my legs and back a rest and stopped running with a weighted pack and switched to hiking with a heavier load in my GORUCK GR2 pack.
There are some fairly challenging hills nearby that got the best of me when I headed out for the first time to hike with 65 lbs. worth of Sandbag pills in my pack. A gross miscalculation on my part about what the GR2 can manage. As you might notice it doesn't have a waist strap and if you've spent time under a pack, you'll know how quickly heavy weight can wear on you without the load being distributed to your hips. Not unmanageable, just working harder not smarter.
I've since toned down my weight to anywhere between 20 and 30 lbs. when I'm out hiking. I've been out quite a bit lately, as I've recently bought some new Lowa Renegades (thanks to Peter's recommendation as well) that I'm trying to break in before the Ascent in a few weeks. Check them out here in the members only video I made on How to Tie your Boots the Mountaineering Way.
In addition to swimming, hiking and upper body PT, I've also focused on what I didn't do enough of for the GORUCK Challenge; squats, lunges and lower body PT. I've also gotten back on my road bike for some endurance training and typically ride 19 to 20 miles in hour-long workouts.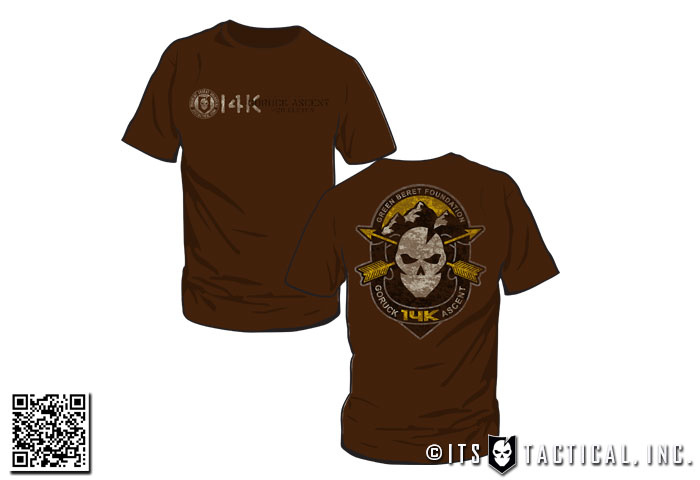 Donation and Support
Even though we've reached our initial goal of $1,000 for the Green Beret Foundation, we've upped it $2,000 and are still looking for donations. Don't forget that you get some pretty sweet perks in addition to your donation a worthy cause.
$30 or more — Limited Edition Patch commemorating the event (Never available on ITS)
$60 or more — Limited Edition T-Shirt & Patch (Never available on ITS)
$100 or more — Limited Edition T-Shirt, Patch, and ITS Flag (We have flags? They're in the works, but you'll get one of them first!)
$200 or more — All of the above and some serious ITS store swag (Details forthcoming, but it's going to be good!)
We'll be releasing the design for the flag soon, but see the main image of this article for the patch design and the shirt design above.
How you Can Help
Here are Bryan and I's First Giving Donation Pages, this is where you can go to help us get to the Ascent! Any help you can provide would be extremely appreciated and will be going to a fantastic cause! Even if you can't donate, we'd appreciate any way you could share this fundraising goal with those you know and even around the web.
If you donate to both First Giving pages, be sure to leave the same name in the comments and we'll total your giving to determine your perk.
What's Next?
Stay tuned for a future post on the gear we chose and why.
Further Reading
Some articles that may be of use in your own training or hiking: