Law Enforcement Appreciation Day: Today's Orders Receive a Free ITS Service Cover and Lapel Pin
Law Enforcement Appreciation Day: Today's Orders Receive a Free ITS Service Cover and Lapel Pin
Today is National Law Enforcement Appreciation Day. To celebrate and honor those defending the Thin Blue Line, we're including a free ITS Service Cover and Thin Blue Line Lapel Pin with every order placed in the ITS Store until 11:59 p.m. CST. (While supplies last.)
The Thin Blue Line is a symbol worn by Law Enforcement Officers to signify another Officer falling in the line of duty. It represents Law Enforcement's stand between the citizens they protect and the criminal element intent on doing them harm. Together, Law Enforcement Officers form the Thin Blue Line to separate the two entities.
Our ITS Service Covers feature the same fit and comfort as our popular ITS Lightweight Covers and ITS Crew Covers, but are made with sterile and genuine Martexin Wax Canvas front panels. The tan lightweight mesh back panels ensure you stay cool no matter what. In addition to the lightweight mesh, each ITS Service Cover features a comfortable moisture-wicking sweatband.
Designed as a one-size-fits-all hat, the hook & loop strap closure on the back is easy to adjust and features a color-matched Martexin Wax covering. Just like our other covers, we've also removed the top button commonly found on hats so it's comfortable to wear with hearing protection.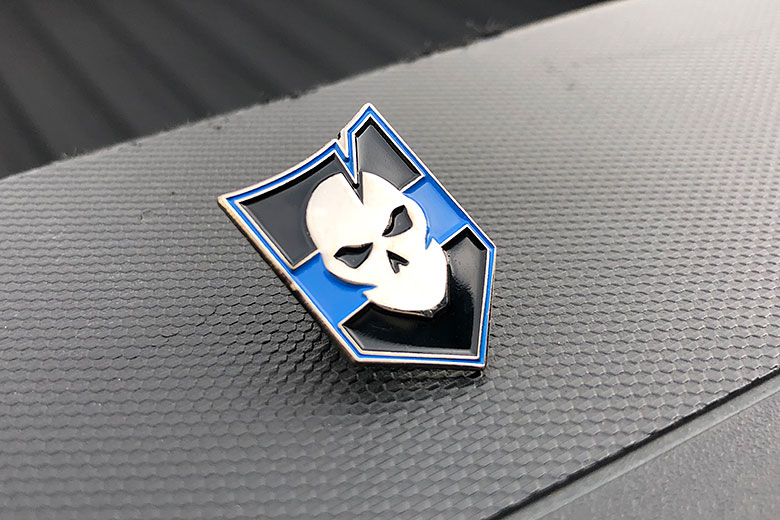 The included ITS Logo Thin Blue Line Lapel Pin is not attached to the hat, but comes ready to add to any section you wish. These polished nickel lapel pins with enamel color-fill measure 3/4" wide x 1" tall and feature a Butterfly Catch back.