Limited Edition 5.1.11 Prevail Morale Patch to Benefit America's Mighty Warriors
Limited Edition 5.1.11 Prevail Morale Patch to Benefit America's Mighty Warriors
I'm excited to announce a special limited-edition patch commemorating May 1st 2011 and the fantastic operation that the SEALs from DevGru executed in killing Osama Bin Laden.
Profits from the sale of this patch will be going directly to America's Mighty Warriors, a charitable organization very near to my heart. America's Mighty Warriors is run by Gold Star Mom Debbie Lee, mother of Marc Lee, the first SEAL killed in Iraq on August, 2nd 2006.
Marc perished during house-to-house clearing in Ramadi, Iraq and earlier that day put him self in the direct line of fire not once, but twice, to draw attention away from an injured teammate. The second time to allow a medic to reach the fortified position on the rooftop they were on.
I was in BUD/s with Marc in Class 251 until I was rolled post Pool Comp for a torn hip flexor. He will always be someone that I remember for his easy going personality, strong character and leadership.
America's Mighty Warriors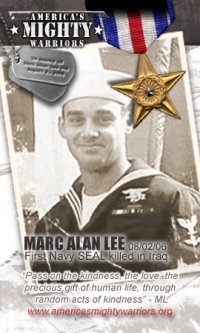 Debbie Lee's Non-Profit 501(c)(3) Charity, America's Mighty Warriors, was founded to help our military, their families and those that have fallen through their loss. Inspired by Marc's last letter home, the Glory Letter, Marc challenged the world to commit random acts of kindness and hoped for a brighter future for this country. Debbie has undertaken that goal with a passion for giving back to those in our military who desperately need it.
Why I've chosen Debbie Lee's charity over other equally worthy charities, is for one very important reason, she needs our help! In talking with Debbie on the phone yesterday, she was telling me about the struggle to keep up with the many facets of the organization which she's taking on all by herself! I completely understand what it's like to develop something bigger than you and how rewarding it can be.
There are many great charities that I've personally contributed to both during my time in the Navy and since being medically retired, like the Navy SEAL Foundation, Special Operations Warrior Foundation, Lone Survivor Foundation and Wounded Warrior Project. What I want to mention here is that these organization, while being extremely worthy of any help we can give them, are large and well funded compared to America's Mighty Warriors.
While not only being a charity I feel connected to, I want to do as much as we can to bring attention to America's Mighty Warriors. If you can't afford to purchase a patch today or even don't care for one, consider giving it away to a service member or at the very least help spread the word about America's Mighty Warriors. Here's a flyer you can download to help!
Please also visit America's Mighty Warriors on Facebook, YouTube and Twitter.
5.1.11 Prevail Patch
Our newest patch design features our logo shield and Prevail banner, an eagle and of course Osama Bin Laden's head with a bullet hole courtesy of Marc's fellow SEALs from Team 6. Commemorate May, 1st 2011 and help support America's Mighty Warriors!
This 100% embroidery patch will feature a velcro backing and measure 3.3″ wide by 3.5″ tall. Please keep in mind that this is a pre-order, which means that any other items ordered along with this patch will not be shipped until these patches arrive at ITS HQ. If you need other items sooner please place a separate order.