Why You'll Want to Find ITS Tactical at SHOT Show 2012!
Why You'll Want to Find ITS Tactical at SHOT Show 2012!
We've got big plans starting this Monday the 16th when Las Vegas  SHOT Show 2012 kicks off with Media Day at the Range. This article will to tell you all about what we have going on during the week and why you'll want to track us down.
Primarily we'll be there reporting live from the show floor on all the latest and greatest in the industry each day, so keep your eye on our homepage for the live feed. We'll also be updating on our Facebook page and Twitter with everything we're seeing too. The SHOT Show runs each day Tuesday the 17th thru Friday the 20th from 8:30 a.m. to 5:30 p.m., with Monday being Media Day at the Range. We'll definitely be covering Media Day at the Range as well.
As you might have seen on our Facebook page, our SHOT Show Poker Chips are back with a new design for 2012. In addition to handing you one for free when you find us at the show, any order placed in the ITS Store during the week of SHOT Show (January 16th – 20th) will receive a free poker chip as well! (while supplies last).
Limited Edition SHOT Show 2012 Poker Chip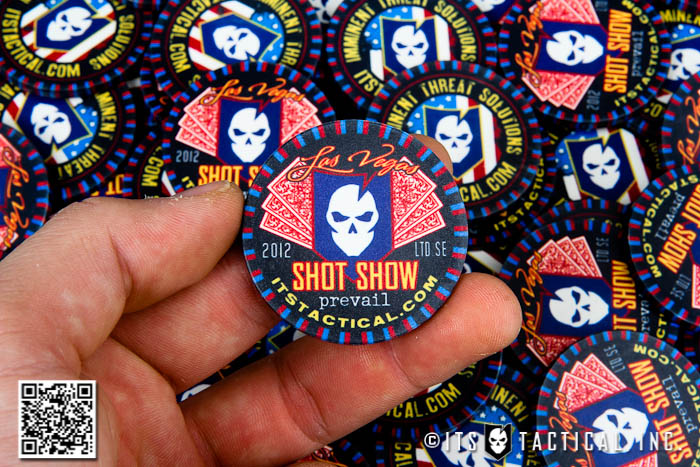 Tweet and Meet
How do you find us? Easy! Follow us on Twitter throughout the day and we'll be tweeting our location as we cover the show. If for some reason you can't track us down during the day, we've got a Tweet and Meet each night after the show. We'll be tweeting out the location each night of where we'll be at having drinks and everyone is invited out to have a drink on us! You'll just have to watch Twitter carefully to see where we're at each night.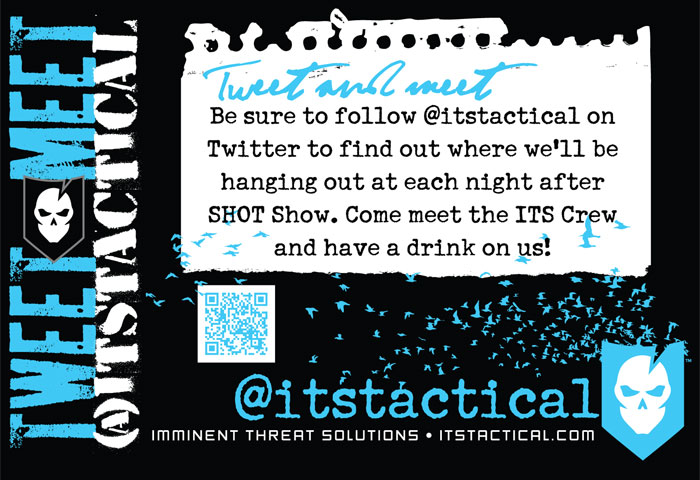 Free FR T-Shirt from Tactical Distributors, DRIFIRE and ITS Tactical
We've partnered up with our friends at Tactical Distributors and DRIFIRE to offer give a free tee to the first 100 people that head over to the Tactical Distributors Booth and give the correct passphrase! So what's the password to get your free SHOT Show 2012  DRIFIRE Ultra-Lightweight Short Sleeve Tee?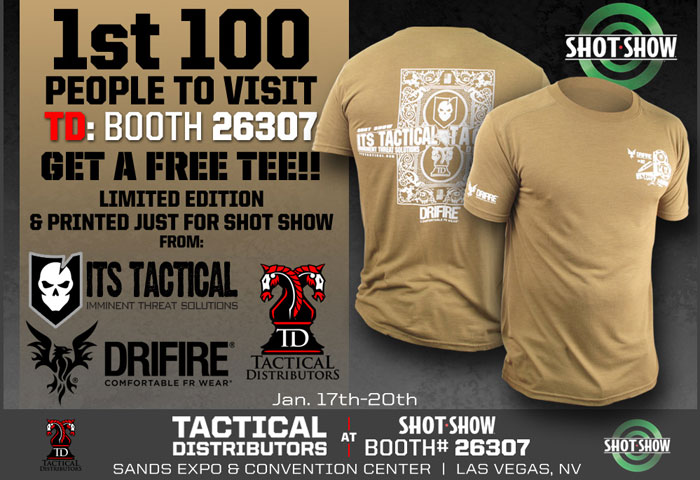 Simply head over to TD's booth at #26307 and say "The Indians are on the Warpath!" Without the password they'll probably tell you they don't know what free tee you're talking about! You may remember the odor resistance of these shirts from our review here on ITS Tactical, these are great shirts and inherently fire resistant as well.
Discount Code
Yet another reason to find us at the SHOT Show is that we'll be handing out a card with a discount code for the ITS Store that will be good for the week of SHOT only (Jan. 16th – 20th.)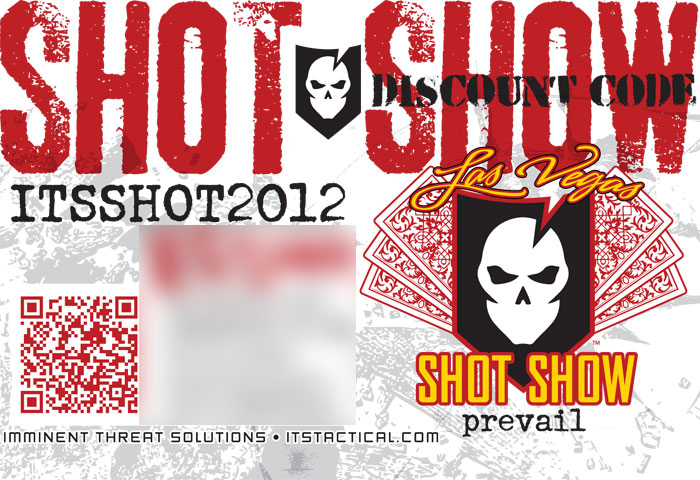 We'll be working hard for you all week by bringing you live coverage straight from the floor of SHOT Show, check back with us often throughout each day next week as our information will continually update on our Website, Twitter and Facebook!
Thanks for all your support this past year, we've had huge growth and owe it all to each one of you! We're both humbled and extremely proud to have such awesome friends to surround ourselves with here in our community on ITS Tactical!
Check out last year's coverage of SHOT Show 2011  linked below,  but be warned, it's going to be a huge upgrade to last year!