Honoring Extraordinary Heroism: Postal Service Introduces Stamps Featuring Service Cross Medals this Memorial Day
Honoring Extraordinary Heroism: Postal Service Introduces Stamps Featuring Service Cross Medals this Memorial Day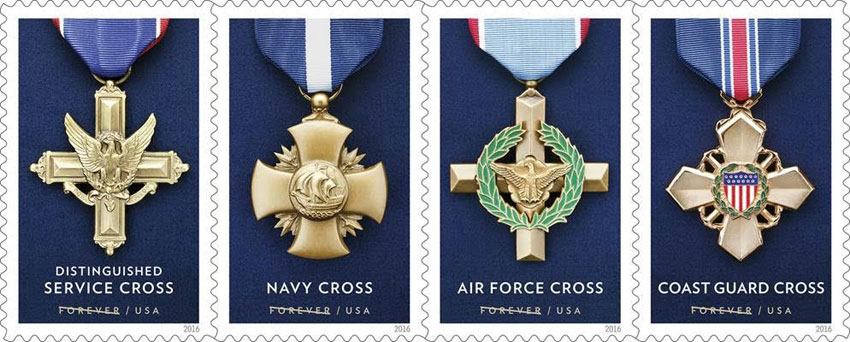 This Memorial Day, the U.S. Postal Service will honor military service members who have been awarded one of the four Service Cross Medals; the Distinguished Service Cross, the Navy Cross, the Air Force Cross and the Coast Guard Cross.
The Honoring Extraordinary Heroism: The Service Cross Medals Forever Stamps will be dedicated at 11 a.m. EST, May 30th at the 2016 World Stamp Show. This stamp show is the world's largest and only takes place in the U.S. once a decade. More than 250,000 visitors are expected at the show, running May 28th through June 4th at the Jacob K. Javits Convention Center in New York City.
Many recipients of these awards died or were severely wounded as a result of the valorous actions for which they were honored, while a number of others died in subsequent battles before receiving the award for their earlier actions. Many recipients rescued wounded service members or drew enemy fire to buy time for others to regroup or be rescued.
Some continued fighting despite their own wounds. According to official accounts, all braved enemy fire, made bold decisions and took selfless actions to rescue or protect their fellow service members. These medals pay homage to such valorous actions and dedication to duty.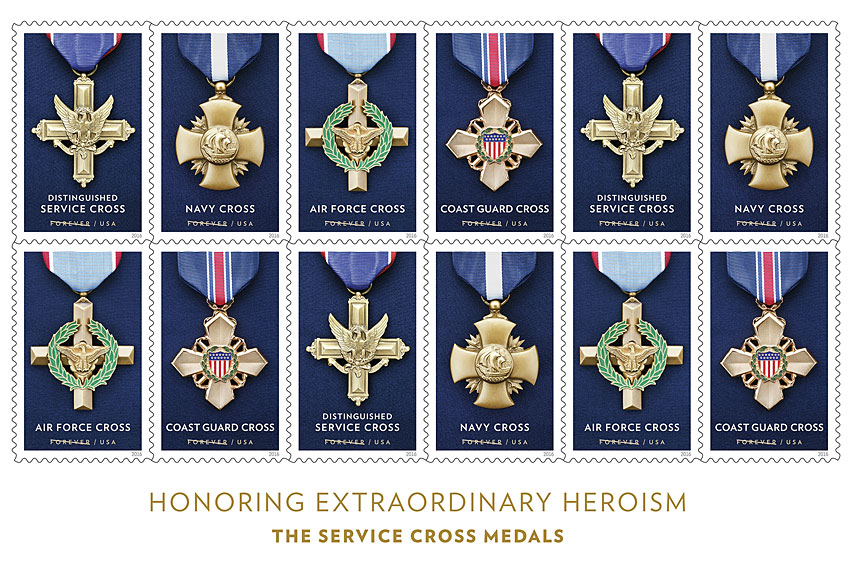 The Distinguished Service Cross was the first of these decorations to be established, in 1918, followed the next year by the Navy Cross. The Air Force Cross was instituted in 1960, following the creation of the Air Force as a separate military service independent from the Army. The Coast Guard Cross was only recently instituted, in 2010, to recognize its members for qualifying actions taken when not operating under the Department of the Navy or during military operations against international terrorists. This decoration is yet to be awarded.
The Service Cross Medals are the second highest military decoration for valor in combat, after the Medal of Honor. In the official language authorized by congressional legislation, the Service Cross Medals are given for extraordinary heroism not justifying the award of a Medal of Honor while:
engaged in an action against an enemy of the United States;
engaged in military operations involving conflict with an opposing foreign force; or
serving with friendly foreign forces engaged in an armed conflict against an opposing armed force in which the United States is not a belligerent party.
The Postal Service previously issued Medal of Honor Forever Stamps honoring recipients who served in World War II, the Korean War and the Vietnam War.