Protecting Your Identity on the Internet – Part 1: Fighting Data Brokers
Protecting Your Identity on the Internet – Part 1: Fighting Data Brokers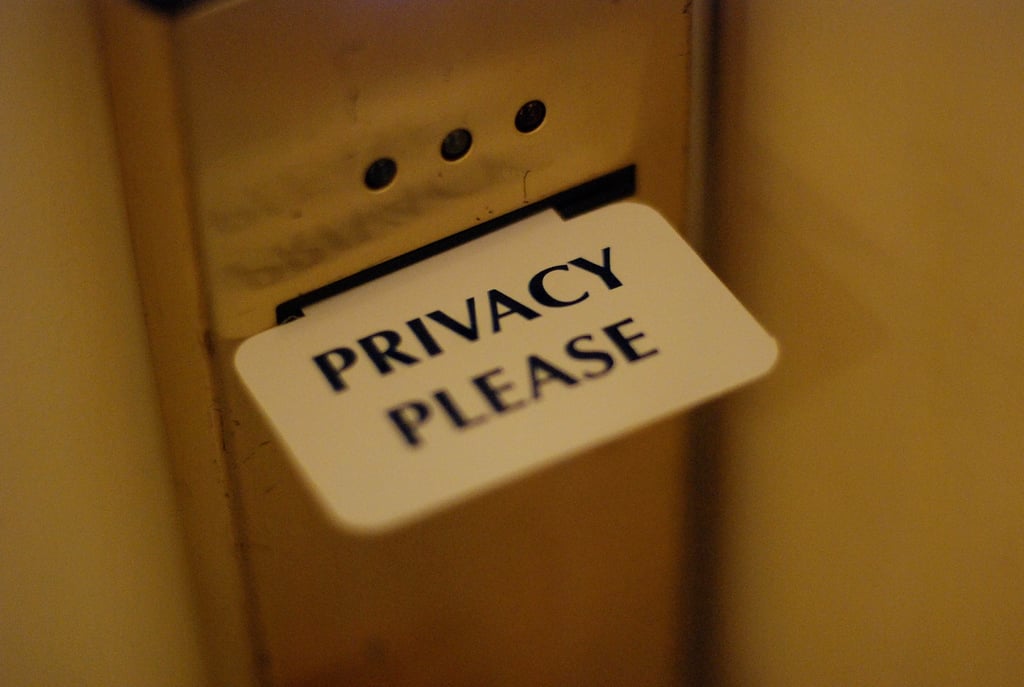 Imagine a file containing your name, address, political party, income, hobbies and favorite brand of soap. Sounds like the intro to a spy movie right? Wrong, this file is in the hands of plenty of private companies who are willing to sell it to the highest bidder. Data brokers, as they're known, make a living selling your information to companies to develop targeted advertising and profile you as an individual.
Using computer sources and marketing data, processed data brokers are even able to determine if you're going to be having a child soon. Besides invading personal privacy, this information helps hackers and those seeking to commit identity fraud. Hackers and fraudsters have purchased access or broken into data broker databases and then used the information for nefarious plots.
How to Fight Back
Regulations on consumer privacy in the USA allow you to opt out of data brokers to an extent. You can send an opt out request to a company to opt out of sharing most information with other companies. The most effective opt out requests are the ones sent to data broker companies themselves. While opting out will not delete the information, it will instruct the data broker to not share it with anyone else.
Opting Out
Let's take control of our personal information and start opting out as many data brokers as we can. Most major data brokers have online opt out forms and others may need you to send in a letter or fax.
Datalogix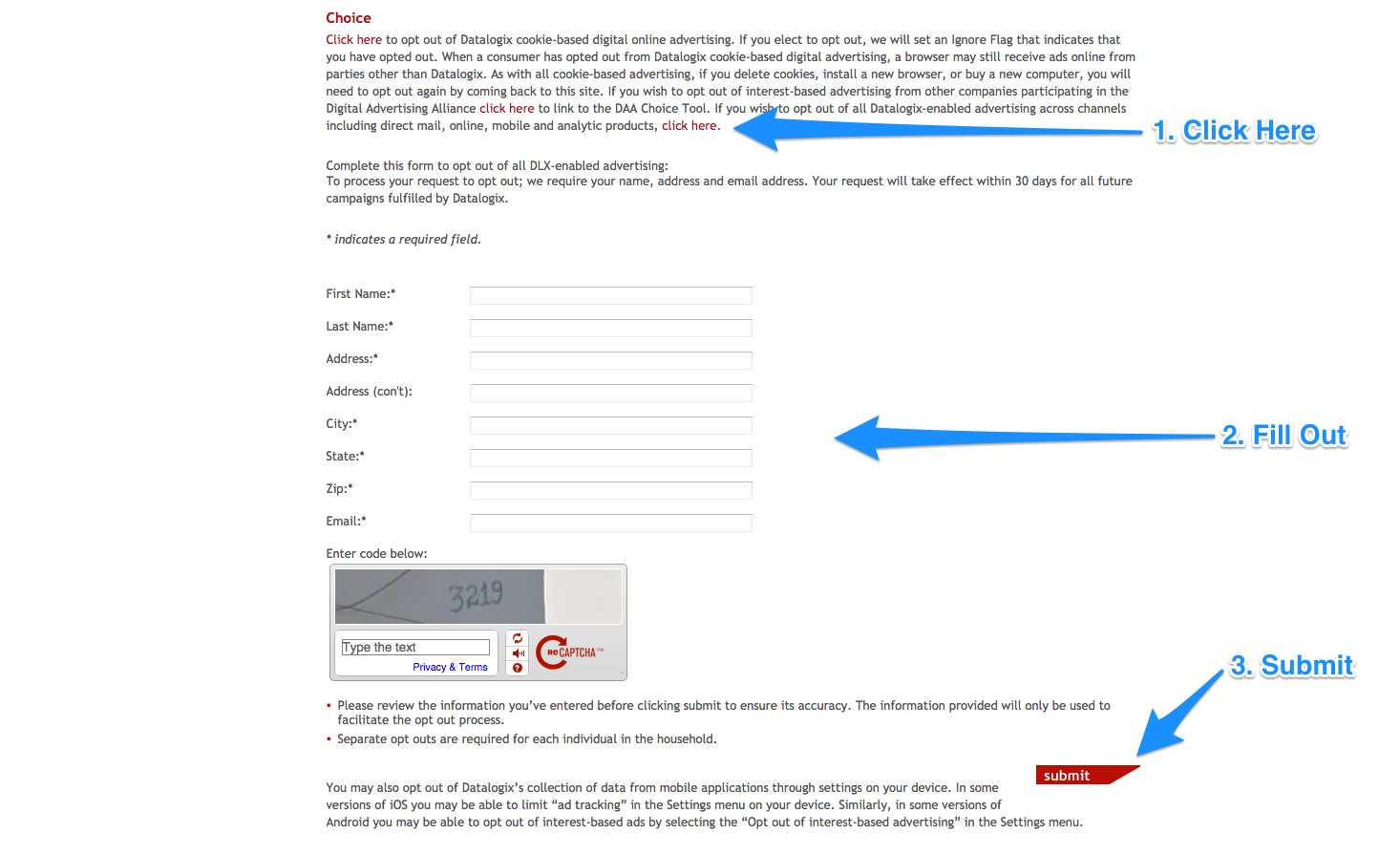 Datalogix is a data broker that focuses on online and direct mail. Notable users of Datalogix include Facebook, Ford, Google and Pepsico. Opting out of Datalogix can be completed by navigating to datalogix.com/privacy/, scrolling down to the "Choice" section and clicking on the third "click here" link and a small form will appear. Fill this out with your accurate personal information and click "Submit."
DMAChoice
While DMAChoice is not a data broker itself, it represents almost 3,600 marketing companies that are all involved in sending you catalogs, magazine offers and credit offers. Opting out of the companies represented by DMAChoice can be done by using the DMAChoice account wizard found on dmachoice.org/register.php. Once you register and confirm your account, it's as easy as logging in and clicking the "Go" button next to "Stop all unsolicited promotional mail."
eBureau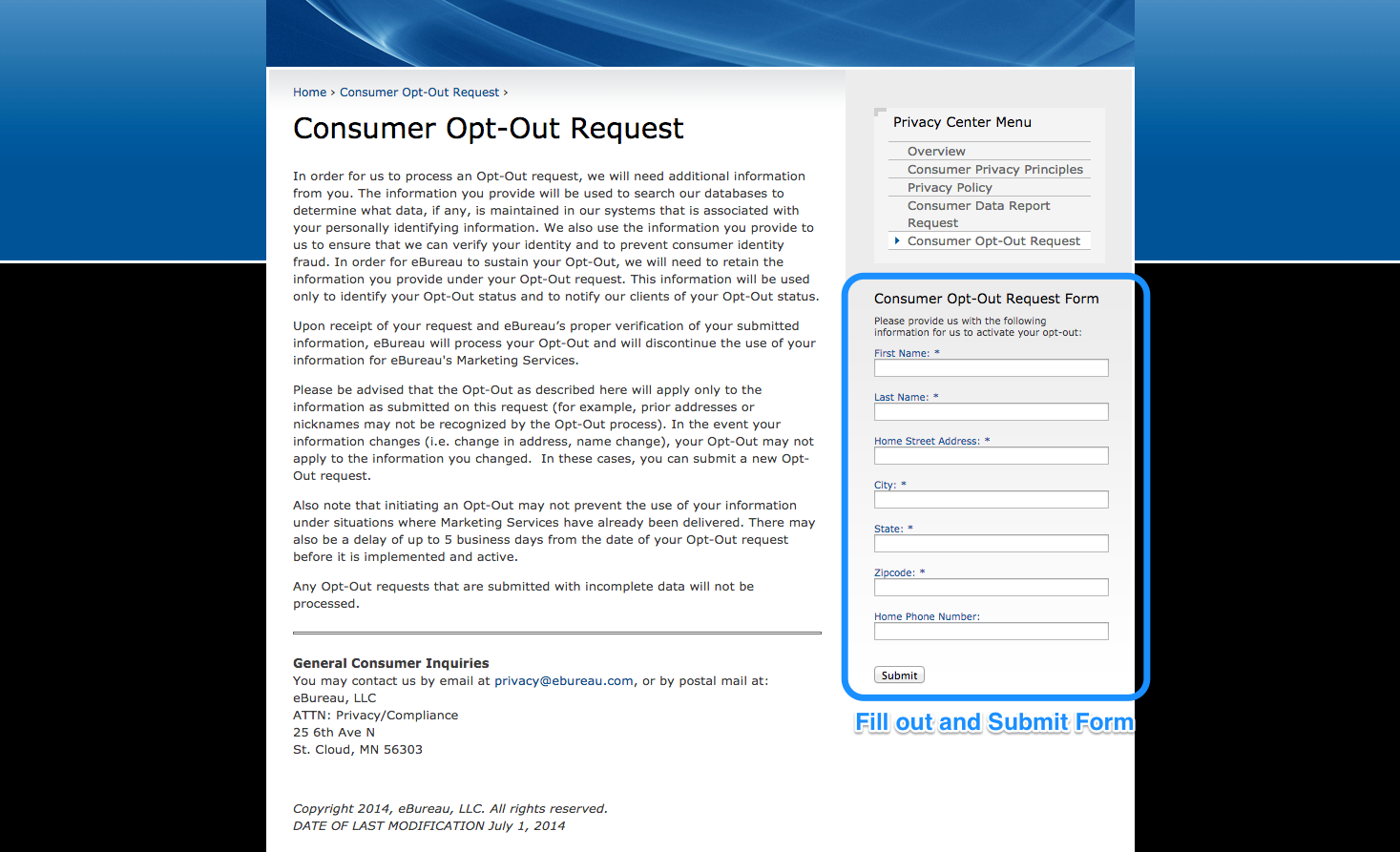 eBureau is an "industry leading provider of predictive analytics" which is data broker speak for "We're good at putting together pieces of your life and selling them." To opt out of eBureau you can go to ebureau.com/privacy-center/opt-out and fill out the simple form on the right hand side of the webpage.
Epsilon
Epsilon Data Management provides email marketing making them quick to opt out of by only entering your email into their online form. Simply visit info.epsiloninteractive.com/p/WebSiteLeads/Epsilon_Opt-Out, drop in your email and you'll be removed.
Experian
Experian handles email, telemarketing, direct mail and pre-approved credit offers making them one of the largest sources of data to opt out of. Experian's opt out process is more difficult, involving both phone calls and emails. To start the process visit experian.com/privacy/opting_out.html and follow the links for opting out of the various services offered by Experian.
Intelius
While Intelius isn't a traditional data broker, they provide the power of a traditional data broker to anyone who will pay, allowing anyone to get personal information with just a few clicks. Intelius' opt out process uses an easy online form available at intelius.com/optout.php but requires a scanned copy of your ID to verify you are who you say you are.
If you opt out of the above mentioned data brokers, you'll start to notice a change in the flow of junk mail, marketing emails, telemarketers and credit offers. With less credit offers arriving in the mail, you can sleep well at night knowing that nobody is rummaging through your mailbox to steal that pre-approved credit card. Opting out is a good start, but there are still plenty of other sources that have your personal information just a few clicks away. In the next part of this series, I'll cover deleting yourself from various Person Lookup/People Search websites.
Editor-in-Chief's Note: Please welcome Jack H. as a contributor on ITS Tactical. Jack is a self-proclaimed tactical paper hole punching expert and lead offensive cyber security engineer at Azorian Cyber Security in Denver, Colorado. When not breaking internet security, Jack spends his time taking apart and breaking various firearms.
Title Image © Josh Hallett