Oakley Assault Gloves Guest Gear Review
Oakley Assault Gloves Guest Gear Review
Oakley knows they really hit the mark with their assault gloves. Their appearance and overall design got them a contract with the U.S. military Special Forces community and many private contracting agencies all over the world.
However, putting the name brand aside let's take a non-biased look at how they perform operationally and in training.
The design:
Carbon Fiber Knuckle Shielding
Full grain leather palm with micro venting
4 way stretch material and joint panels in fingers
Sure grip fingers
Available in Black & Desert Tan
I purchased these gloves last December from U.S. Standard Issue for around $40.00 (They normally cost anywhere from $50.00 to $80.00) and was excited to put them to work. My first day wearing them it was a bit cold and I came to a fast decision that these gloves are made for warm weather/desert wear. I would not recommend these for long periods of wear in cold weather, due to their breathable design. The feel of the gloves is great and you keep most of your dexterity while wearing them. This makes a huge difference when determining what gloves to wear and is a definite plus with these Oakley assault gloves.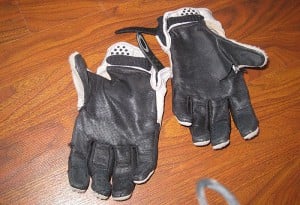 My first day on the shooting range ended with both gloves torn where the thumb meets the tang of my pistol. I was so upset by this, because I've worn over a dozen different kinds of tactical gloves over the course of my career and never had any rip or tear after just an hour or two of use on the range. I realized then that these gloves were more of a Cadillac tactical glove and retired them to operational use only. This is sad, because I believe you should train like you fight and not wearing the same gloves operationally as you do in training can be detrimental. (See Photo for glove damage)
Since tearing them on the range I have worn them operationally about 30 plus times and for operational use I've fallen in love. On two operations I was a breacher with a RAM tool and hit my knuckles both times on the door. The carbon fiber knuckles were a blessing and I sustained no injuries, scrapes, or bruises. Since seeing how well the gloves work for breaching, many of my fellow breachers have ordered pairs. I've found that the protection on the fingers and top of hand is second to none when it comes to tactical gloves.
I'm planning on taking the gloves to a tailor to have a strong piece of leather cloth sewn on the gloves from the thumb across to the other side of the palm. I believe this will alleviate the wear and tear issues on the meat of the hand and give the gloves more durability.
The last and major issue is that Oakley does not make a fire retardant version of these gloves. This is a major draw-back for many tactical teams here in the United States due to the use of dynamic entry and flash bangs.
All in all these gloves are stylish, comfortable to wear (in warm weather), have great over hand protection, offer above average dexterity, but are not as durable as most would like. For the price they are worth a pair, but just know you are paying more for the name and logo on the glove than they are really worth.
Editor's Note: Please join us in welcoming Trigger Pull, a veteran law enforcement officer currently assigned to a full-time tactical team,  as a guest gear reviewer on ITS Tactical.