Back the Tough Hook on Kickstarter to Hang and Transport your Body Armor
Back the Tough Hook on Kickstarter to Hang and Transport your Body Armor
I've personally been a huge fan of Kickstarter for some time now and have backed a handful of projects to help fellow entrepreneurs get their ideas off the ground. For instance, I can't wait to receive my Fellhoelter TiBolt Pen!
A project I've recently backed is from Tarik Lazri, called Tough Hook. This hanger was designed by Lazri to support heavy equipment like body armor and Scuba gear. You may find the design of the Tough Hook to be similar to the World's Strongest Coat Hanger that I reviewed here on ITS last year.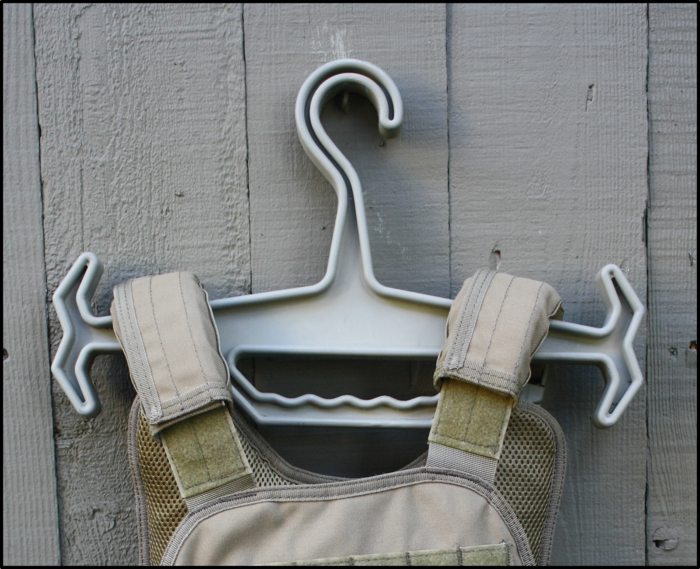 While the design may seem similar, the Tough Hook has a few unique features that I really like. For instance, the main feature is the ability for the hanger to "flip over" and turn into a carrying device for your body armor. I think this is a great feature if you need to quickly go from hanging your body armor/plate carrier to transporting it. Lazri states that the handle opening is large enough to get a gloved hand inside of too.
The other feature I like are the opposing hooks on either side of the hanger to keep the straps on your plate carrier from sliding off. This is great for things like plate carriers and body armor and much needed for those, but it also doesn't completely take the place of the World's Strongest Coat Hanger's for other applications. I'm certainly going to be replacing a few of my current hangers with the Tough Hooks, but not all of them.
I mention this just to drive home the point that both of these type of hangers serve different purposes and there's certainly a need for both. The Tough Hook is a product I'm excited to see getting developed, as one of the things on my wishlist for the WSCH was to have something integrated that would secure shoulder straps better than the small cut-outs they feature.
Check out Lazri's video I've embedded below and head over and help back his Tough Hook Kickstarter Project if you can. Even if you don't want one for yourself, he's got a backer level for $20 where he'll send one to a deployed soldier. I know plenty of deployed guys that could really use these.
Photo and Video via the Tough Hook Kickstarter Project page.