Survival Armor's Fully Structured Concealable Body Armor for Women
Survival Armor's Fully Structured Concealable Body Armor for Women
At the 2014 SHOT Show we had the opportunity to meet with some of the staff at Survival Armor to get an up close look at their concealable body armor. Since armor can be heavy, bulky, hard to conceal and difficult to conform to the curves of the human body, it was great to see Survival Armor addressing these issues with innovative products that included concealable options as well.
I was fitted for one of Survival Armor's concealable structured-armor options to demonstrate just how conforming their body armor could be to my torso. My body is petite but curvy, so I have a short torso with an ample chest and small waist. I was definitely curious about what the customized armor would look and feel like when it was ready to be worn, I expected it to just hang off of my shoulders, mash down my chest and not permit me to sit comfortably in a chair. Fortunately, I quickly found out after my armor arrived that wasn't the case at all.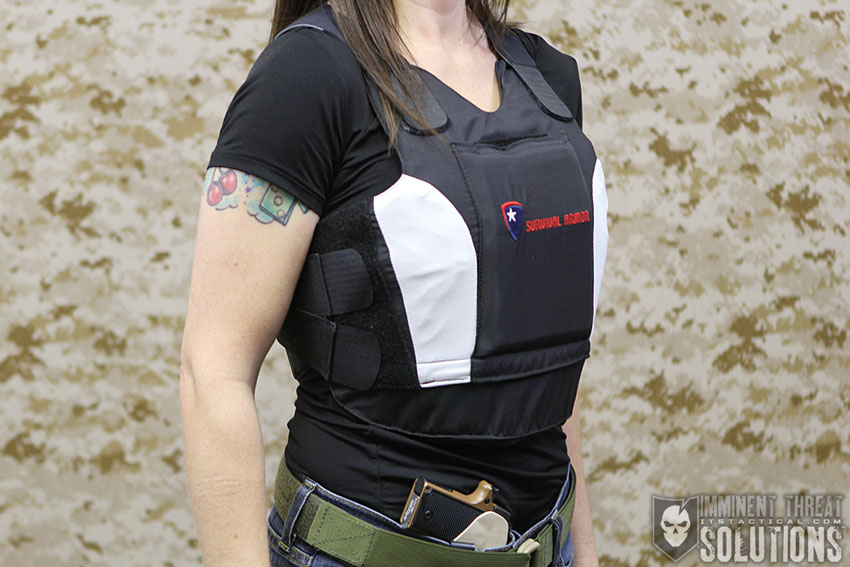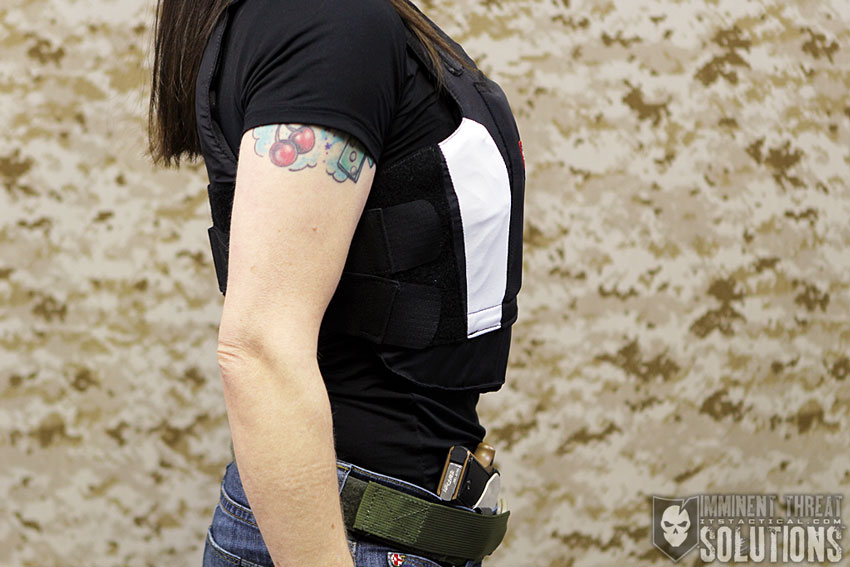 Falcon6 Ballistic Protection
The Falcon6 IIIA fully structured vest was sent to me with an F7 (trauma pack) plate. At the time my vest was made, I was able to choose from white, black or navy fabric options, but tan, olive and brown are also now available. I opted for a black vest. The new F7 level IIIA plate that was included is exclusively for females and has a permanent bend which contours with the female cup for maximum comfort. The Falcon6 model is also available unstructured, which means it won't have the darts (side seams) that draw the shape further in on the sides of the bust. Unstructured options will still take on the female shape and can still be fitted with the F7 plate. All of the female concealable armor options can be found here on Survival Armor's Website.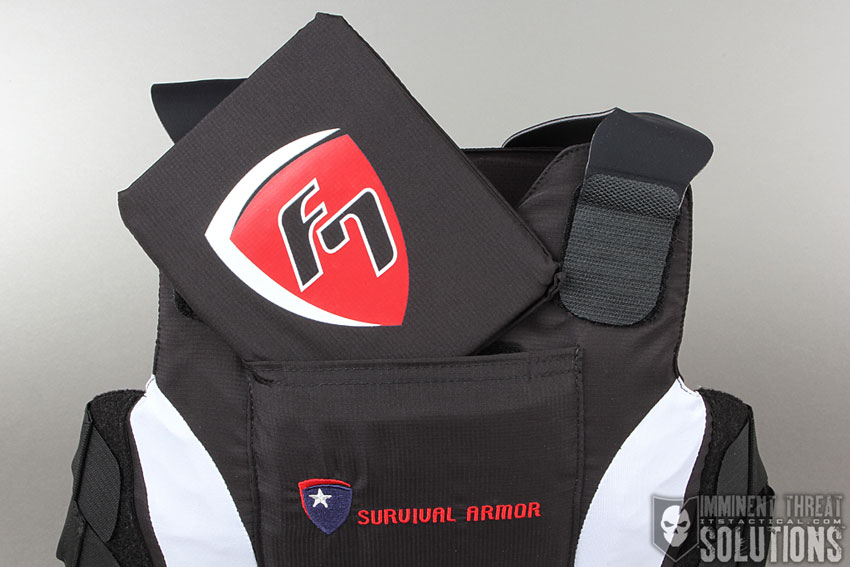 The first thing I noticed after receiving the vest was that it felt much lighter when I picked it up than I originally imagined it would be. Granted, weight is going to vary by the size of the vest and the guys in the office joked that my carrier looked child-sized, but my first impression of the vest was that it was going to be very wearable. After putting it on and getting the shoulder and side straps adjusted, I walked around and then sat down to see if I had full arm, waist, neck and shoulder movement throughout the rest of my day. My movement wasn't impeded in any way. Adjustments are made by repositioning the Velcro hook and loop straps and two styles of side straps were provided for me to try out in order to get the perfect fit.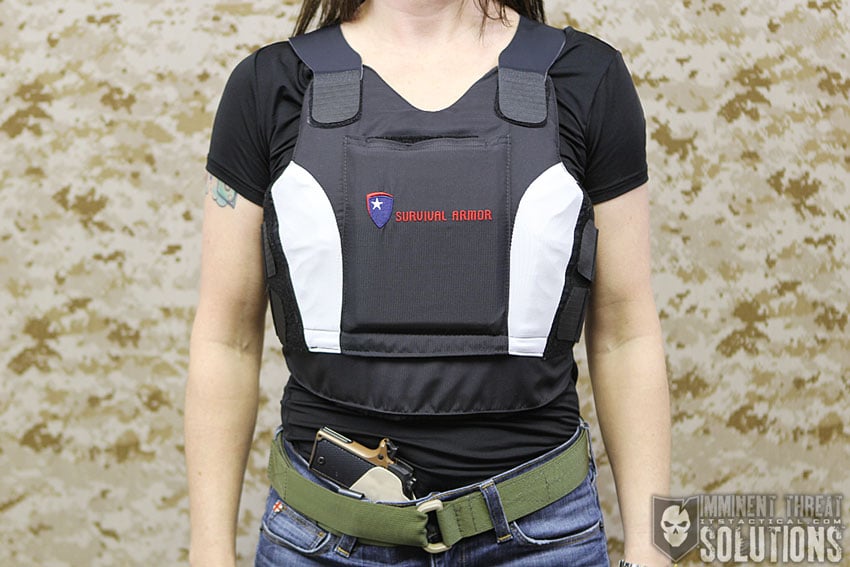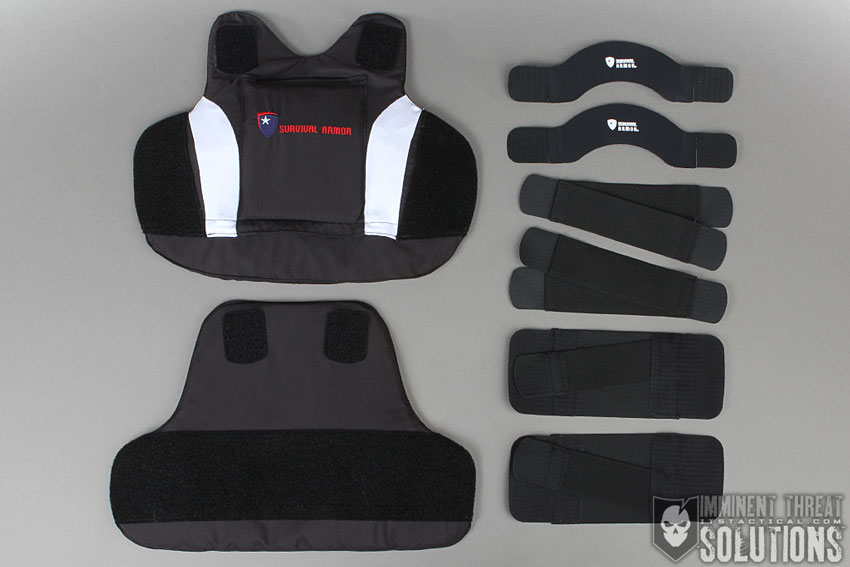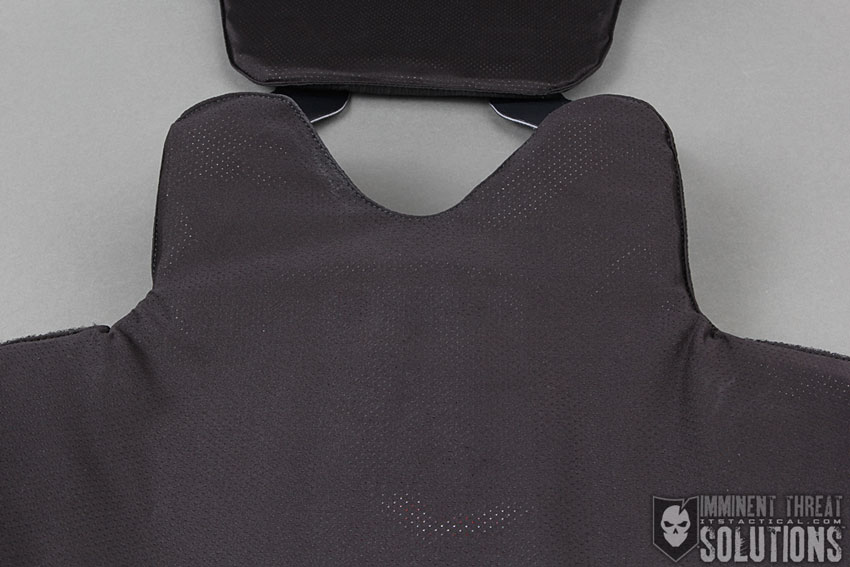 Something I also like about the Falcon6 is the ability to replace worn out straps, rather than needing to have alterations made to the carrier if one wears out. I found the Falcon6 to be easily concealable with most of the button down shirts I've worn it with and it's worth noting that I didn't have to go up a size in the shirts I wore the vest with, I was able to wear what was already in my closet. I did invest in some breathable undershirts that helped me to stay cooler while wearing the vest during the summer months.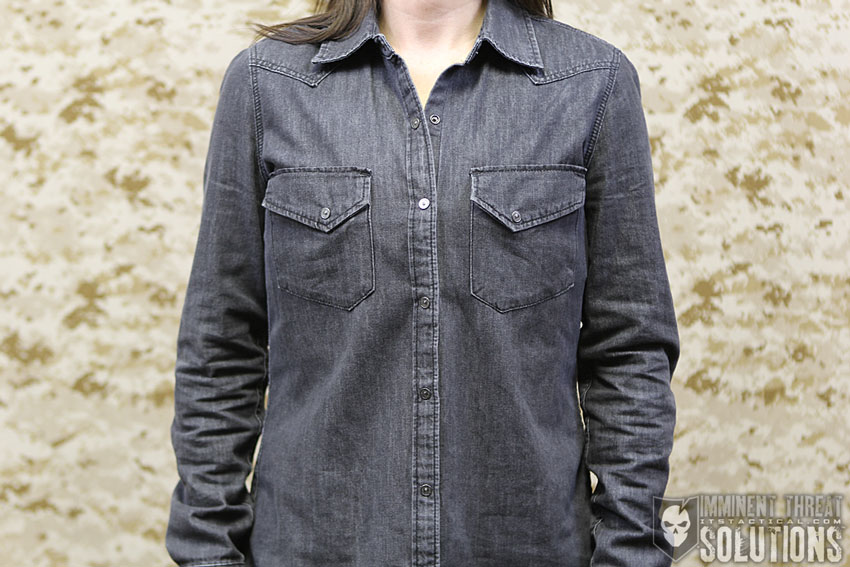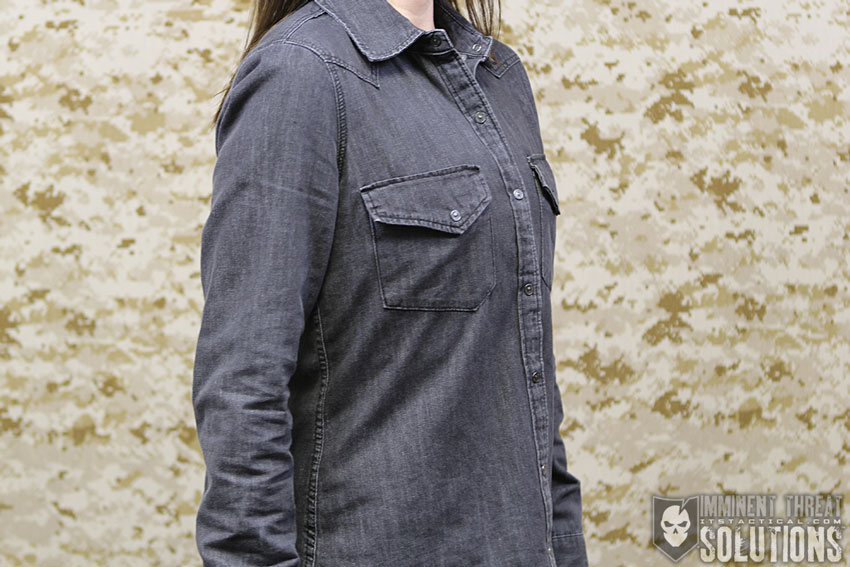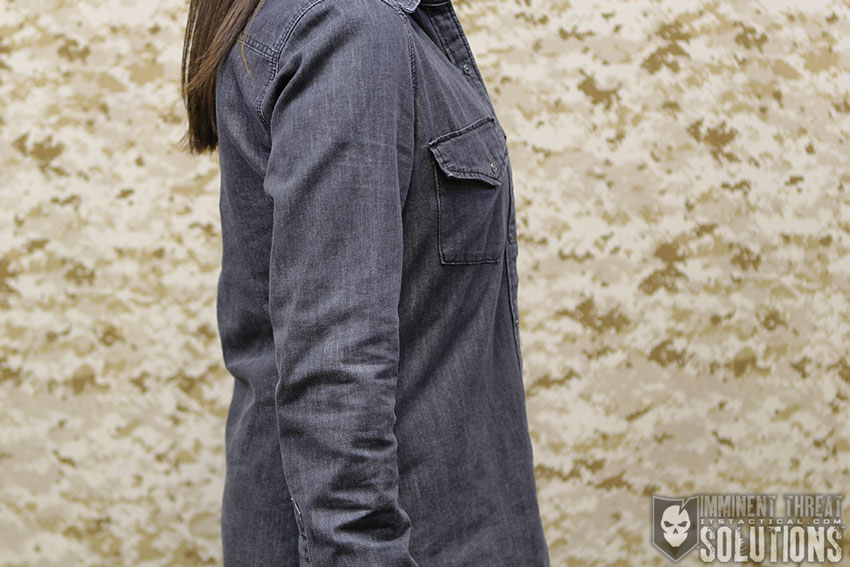 The vest adds about an inch and a half of bulk across the front of my chest, but virtually no bulk is added to my shoulders. My arms are also able to move naturally by my sides without any pushing out from the vest. Folding my arms across my chest was the only awkward regular movement I've encountered, but I imagine that being awkward no matter what armor I'm wearing. The Falcon6 has an LDSS (Load Distributing Strapping System), which is a new and patented ergonomic strapping system that helps wearing the Falcon6 to feel almost like wearing a regular garment.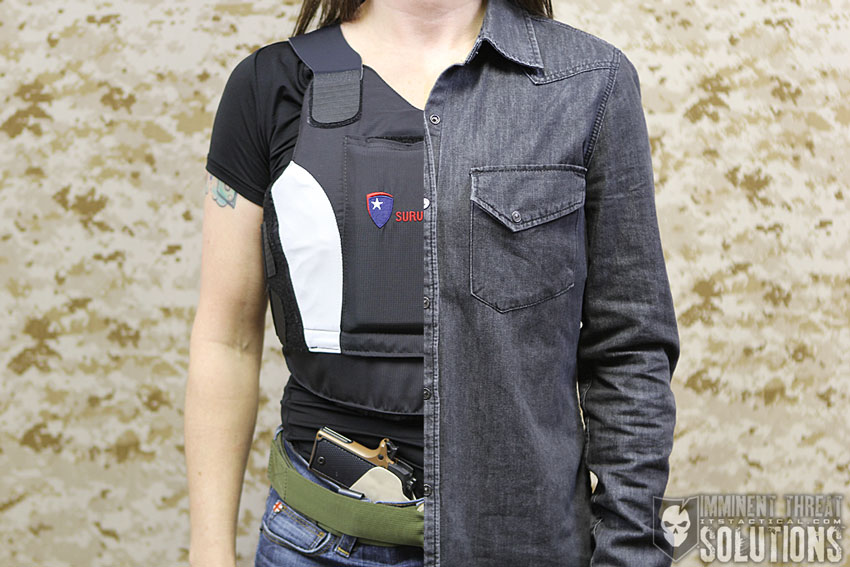 Survival Armor has provided the comprehensive video below on their website showing how the NIJ .06 IIIA frag concealable soft body armor performs at near contact distance using several different NIJ special threat pistol calibers ranging from 9mm, .357 hollow point to .40 caliber full metal jacket rounds. The demonstrator, Gary Hughes, provides a great explanation of how the testing performed in the video uses only the NIJ certified ballistic package and the carrier, the additional trauma pack was not installed during testing.
FALCON6 Specs
NIJ-STD-0101.06 – certified complete size range C1 – C5
Innovative ballistic package
Special Threat Testing beyond NIJ-STD-0101.06
Military Specification Fragmentation Tested
Approved for Special Warfare Use
Patented VisiBallistic Viewport
Vertex moisture wicking anti-microbial carrier system
SuperFlex 3D Fabric with superior strike face performance over traditional weaves allowing the vest to slow down the cutting and spinning of the bullet and increase the speed at which the bullet deforms and flattens out
Getting Fitted & Equipped
Survival Armor's concealable options aren't only available to women, men can also customize their concealable armor. Male and Female sizing sheets are available on the Survival Armor website and provide clear and concise instructions for how to get the right measurements for the perfect fit. It takes about four to six weeks after measurements and purchase order are submitted for the vest to be manufactured and shipped. The Pargon6, Phoenix6 and Falcon6 are all available in custom sizes for both males and females.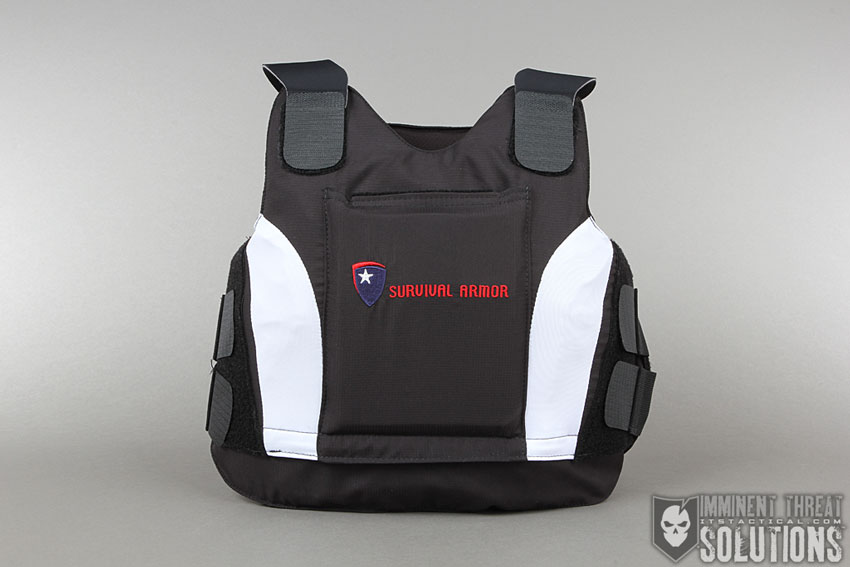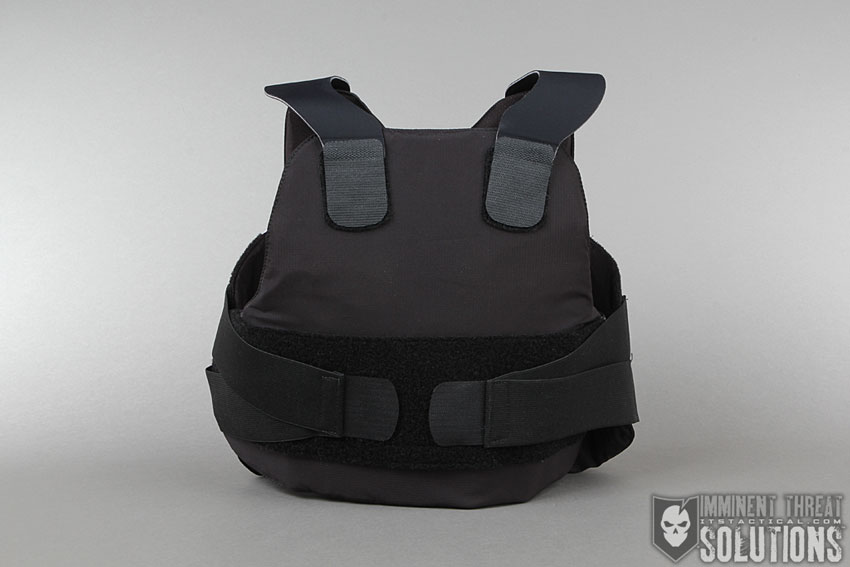 Survival Armor's designs and manufacturing are geared towards Law Enforcement, Military and Federal Government Personnel. While they don't sell direct to consumers, other than federal business, they do rely on their network of dealers across the nation to sell their products. Meaning that the decision of who their dealers sell to lies with those individual dealers, many of which do sell to civilians. Typically their dealer network policies require proof of a Concealed Handgun License or a letter from local Law Enforcement for civilian purchase.
For concealable body armor options that are comfortable and are tested for not only higher performance, but also wearability, check out Survival Armor and the many options they have available. Find more info on Survival Armor and inquire about ordering and pricing, by checking out their listing of local dealers.