Liberty Bottles: An American Made Metal Bottle with a Simple Twist-Off Cap
Liberty Bottles: An American Made Metal Bottle with a Simple Twist-Off Cap
I first heard about Liberty Bottles by chance a few months back and had been searching for a good metal bottle to see how they compared to the Nalgenes I've been using for over 10 years now.
I'd been through the changeover when the BPA debacle happened and have been using the BPA Free Nalgenes for a few years now. However, Nalgenes have always left me desiring more. I'd always looked at the various metal bottles on the market, but never found one that I liked more than a Nalgene.
When I found out that Liberty Bottles were the only American made metal bottle on the market, I decided to order the 32 oz. and 24oz. sizes and give them a try. I've really been trying to buy American lately in not only my personal purchases, but also with what we carry in the store at ITS Tactical as well.
Nalgene Bottles, Metal Bottles and Liberty Bottles
I'd like to compare and contrast what I feel are the current options out on the market for drinking bottles and what features set Liberty Bottles apart from the others, even my coveted Nalgenes that I've been attached to for so long.
Other than Nalgene, I'll be discussing SIGG and Klean Kanteen, both of which I own as well.
Nalgene
Let's start with the pros and cons of Nalgenes. Like I said, I've been using Nalgenes for as long as I can remember. I've got more spare caps and drinking inserts than I care to count and they've always been ultra-dependable.
They handle boiling hot liquid without melting and you can even hold them above a flame to boil water directly in them. I've done both, however the lid has to be removed, as it will melt quickly. Ask me how I know that… I've dropped Nalgenes from great heights and even had a good friend think he was Ethan Hunt rappelling down a 60 ft. cliff and wound up inverted on the rock. As I quickly reached out to try to do what I could to correct his stupidity, I watched the two Nalgenes he had in his backpack hit the ground without breaking.
They're strong, no doubt, but I finally saw one cracked at a Boy Scout Summer Camp I attended with my son a few months back. I don't know exactly what happened, but I was walking out of the pool when I saw the cracked Nalgene lying broken near the bathroom. If you need something broken, definitely give it to a group of Scouts. I really wish I could have seen what happened, but I digress.
A few things I dislike about Nalgenes are the plastic lids, screw-off feature on the lids, wide mouth and the fact they can be awkward to hold at times. I've had a plastic lid break on me before, but mainly because I carry Nalgenes by the loop created in the lid. Despite one breaking on me in the 10 + years I've owned them, I'd say that makes them pretty tough.
I've also hooked them onto carabiners with that lid loop and never had a problem, but it's always concerned me, considering it's just plastic holding it on there. As far as the wide mouth, I've always used a Guyot Designs Splashguard insert which makes it easier to drink from on the move. Nalgenes are also made in the USA.
SIGG and Klean Kanteen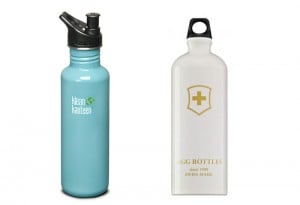 While I've lumped these two bottles together, I feel like their are definitely things that set them apart. Klean Kanteens are nice and I like the fact that they're made from stainless steel, which is naturally BPA free and also free of any metal taste. I'm just not a big fan of the screw-off lids, despite them now offering a sports bottle type lid. I just see those as being prone to an ND (negligent discharge) and they're made in China. Like I said, I've really been trying to buy American, but it's been extremely hard.
The Swiss made SIGG bottles are probably my least favorite of all the bottles mentioned here. They're made from aluminum and now feature a BPA-free epoxy lining inside called EcoCare. I had one of the BPA lined bottles that I threw away after SIGG had been denying BPA was in their liner for the longest time. When they finally came out with the news that it did in fact have BPA, I appreciated the fact they came up with an exchange program, something Nalgene never did when it was revealed that they contained BPA.
The other thing that I never liked about the screw-off lid on the SIGGs was the fact that it was easy to cross-thread and happened to me too many times. I haven't experienced any cross threading with Klean Kanteen.
Liberty Bottles
[flickr id="6069734061″ thumbnail="small" overlay="false" size="medium" group="" align="right"] First off let me say that it took me a long time to even start searching for a metal bottle and had been through many when I stumbled across Liberty Bottles two months back. What immediately caught my eye was that they were the only American made metal bottle on the market, produced by American workers in Yakima, Washington.
That was great, but as I started reading more about them, I grew to like them more and more. The feature that I really like is the  simple 1/4 turn on, 1/4 turn off way that the cap attaches. No turning and turning like with the Nalgene, Klean Kanteen and SIGG. They're also BPA Free, non-toxic, non-leaching and made from recycled aluminum; while they say they have a wide mouth design, it's just wide enough to be able to put ice in it and not wide enough to slosh all over you while you take a drink on the move.
[flickr id="6069734415″ thumbnail="small" overlay="false" size="medium" group="" align="right"] Liberty states that the  flexible food grade coatings they use ensure no chips or flakes end up in your water and unlike uncoated metal bottles, their coating insures no heavy metal leaching or porous surface for bacteria build up. I forgot to mention this earlier, but plastic Nalgenes harbor bacteria (even after washing) and the Klean Kanteen's stainless steel is naturally bacteria resistant. SIGG states that "due to the finish of the liner, there is much less chance for bacteria build-up with a SIGG as opposed to plastic containers."
Thoughts
[flickr id="6069734351″ thumbnail="small" overlay="false" size="medium" group="" align="right"] The 1/4 turn design makes it a snap to still leave your bottle carabinered onto your pack and simply twist it to take a drink. This leaves the cap attached to your carabiner and leaves you without the worry of losing it.
You'd either have to take the bottle off the pack with the other three bottles, or unscrew the bottle itself while holding the lid. This can be challenging while on the move and especially challenging to get the bottle screwed back in when you're done taking a drink. I also really like the fact that these things are strong! I've been tossing mine around everywhere and all it's gotten are scratches.
I've also grown quite fond of the 32 oz. size of my Nalgenes and was glad to learn that Liberty Bottles had a 32 oz. as well. It makes an easy measurement to down a gallon of water a day by knowing I just have to drink a 32 oz. sized bottle four times.
I'd like to invite you to hear my further thoughts on Liberty Bottles by watching the video below, there's also a sneak peak at the ITS Tactical Liberty Bottle hitting the store soon! I think you're going to like it!
[flickrset id="72157627493783914″ thumbnail="thumbnail" photos="" overlay="true" size="large"]