The Liger Gun Belt: It's Like a Lion and a Tiger Got Together To Hold Up Your Pants
The Liger Gun Belt: It's Like a Lion and a Tiger Got Together To Hold Up Your Pants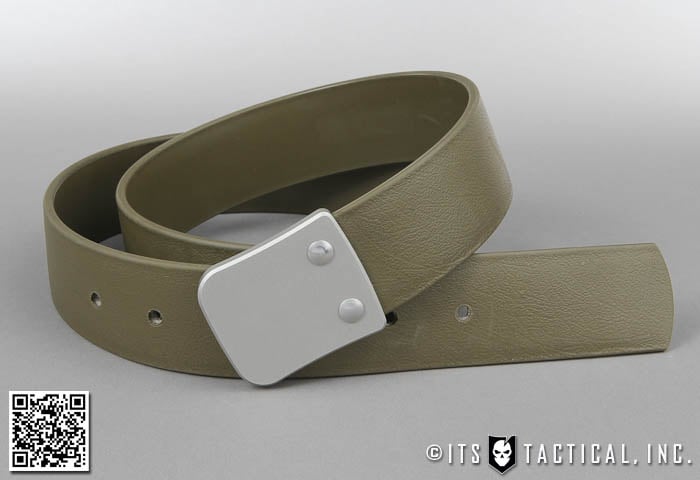 The Liger Gun Belt has been a part of my EDC for the past few months and today I'd like to share my thoughts on it thus far. Manufactured by Edgy Gear and sold by Maxpedition, it's one of the few products available there that's 100% made in the USA and that was a big selling point for me.
I purchased the Liger Gun Belt to evaluate as an option for wear with every day clothing, more formal attire and especially for use in conjunction with concealed carry.
Liger Gun Belt
For starters, the Liger Gun Belt is available in 1.25″ tall and 1.5″ tall configurations. You can also order it in an OD/grey configuration as seen in this review or brown/grey, black/grey and even a blackout version that features a black belt with a black buckle.
When I initially purchased the Liger Gun Belt, I ordered a 1.25″ tall version and quickly found I didn't care for the shorter version and wanted to try the 1.5″ out. Maxpedition was very helpful in allowing me to exchange the original belt for a taller variation, which I greatly appreciated.
I feel that the 1.5″ is more accommodating to the various holsters I run, as I feel like I'm always trying out new offerings from companies. A few holsters that I'm currently evaluating and want to mention here are the Orion Concepts MOD-1 (OTW) and the Off The Grid Concepts Sidewinder (IWB.) The Liger Gun Belt is accommodating both of these very well right now.
Something that most reading this may be familiar with, is the sag that can develop in leather and even some nylon belts. While this isn't an issue, per se, it is worth noting that in nearly four months of wearing the Liger Gun Belt, there haven't been any issues of sagging or deformation. This is largely in part to the "Ligerthane" material that each belt is made of.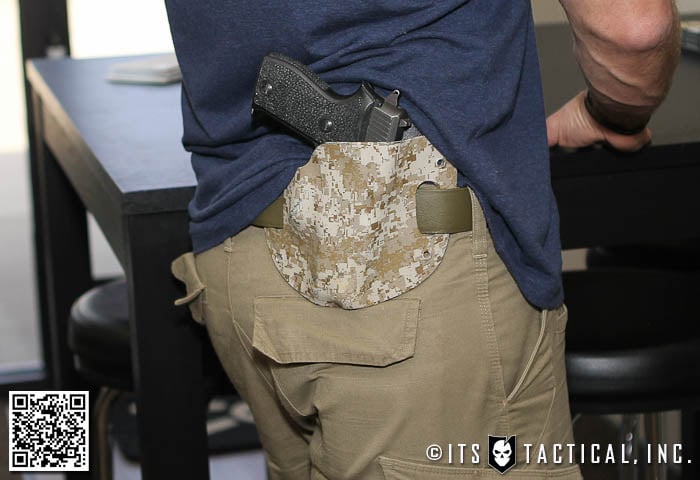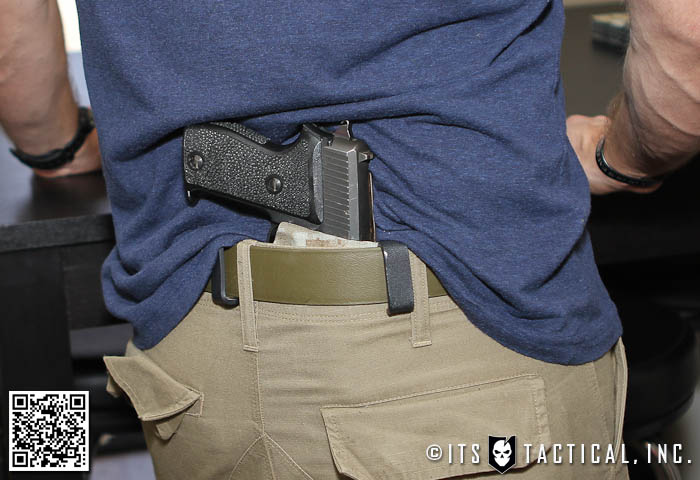 Construction
Ligerthane is a proprietary material developed by Edgy Gear, which utilizes a high-strength resin-embedded polyester fabric core and boasts a 2,000+ lb. tensile strength. It's also rated to over 300 lbs. of pull strength at the belt holes. Coated with a highly abrasion-resistant polyurethane coating, the Liger Gun Belt nearly looks brand new after the months of wear I've put it through.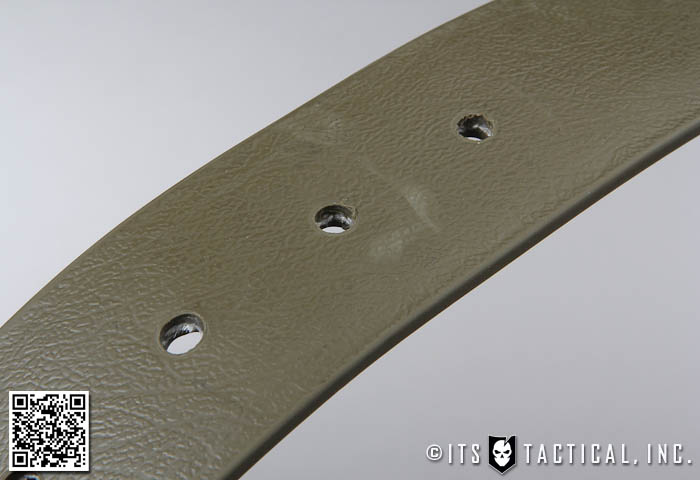 The Ligerthane material is also noted as being impervious to salt water, blood, mildew, bacteria, mold, rot and resistant to common solvents. I haven't tested this out yet beyond sweating profusely while wearing it and not yet cleaning it. With the salt that's deposited on it thus far, I haven't noticed any rusting, rotting or mildew. Ligerthane is marketed as being soft and flexible down do -20F, but being in Texas, haven't tested that one out either.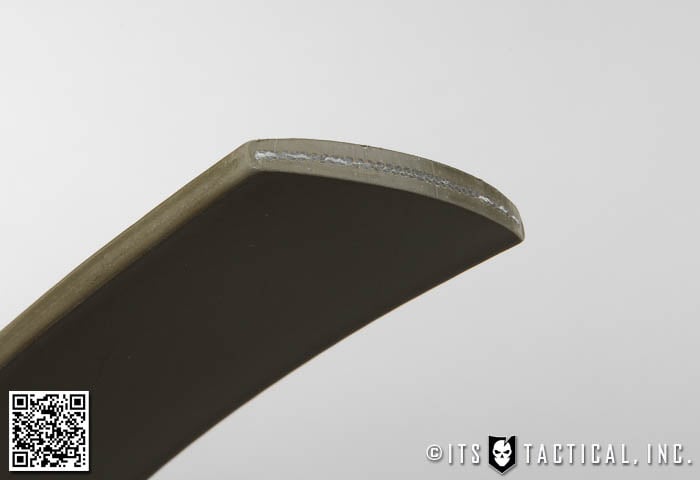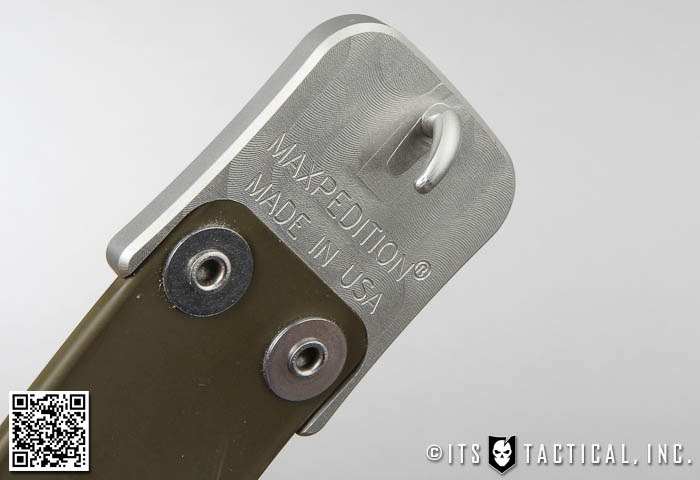 When it comes to the buckle and further construction on the Liger Gun Belt, I really love the solid billet of T6-6061 aluminum used in the buckle. The fact that stainless steel rivets were also used is a big plus. The "LigerTooth" hook design on the buckle is also formed from the single billet of aluminum and seems as equally strong as the overall buckle. The buckle is type-III hard-anodized (MILSPEC-A-8625) in either Grey or Black for increased wear resistance. I'll also note here that the belt is incredibly light, with the 1.5″ x 36″ long version shown in this review weighing in at just 7.2 ounces.
Sizing
This brings us to sizing. Maxpedition states that sizing is based on actual waist circumference and recommends using a tailor's tape measure (the flexible kind) to thread through the belt loops of your favorite pair of pants (as you'd normally wear them.) I'll also note that I didn't take into account any type of concealed carry when I made my measurement during my purchase. As Maxpedition states that based on the measurement, they provide two holes smaller and three holes larger in 1″ increments, I felt like this would accommodate the range I'd need. It turned out that it certainly did.
Notes
So in all, the Liger is pretty much my favorite animal and the Liger Gun Belt ranks right up there with the best belts I've ever owned. I'm anxious to even pick up another in brown or black for more formal occasions, as wearing a traditional leather dress belt now just seems wrong.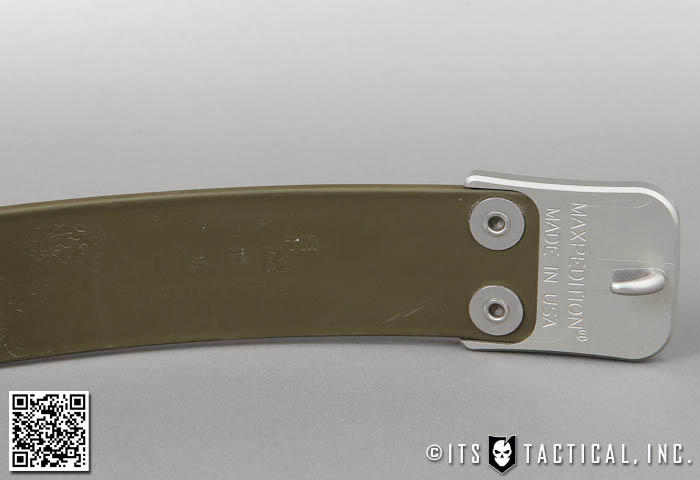 It took me awhile to get mine, so be patient if the size you want is out of stock. I'd recommend signing up for their notification list so you'll know when they get their next batch in. You could also give them a call to inquire about when more will be in stock. They list their number in the item description as a resource for sizing questions or to place an order.
As tempted as I am to use the Liger Gun Belt as an emergency zip line like Indiana Jones, I still can't bring myself to try it out. Maybe one day…