Zulu Nylon Gear Mega Admin Pouch
Zulu Nylon Gear Mega Admin Pouch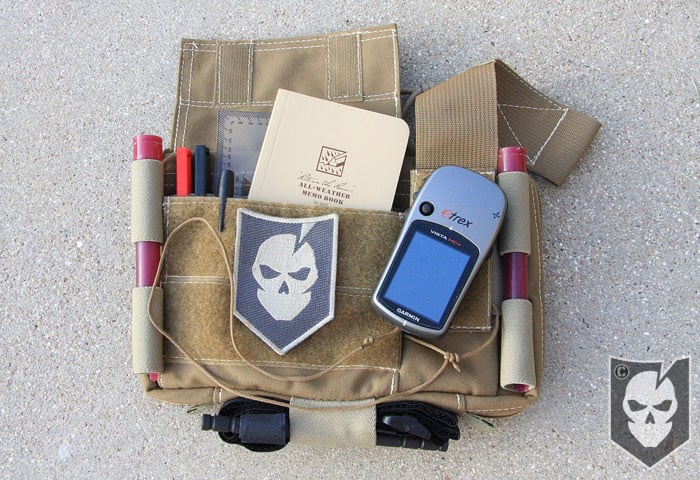 We'd like to introduce a special gear review (with YouTube video) today at ITS Tactical on Zulu Nylon Gear.
Zulu is a company owned and operated by one of our readers here at ITS, and we wanted to help get the word out about their newest offering, the Mega Admin Pouch.
We're big fans of this pouch, and particularly like the adjustable 550 cord feature to hold the main compartment open.  It's great for keeping a map or index cards at the ready while navigating.
Description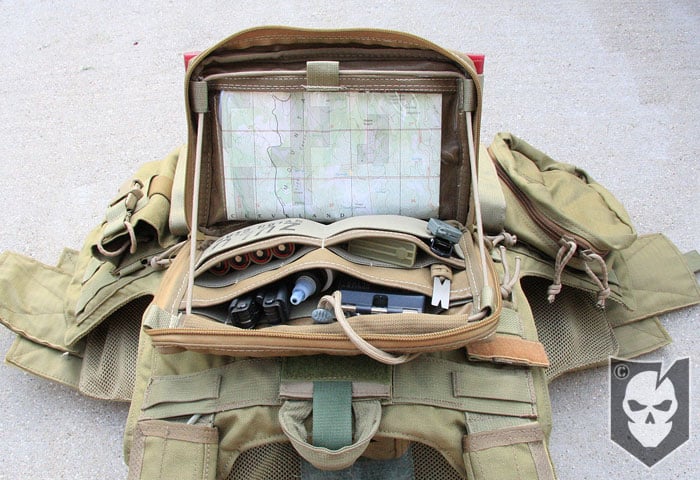 The Mega Admin Pouch has an overall dimension of 9″ wide x 6″ tall x 1″ deep and  features seam binding-tape on all seams, true 550 cord zipper-pulls (not cheap 550), excellent quality stitching throughout, and hardcore attention to detail.
Maybe Zulu can chime in here but it appears to be made from 1000d coated Cordura which is highly water repellent. All materials used in construction are mil-spec quality and the big plus in our book is that it's made in the USA!
Front Admin Panel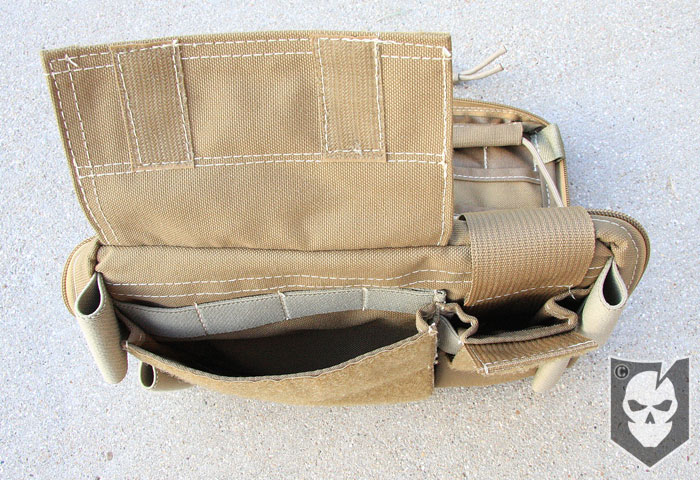 The front of the Mega Admin Pouch features two 2″ wide elastic retention loops on both the right and left sides, which are perfect for holding chem lights or even pens.
The main admin pouch measures 6″ wide x 5″ tall x 3/4″ deep and has  1″ tall elastic loop retention sewn into four 1.5″ columns spanning it's width.
With a closed lid the admin pouch features a full 6″ x 6″ field of loop-velcro real estate (for displaying your favorite ITS Tactical patch… We asked Zulu, seriously!)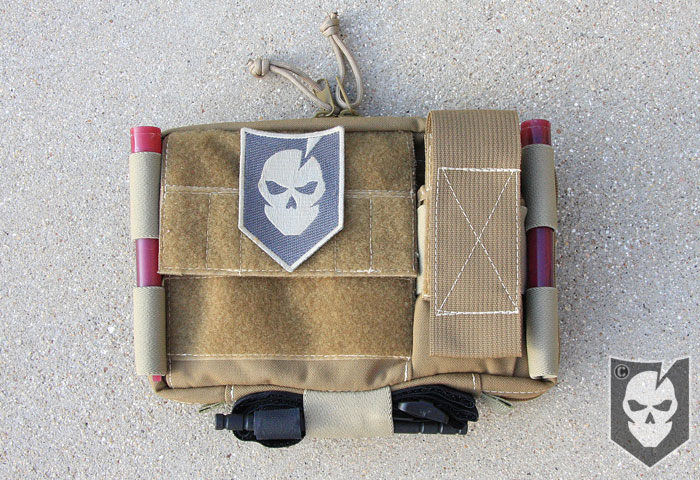 To the right of the main admin pouch is an adjustable flap pocket featuring a 2″ wide elastic retention band. The pocket measures 2.5″ wide x 4.5″ tall with around 1.5″ of depth.
The adjustable flap pocket also features a completely removable 2″ wide velcro-backed flap, which is affixed to a strip of 2″ wide loop velcro running down the  back side of the pocket.
One last honorable mention. On the bottom of the mega admin pouch is a 2″ wide elastic retention loop that creates a perfect location for a tourniquet. It's a tight fit, which is good to keep it secured until needed (hopefully you never do).
Main Compartment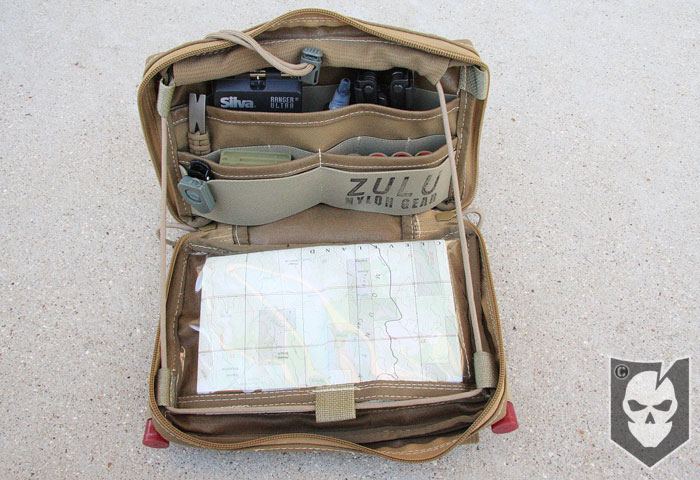 As we mentioned previously the main compartment is held open by a 550 cord drawstring that adjusts with a cord-lock for any angle you might need. The clear vinyl map compartment measures 9″ x 5.25″ and features a velcro closure with a webbing pull tab.
To the rear of the main compartment sits yet another area for admin supplies. Theres a large 8.75″ wide x 4.5″ tall pocket featuring the signature 1″ tall elastic loop retention sewn into a four 1.5″ columns and one centered 2.75″ column.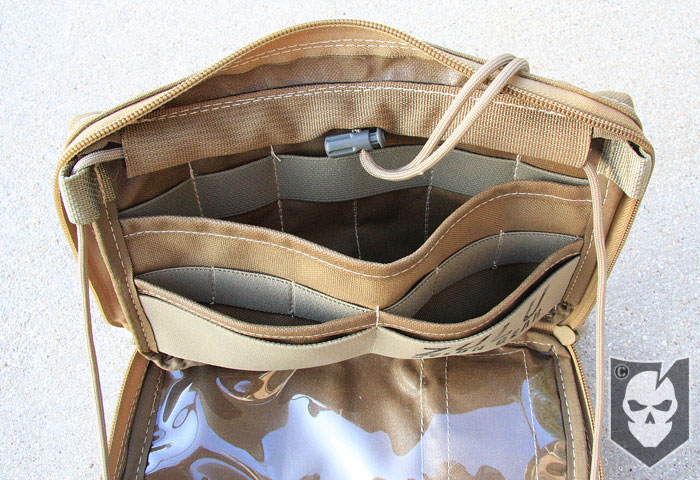 In front of the large pocket are two smaller pockets, each measuring 4.5″ wide x 3″ tall. They too feature the 1″ tall elastic loop retention sewn into three 1.5″ columns.
Moving forward are two large 4.5″ wide x 2″ tall pieces of elastic retention for those last extras you need to carry.
Rear Attachment
On the flip side of the Mega Admin Pouch is PALS webbing measuring six columns across and five rows tall.
The pouch attaches with four tall MALICE clips (Make sure to get the tall ones, not the short ones).
Notes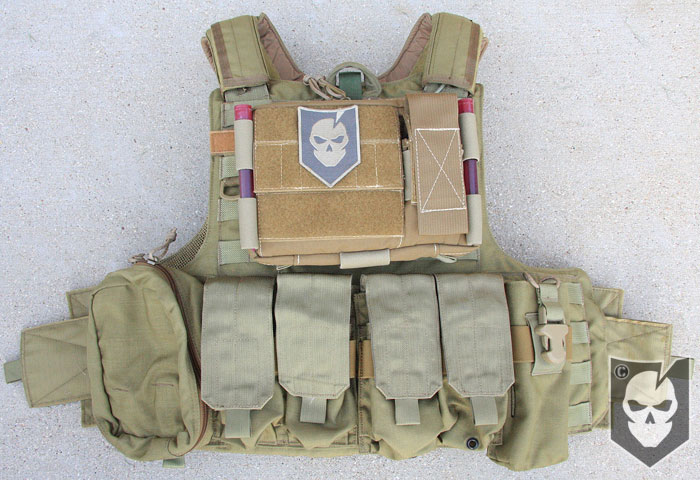 Zulu really values user feedback so if you have any suggestions or comments on how to improve the design be sure to let them know. They work closely with their contractor… close as in personal, which allows them to make changes "on the move."
A few suggestions we have on the Mega Admin Pouch are to place a drainage grommet in the bottom of the main compartment because no matter how water resistant 1000d Cordura is, water is still going to get in, especially if it's submerged.
We also like to see dummy cord loops throughout the pouch which would make it easier to tie off gear.
One final suggestion, and this might be a stretch, but if the entire map pouch were made into it's own separate unit backed with hook velcro it could be removed. This would expose a large area of loop velcro for attaching anything you'd want.
Tell us what you think of the video review below!