Learning How to Enjoy the Wilderness and Be a Happy Camper
Learning How to Enjoy the Wilderness and Be a Happy Camper
At some point in the past you've probably heard someone say that their version of camping was staying in a hotel. I know that's a standard response from some of my friends and family when I've told them about a camping trips that Bryan and I planned. I've also been guilty of saying that same line a few years back.
Since then, I've found that camping is a fun way to relax and spend time with my husband and our son. (Right now it's one of the few things that helps me relate to our teenager.) It's also a great way to test my skills when it comes to fire building, knot tying and surviving outside of my comfort zone. Learning to truly enjoy camping has just taken some experience and thoughtful preparing on my part, to make sure I pack what I need to be comfortable on a campout.
The Learning Process
Most of my camping experiences have involved borrowing supplies from my husband. While its been a very cost effective way for me to test out different equipment, it hasn't always provided for the most comfortable outing.
My very first backpacking excursion (about 10 years ago), I borrowed an external frame backpack from the school where I was taking a backpacking class. As you can see from the picture, my backpack and the other borrowed accoutrements were a little on the large side. (It's also funny to see that even Bryan was over-packing back then.) Needless to say, Bryan and I refer to that trip as the weekend when I looked like a turtle.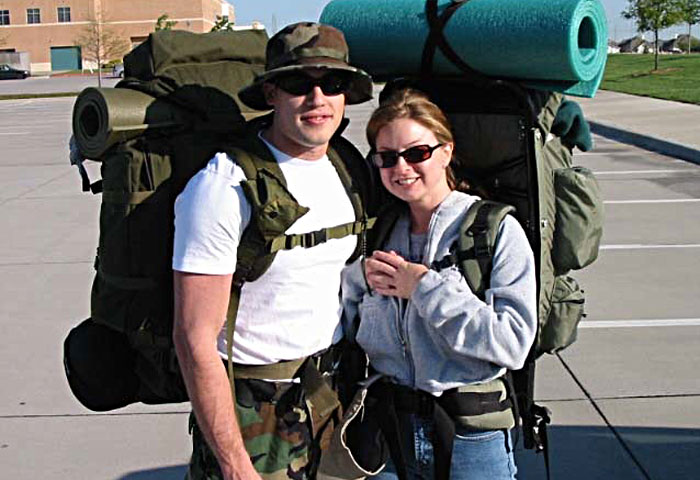 Borrowing backpacks, sleeping pads and sleeping bags over the years has enabled me to figure out what doesn't work for me more so than what actually works. But, that has also paved the way for me to know exactly what to look for when it comes to investing in my own supplies, instead of having to start from scratch and rely only on experience after spending lots of money.
Enjoying More With Less
A few years ago I went on a backpacking trip with Bryan, our son and their Scout Troop. I borrowed a pack, tried to pack light enough to be comfortable and split a pair of trekking poles with my son. We hiked six miles through often steep elevations and rugged terrain to get to our camp site. Midway to our destination my hips were killing me. This was from a combination of packing too much, having a pack that wasn't the best fit and not having two trekking poles to help support the weight as we hiked. In addition to that, my hiking boots had managed to bruise my legs just above the ankles, which also hurt like hell. As you can imagine, I was ecstatic to finally get to camp and set up.
The camp site was primitive so we had to filter our water and dig a hole to use as a toilet when necessary, but those things weren't really bothersome. The most uncomfortable thing was trying to sleep that night. I was using a Therm-a-rest Z-Lite ground pad and we hadn't cleared the ground well before putting up the tent, which led to a pretty uncomfortable night.
Lessons I learned from that trip were:
Always ask what type of terrain and the distance the hike will cover before committing to the adventure
Don't feel the need to hike in boots when hiking in (low-top) shoes may work just fine
Make sure I have a complete set of trekking poles before backpacking again
Pack lighter
Get a more comfortable ground pad
Pack even lighter
As we got settled in to camp the first evening, I was digging through what I'd packed and realized right away that I'd brought too many clothing items and toiletries. Part of my trouble was not having the right kind of clothes to begin with. I didn't yet have pants and shirts that wick away moisture, dry quickly and resist odor absorption. So, I packed an outfit for each day of the trip because I didn't want to stink.
Some positive take-aways I had from that trip were that I had a blast interacting with the other adults at camp, I experienced the best camp coffee I'd ever tasted, I found out that dehydrated meals are actually pretty good, the sky at night in the wilderness is absolutely amazing and simply the fact that I actually completed the journey.
Basic Necessities
Gaining a little bit of experience and knowing my own personal preferences (allowing some room for modification) has helped me to set some guidelines when it comes to camping. I realize in an emergency situation I won't have the pleasure of sticking to all of my preferences, but if I can learn to be a better camper in comfortable conditions, I'm confident I'll learn more and get more out of the challenges that come up. One of the main things I try to stick to when it comes to planning a camp out is to be outdoors in cooler weather (not the extreme Texas heat) and if there is running water and a bathroom nearby, I'd prefer it.
Bryan and I just recently spent six days camping out as we prepared for and took part in the Inaugural ITS Muster. Well in advance of the event I started thinking about what I'd need in order to comfortably camp for that length of time. My first thought was what I could bring to help me sleep well each night and my second thought was what type of clothing would work best for the ever-changing temperatures that Texas weather blesses us with (It went from 80 degrees to freezing within the span of a few days.) After that, I knew I'd need to whittle down my large stash of toiletries so that I didn't over-pack or take more than what was truly necessary. I knew I'd also better buck up and get used to going without make-up in front of a lot of people I didn't know.
During past backpacking and camping vacations I've tried sleeping on the Z-Lite ground pad, a roll up foam mat and also a self-inflating ground pad. I can definitely say that the foam pads are not comfortable for me. Bryan can sleep on them just fine, but I need (and want) more cushioning so that I can comfortably sleep on the ground. Fortunately, Bryan gladly gave up his self-inflating mat for me to use during the Muster and he slept on the Z-Lite. I also borrowed one of his Kelty sleeping bags.  The hood of the mummy-style sleeping bag was a life saver as there were a couple of nights with 30 degree temperatures. Since this was a men's full-size sleeping bag, it was too long for me and I struggled to keep the hood in the right place. Now I know that I need a mummy bag built for a woman of my height.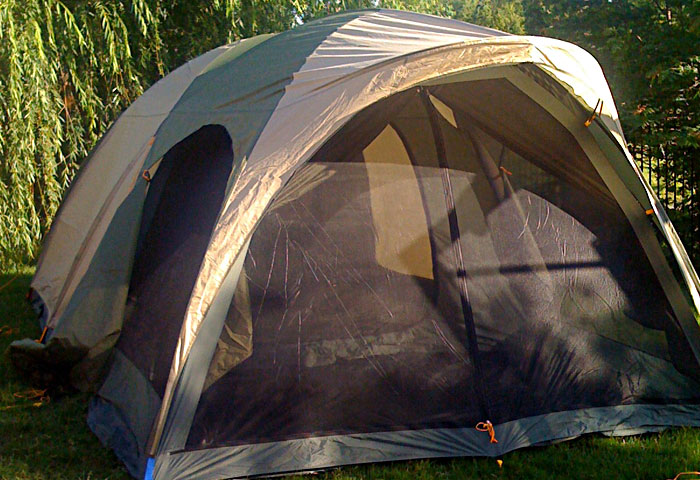 We've had the same family camping tent for several years that was purchased back when our son was much younger and camped in the same tent with us. I didn't think twice about taking it for the Muster, even though it was just going to be Bryan and me using it. Bryan did mention beforehand that he thought it was too big, but I blew that off until after we set it up and carried our bags inside. I saw that it was definitely too big and we had a ton of wasted space, which also equates to more space to heat in colder temperatures. We were the brunt of a few well-played jokes throughout the week, but I learned another valuable lesson; taking a big tent doesn't always translate into adding more comfort to the outing. Hopefully I'm always out of the tent enjoying the outdoors more than I'm in a tent anyway.
For those "hotel-campers" who still aren't convinced that leaving electricity, a mattress and a room with an adjacent bathroom behind, I thought I'd share what I've learned to pack. Necessities to me now are layers of clothing instead of outfits, comfy shoes, wool socks, a pair of flip flops, a toothbrush & toothpaste, deodorant, face & body wipes, sunblock, bug spray, a few bobby pins and a couple of pony-tail holders. If I take make-up, I only take mascara and an eyebrow pencil. The last two campouts I've taken make-up on, I haven't touched the stuff. When it comes to sleeping I make sure I've got an inflatable ground pad, a travel pillow and a sleeping bag.
Other things I've learned to value are a digital watch with a backlight, a headlamp and a sleeveless vest with pockets when the weather is cool. I've found that a thermal vest can replace my need for a jacket with the right layers underneath in 50-60 degree temperatures (provided there's no rain.)
Lessons Learned
Each time I've joined my family on a campout, I've been able to learn more about what works for me. There are so many variables when it comes to camping (weather, terrain, fellow campers, wildlife) that simply going on one camp out isn't necessarily going to convince anyone that they like camping. Try it at least a handful of times and change out the gear and equipment you take with you so you can experiment with what works for you. Borrow from friends or family or buy from stores like REI that let you test something out and bring it back if you're not satisfied.
It's funny looking back and realizing now just how accommodating Bryan has tried to be in order to help me learn to love camping. He's allowed me to pick out tents that have been way too big, he's been complimentary as I've tried to adjust to not wearing make-up or styling my hair while we're camping and he's urged me to simply be comfortable in my own skin. I'm one of those women who thinks way too much about trying to look my best. In reality, the people around us more often than not just want to enjoy our company and aren't expecting a fashion show. Who wants high maintenance while camping anyway? In situations like this, a smile can be the best accessory.
I've found that being more open-minded along with having a desire to connect with my husband and our teenage son has prompted me to want to camp more. Plus, I've found that learning skills that are utilized during camping (cooking outdoors, regulating my body temperature, sleeping under the stars, building a shelter) are necessary when it comes to being prepared for anything. I can't truly learn these things if I don't apply myself. Sure, I can read books and watch Bryan do everything, but how does that help me if we have an emergency and we need to split up tasks in order to quickly provide ourselves with shelter, food or defense if necessary? I would be left standing there waiting for directions.
Over the years I've realized that I'd rather be part of the solution. Knowing what to do means putting yourself out there in the wilderness enough to allow for unexpected realities. But don't just take my word for it. Get out there and see how fun it really is!