Take Aim and Fire: One Woman's Journey to Becoming a Better Shooter
Take Aim and Fire: One Woman's Journey to Becoming a Better Shooter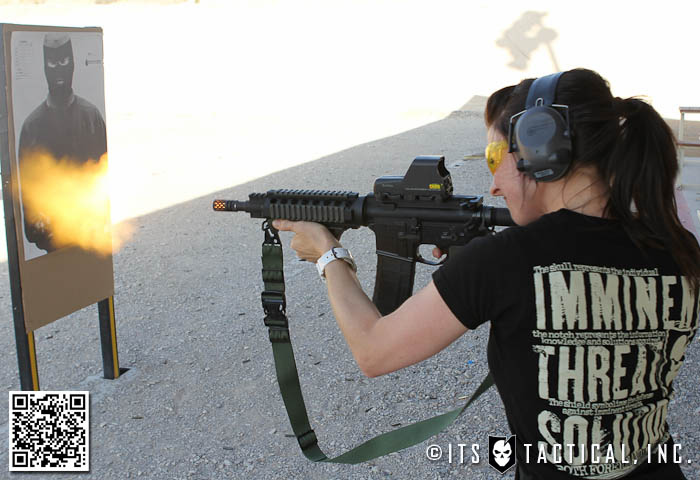 Handling a firearm may seem pretty common these days, depending on what circle you travel in. But for many people, even a gal who's married to a tactically-minded guy, training with a firearm isn't common at all. I guess the old saying of "opposites attract" is definitely true in my case.
There was a time not too long ago when I wasn't familiar with a handgun, shotgun or any type of rifle. I was in a different mindset. I believed that I could keep myself out of harm's way just by making certain choices. I parked in well lit areas, I was very cautious about being followed, I tried not to go out by myself late at night, my keys were ready and in hand when I walk to my car and I've always been the person who locks the door as soon as its closed.
As time went by and I pulled my head out of the sand, I began to acknowledge that a traumatic or life-threatening event may happen right inside my own home when I least expect it. Or that something may happen while I'm stopped at a light or walking my dog.
What began in my mind as an intermittent reminder that I shouldn't always rely on my husband to protect me, has become a mission to being prepared if I need to take matters into my own hands.
Memories
Let me take you back to when Bryan first tried to teach me to shoot sometime about four years ago. Granted, when I was a kid I shot BB guns, but beyond that I really had no familiarity to shooting and wasn't too keen about going to a gun range. One time when Bryan was home on leave, I went with him and another good friend of ours to an outdoor range. I fired a few shots from Bryan's SIG P226 9mm pistol. He took my picture, he seemed proud of me and I thought my job was done.
When he got out of the Navy he wanted to take me to another range, just the two of us and really teach me how to shoot. I became extremely nervous and couldn't think of anything but ways to suggest getting out of it.
We went to an indoor range, it was loud as hell and I had myself convinced that I would drop the gun and make it go off or that something else would cause me to shoot myself, him or another person. Needless to say my hands were shaking and sweating and I was hoping to not become an embarrassment to either of us.
You can probably guess what happened next; the waterworks began. I really don't know what Bryan was thinking, but he was very calm and a great coach. He didn't make me feel anything but supported as he tried to get me to relax and just try.
I'm not sure how much time passed. I told him and convinced myself, that if I could just practice loading and unloading the magazine I would feel better. He showed me how to load a magazine, unload the magazine, reload it, over and over so that I would hopefully feel more confident with the pistol. I'm sure he knew I was just stalling. Eventually I did shoot, but my apprehension, the anticipation of the recoil and the noise level in the facility hindered how much Bryan was able to accomplish that day.
To be honest with you, I can't remember how many rounds I fired while we were there. I can't remember if I shot well enough, if I missed the target or how long we were even standing in the bay. I stressed myself out enough to not go back to an indoor range for quite awhile.
Changing my Mindset
In the last two years my outlook on learning to shoot has changed dramatically. I think it helped having a husband and a son who both love to shoot. My exposure to firearms became more frequent and I started asking to go with them to shoot. We found a couple of different ranges that were outdoors and private, which really helped me relax more. Knowing that I could have enough privacy to be myself and ask questions without worrying another shooter would overhear and think I was an idiot really was a huge help.
Another thing that helped change my mind about learning to shoot was simply becoming more tuned in to my personal liberties. I realized that in my youth I had a much more independent and adventurous spirit, but somehow I had allowed life to change me into a sheep-ish person who blindly trusted that nothing bad was going to happen to me. Now I know if some deviant knocks down my front door, I want to be able to shoot them in the face without missing.
Feelings of Achievement
Once I realized that I wanted to learn more about guns and become a better shooter a lot of the anxiety melted away. Don't get me wrong, until about six months ago my hands would still shake when I loaded a magazine and I over-anticipated the recoil of each shot, but I'm no longer overcome by a fear of operating a firearm.
It's too bad I didn't have the book SHOOT by Julie Golob back then because I'm confident it would've helped me try some things differently when I was starting out. For one thing, I would've doubled up on ear protection to help me not focus on the noise. For another, I would've seen the anatomy of a firearm and ammunition which is so interesting to me. Knowing the inner workings of a tool can only help me to utilize it better.
In 2011 I applied for and received my Texas Concealed Handgun Permit. I remember saying to friends just last year when I was asked about it that I didn't plan to actually carry concealed, but this is something else that has changed for me.
In January of this year I joined a ladies only pistol league called A Girl and a Gun. My first meeting didn't disappoint and I'm very proud to be a member. My group meets every other week after work and I've been able to improve my aim and confidence with every meeting I've been part of. Talking with other shooters and getting instruction from the facilitators has not only provided me with new insight, but I've also found reassurance by interacting with like-minded women who all want to be better defenders of themselves and their families.
By March I tested myself to see if I was ready to go to an indoor range alone. I went on my lunch break to get in a few practice rounds at a range that is close by our office. There were a few goofy gangster wannabes in the bay next to me, but I realized I was even more determined to stay, follow through and shoot as well as I could. Even though my target was evidence that I still needed improvement I felt so empowered when I walked out of that building to head back to work. I felt like I had come a long way.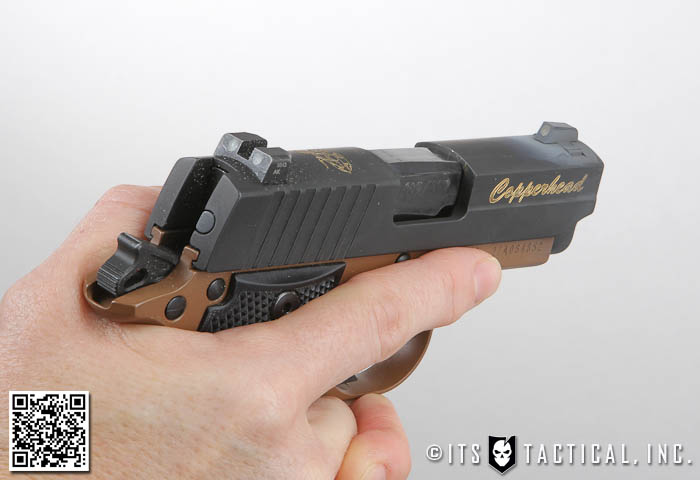 Over the last few months I've been paying closer attention when it comes to receiving advice on honing my skills. My carry pistol is a SIG P238 which is a .380 caliber firearm. I continue to hear that I should upgrade to a 9mm, but I like my little Copperhead. My goal is to become so proficient with shooting it that I can take out an intruder's eye in one shot. And, I'd like to think that I'm getting there.
I wanted to share with you the progress I've made over the past seven months by showing you my targets. These targets show shots from the same SIG P238 pistol. When I look back at the targets from January and February of this year (target on the left, below) I remember that I was simply focusing on trying to hit the X in the center of each target. My grip and arm tension was looser, and I couldn't focus my eyes around my front site without either closing one eye or going cross-eyed often.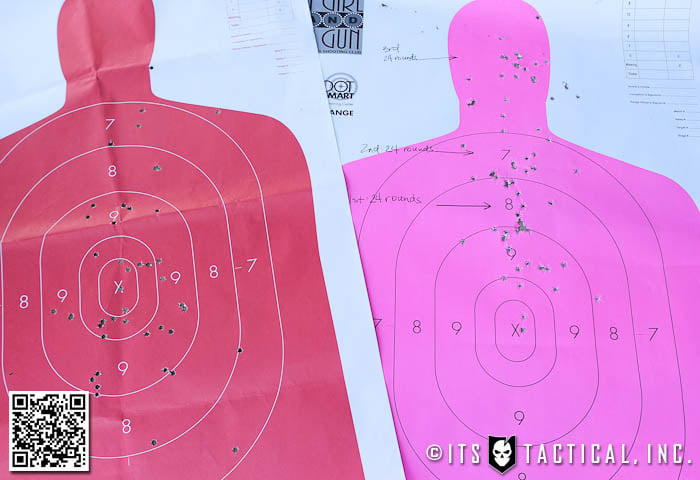 By June (target on the right, above)I had increased my grip strength while holding the pistol and more comfortably locked my arms in a more defined position to help me absorb the recoil. I also began to notice that my eyes were focusing more naturally around my front site and onto the target so that I'm more accurately lining up my gun with where I want to make contact.
During this time I've also had opportunities to shoot a shotgun, a couple of M4s and AKs as well as some other 9mm pistols that I was already familiar with. I feel having exposure to shooting other types of guns has really helped my confidence level increase since it's allowed me to experience various levels of recoil, types of sights and body positioning.
What's Next
While I'll continue to participate in my regular pistol league meet ups, I also want to keep pushing myself with new challenges and training experiences. I'm looking forward to working with different instructors, female and male and actually attending an intensive pistol training course at some point in the near future. And even though I'm not interested in competitive shooting, I understand that I need to gain experience in active shooter situations in order to best react to possible real world scenarios.
I've tried to shoot at least once each month and sometimes I've been able to shoot up to three times in a month. I'll continue to work at focusing my eyes and at not flinching or anticipating recoil. Right now I still have to remind myself to breathe and relax when I pull the trigger back, but I'm excited about the progress I've made so far. I'm even more excited about the skill and empowerment that's to come.