Train Like You Fight: Choosing the Right "Uniform" on the Range
Train Like You Fight: Choosing the Right "Uniform" on the Range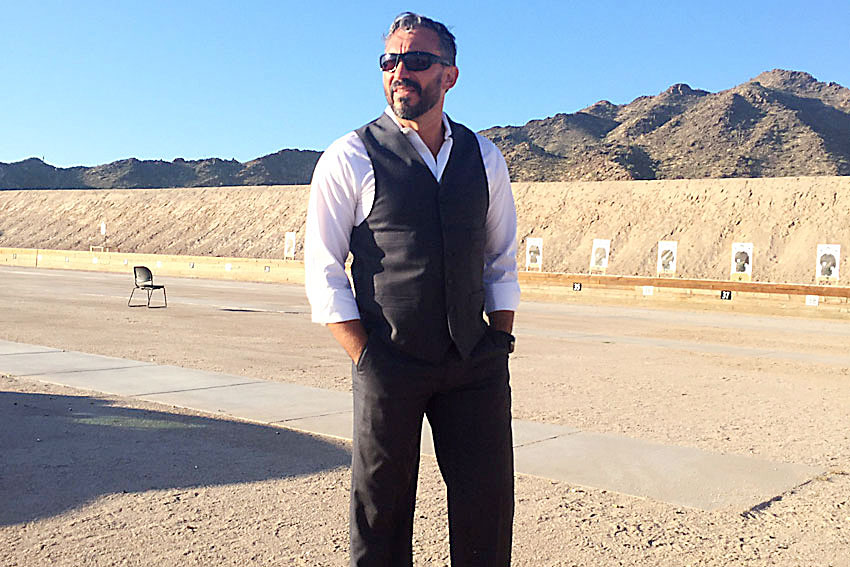 I'm often surprised when we have students show up to a Concealed Carry class and they aren't able to effectively carry concealed. While frustrating, it's easily correctable.
Editor's Note: Can you guess what equipment Jeff is concealing in the photo above? Leave your answer in the comments below and the first closest answer will receive one of our new EDC Trauma Kits!**Update: Congratulations to Jeff S. who's guess was closest to the actual concealed equipment in the photo above! Jeff is concealing two guns as well as two spare mags and a knife.**
Your Sunday Best
I get it, folks don't want to get their nice clothes all jacked up by wearing them on the range; leaving them dirty, greasy and even damaged through hard use. I do it all the time and can promise you that the clothes I'm sporting aren't cheap, but they're what I wear on a daily basis.
Circling back to an old mantra, why wouldn't you want to train the way you intend on fighting, including how you conceal? There's so much value to be gained from working through an intense training class as it relates to your gear. The clothes you pick to carry concealed are no different.
The Eagles Eyes in the Class
One of the best parts of our class is the peer review. This time allows your fellow classmates to provide insight into your setup. It can be surprising when someone knows what they're looking for, but many times their honestly helps to refine your carry loadout.
I chuckle lightly when I see someone post a picture on social media about how well they can conceal their loadout. Think about it this way, do you honestly think anyone is going to post an unflattering selfie online? Even if they do get feedback, it's not as valuable as someone standing right in front of you providing feedback. On top of that, why would I post to the world that I'm "concealing?" Yeah, that's a bit mind boggling.
The Bad Type of Uniform
We're creatures of habit and while some people claim to do it better in real life, I have my doubts for the majority. There's a uniform of sorts that you can expect from the tactical community, it may not be one you're used to seeing, such as a military or police uniform, but the purpose is the same.
To help people understand this a bit better, here's how I define uniform; presenting an unvaried appearance of surface, pattern or color. So, if you show up in your cool kid tactical pants, wearing an assortment of other tactical gear, you're blending in great on a range. How does that help you to blend in to society and your everyday environment though?
The Good Type of Uniform
Many times, a tactical loadout from head to toe doesn't really help; this goes back to my point on habits. Instead, I encourage people to wear to these classes what they wear in their daily lives. It has to be safe, so please no speedo's and flip-flops, think of not just range safety, but eye safety as well.
Take a moment to itemize the parts of your day that you spend outside your home. Then drill further down to what's socially acceptable to wear, because the last thing you want to do is stand out. You want to blend in or look uniform. So if you're in an office setting, I encourage you to hit up Goodwill and bring some cheap slacks, shirts and even a sport coat to the range.
It does you no good to develop techniques for equipment you're not going to use, especially items that when used could compromise your mission. Don't pass up an opportunity to validate your gear.
Contest Time! Guess all the equipment that Jeff is concealing in the photo above and leave your answer in the comments. The first closest answer will win one of our new EDC Trauma Kits! **Update: Congratulations to Jeff S. who's guess was closest to the actual concealed equipment in the photo above! Jeff is concealing two guns as well as two spare mags and a knife.**
Editor-in-Chief's Note: Jeff Gonzales was a decorated and respected US Navy SEAL, serving as an operator and trainer who participated in numerous combat operations throughout the world. He now uses his modern warfare expertise as President of Trident Concepts, LLC., a battle proven company specializing in weapons, tactics and techniques to meet the evolving threat. Bringing the same high-intensity mindset, operational success and lessons learned from NSW to their training programs, TRICON has been recognized as an industry leader by various federal, state and local units. Organizations interested in training with TRICON can call 928-925-7038 or visit tridentconcepts.com for more info.