Reverse Peephole Security: Protecting Your Privacy with Peephole Covers
Reverse Peephole Security: Protecting Your Privacy with Peephole Covers
Peephole security is a real thing, especially when it comes to situations out of your control, like hotel rooms. It's often neglected within the overall security picture, but nevertheless it's something that you should consider.
Why should you worry about peephole security? Because products like Reverse Peephole Viewers exist and are easily obtainable by anyone. These viewers, when placed over the outward facing side of a peephole, allow the user to view what's on the other side by realigning the otherwise unviewable lenses.
To counter the threat of reverse peephole viewers, today we'll be taking a look at a few commercially available products to help you to determine which might be the best for your situation.
Defeating The Reverse Peephole Threat
Not to be confused with the Seinfield episode where Kramer reverses the peephole on his door on purpose so that "if somebody want's to help themselves to an eyeful, we say enjoy the show." A reverse peephole viewer is a bit on the pricey side, but as mentioned, easily obtainable by anyone.
I purchased a couple of solutions for this threat online a few months back and will share my pros and cons of each below. Basically, there's two categories that these devices fall into, permanent and portable. Let's first look at portable.
Portable Solutions
Privacy Logic is a company I stumbled onto while searching online and I really like their product offering. They offer a set of two SPEYEGUARD Portable Peephole Covers that simply slip into your existing peephole. The set of two will cover the most common peephole diameters of 3/8″ and 5/8″. Everything I've come across so far, has been able to fit these size covers. The top and bottom of the covers have cutouts that enable you to grasp the device to quickly remove it for a peek and easily reinsert it.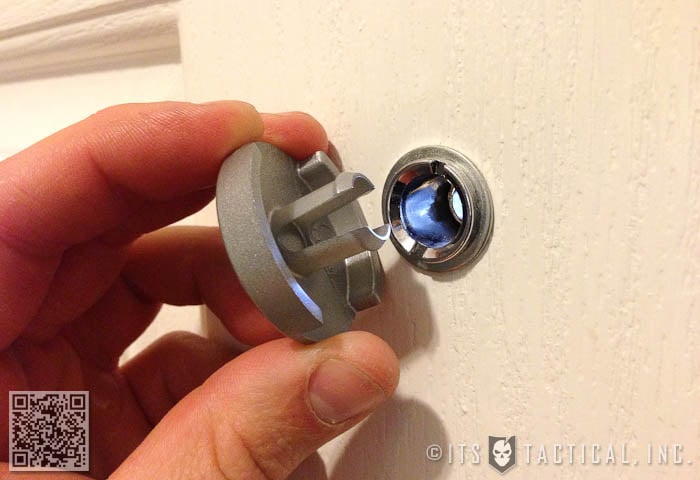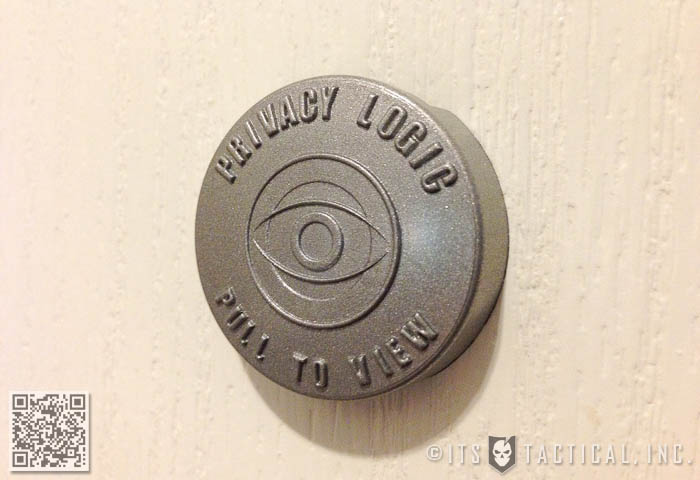 They're made of ABS plastic and built well in the USA. The tabs that insert into the peephole are flexible enough to withstand multiple uses and still retain their functionality. Check out Privacy Logic for more information and to purchase these Portable Peephole Covers.
Permanent Solutions
To start off the two products we'll be looking at in the permanent category, Privacy Logic also offers the SPEYEGUARD Fixed Peephole Cover. The backplate of this cover mounts to the door via a top and bottom mounting screw. The top cover locks into place on a ramp, which allows it to easily slide up and down as needed.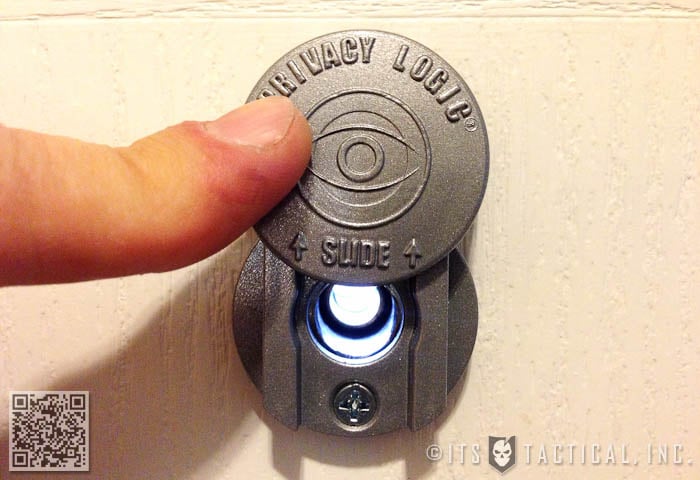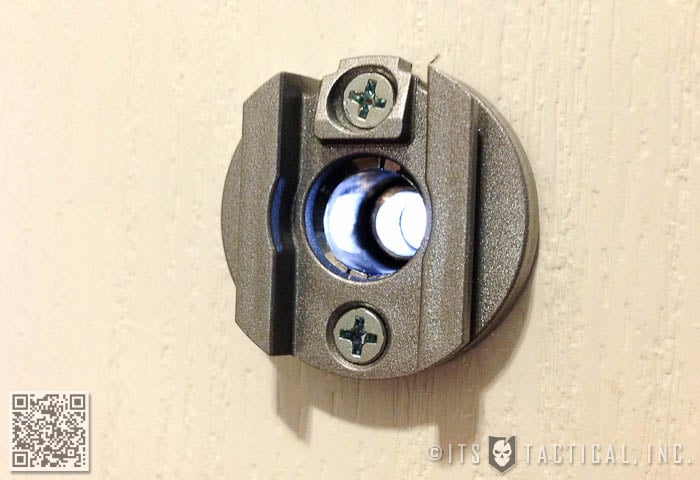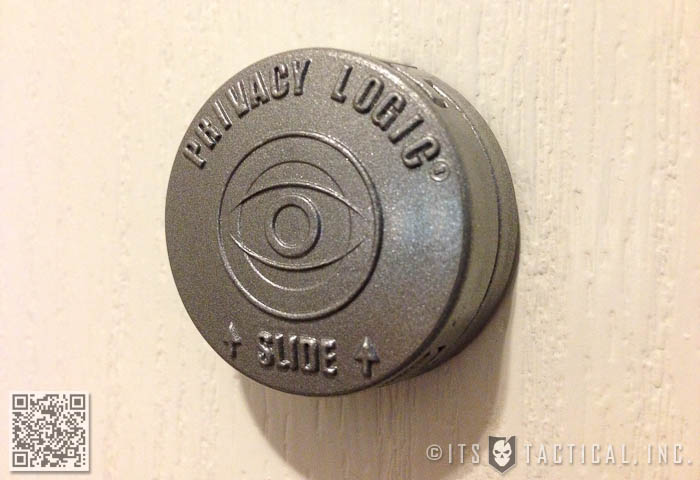 I did find that pilot holes are needed before attempting to simply screw the backplate in place on a door, that or a nail punch is what Privacy Logic suggests in the installation instructions. I really liked the functionality of this device and it's a good solution. Plus, all Privacy Logic products are made in the USA.
The second product we'll take a look at in the permanent category is the SecureAview Peephole Cover, which is a pendulum style cover that mounts with one screw above the peephole.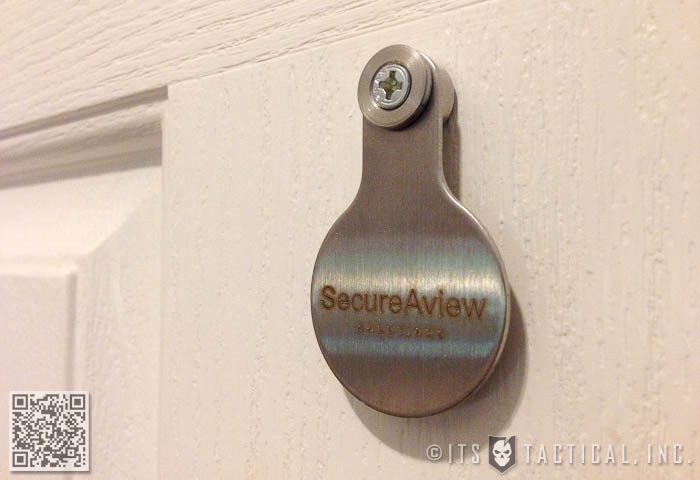 This was a bit simpler to mount than the Privacy Logic permanent solution, but I don't care for the fact that the spacers it comes with don't allow you to adjust the tension that the cover has. This causes it to swing unnecessarily when you let it go. It also makes quite a bit of noise when opening and closing the door due to the swinging. I'm sure this could all be fixed by simply having a thin rubber washer added between the cover and the metal washer.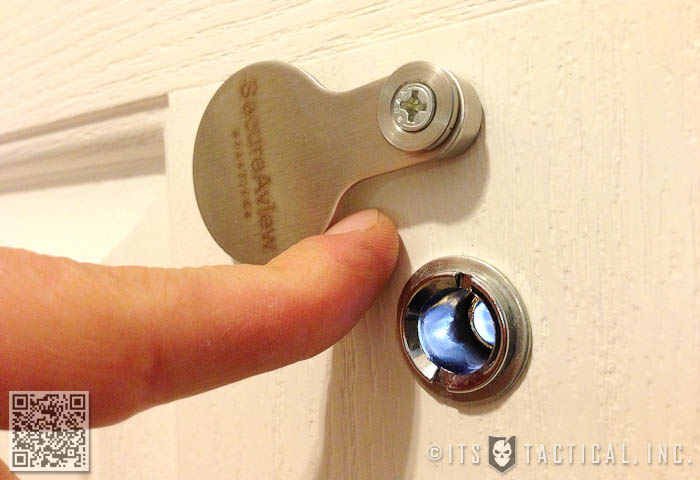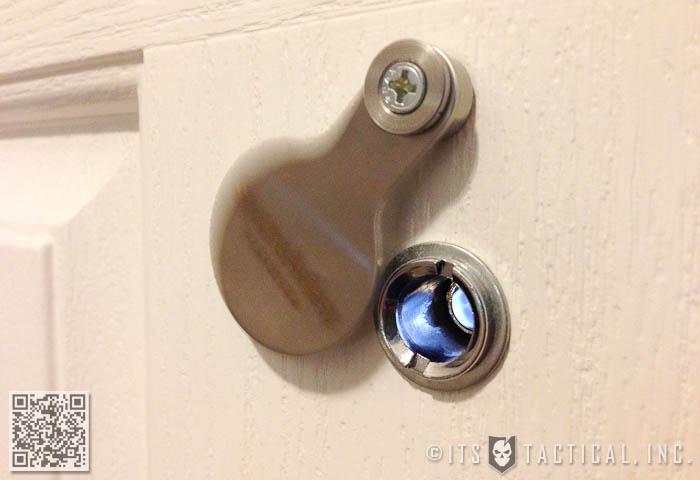 What I also didn't care for, was that because the device doesn't sit flush against the peephole, there's visible light that could be seen by someone with a reverse peephole viewer. The only reason I mention this is movement on the other side of the door could be detected by the viewable light.
I do think the all-metal construction is great on the SecureAview product and I really like the attention to detail of including a matching adhesive cover to apply over the screw during installation. To learn more or pick up a peephole cover from SecureAview, click here.
Notes
A great tip that the SecureAview website shared was to ensure your existing peephole is assembled with a little blue loctite (non-permanent) so that it can't be unscrewed from the outside. They also mention that some people squirt toothpaste in peepholes at a hotel, so as a last resort, you could always do that. Also ensure you check the peephole of any hotel room if it has one and make sure it hasn't been reversed by the last comedic guest.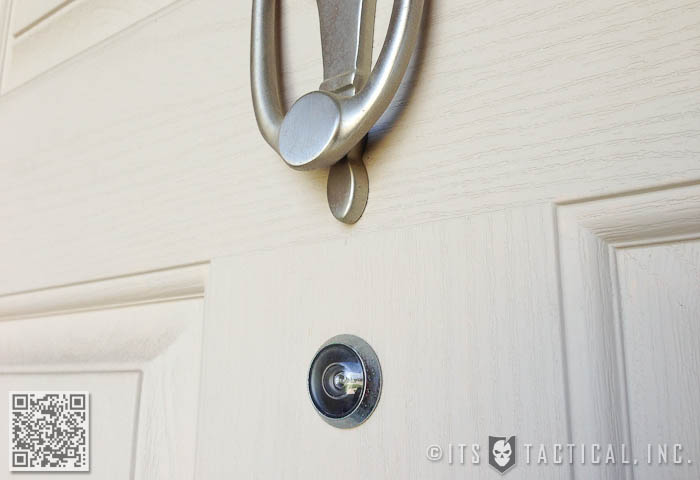 While protecting your privacy by covering your peephole might not be on the forefront of your security plan, hopefully you've learned a bit from this article about why you should take it seriously.